Yellowstone!
Categories
Blog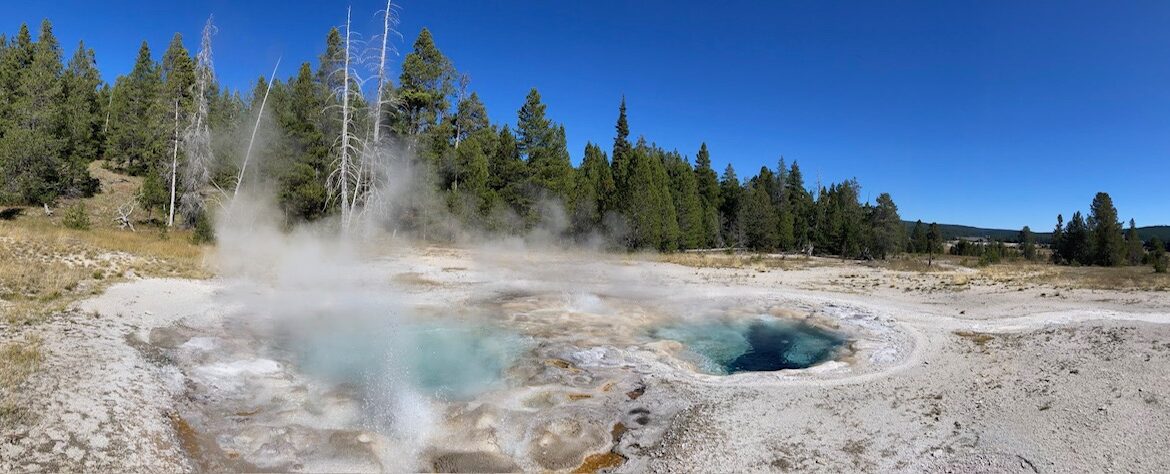 Wearing my new souvenir shirt from Bill Cody Ranch, we headed to Yellowstone. That evening we were meeting my cousin in West Yellowstone at the Baker's Hole Campground where he (Ed) and his wife (Becky) set up camp. We entered Yellowstone at the East Entrance, and drove around Yellowstone Lake, past the Canyon Visitor Center and the Norris Geyser Basin Museum. The drive was beautiful and we saw an elk just outside the Madison Visitor Center.
We arrived around 6:00 pm at the campsite in Baker's Hole Campground. Ed and Becky had their camper set, and a meal ready for us! Ed had also set up his tent with cots, heater and sleeping bags so we could sleep there for the night. It looked very inviting. Dinner was shrimp, potatoes, and corn on the cob cooked in a dutch oven over coals. It tasted fabulous and we were starved.
The night was freezing – it had dropped below 30 and even in the -20 sleeping bags with the heater we still froze. We were all up and around by 7:30 ready to head into the park for the day.
We started the day at the canyon area, doing a few small hikes. We headed to the Canyon Village Visitor Education Center to shower and eat lunch. After lunch, we drove to Mammoth Hot Springs and then around to the Norris Geyser Basin and back to the campsite. We saw some wildlife, a bison, some long-horn sheep, and a coyote; but no elk at Mammoth Hotspings.
Stew and I made dinner of refried beans, chicken and the fixings to make tacos. Tasted terrific and Ed's griddle that came with the camper worked great!
That night Stew and I decided to sleep in the car where we thought it would be warmer. Thankfully it was since it dropped even lower, somewhere around 20 degrees. Everything was frosted over when we woke up. Even Woody was trying to get warm by leaning against the coffee.
Today we left a little later for the park and planned to do the Geysers – specifically Ol' Faithful. Lots of walking today as we visited geysers and painted pots and hot springs. We stopped for lunch at Ol' Faithful just in time to see it erupt
On the way home I was lamenting that somehow I never see elk. Ed said "Que the elk"… low and behold not 10 minutes later we saw a bull elk in the creek. He put on quite a show doing some bucking etc "rutting behavior". This was a great end to our second day in Yellowstone.
Tonight Stew made steak and we had some leftovers for dinner. Both nights we enjoyed the campfire. It was so nice to just sit and chat. We slept in the car again and again it got very cold, but we were as cozy as ever. We had a late breakfast, Ed made a big breakfast scramble in the Dutch oven. We helped pack up the campsite and said our goodbyes. But not for too long as we would see them in a few days at their house in Idaho Falls. Stew and I head back into Yellowstone National Park, which is the quickest way to drive to the Tetons National Park.