Horseback Riding in Cody, WY
Categories
Blog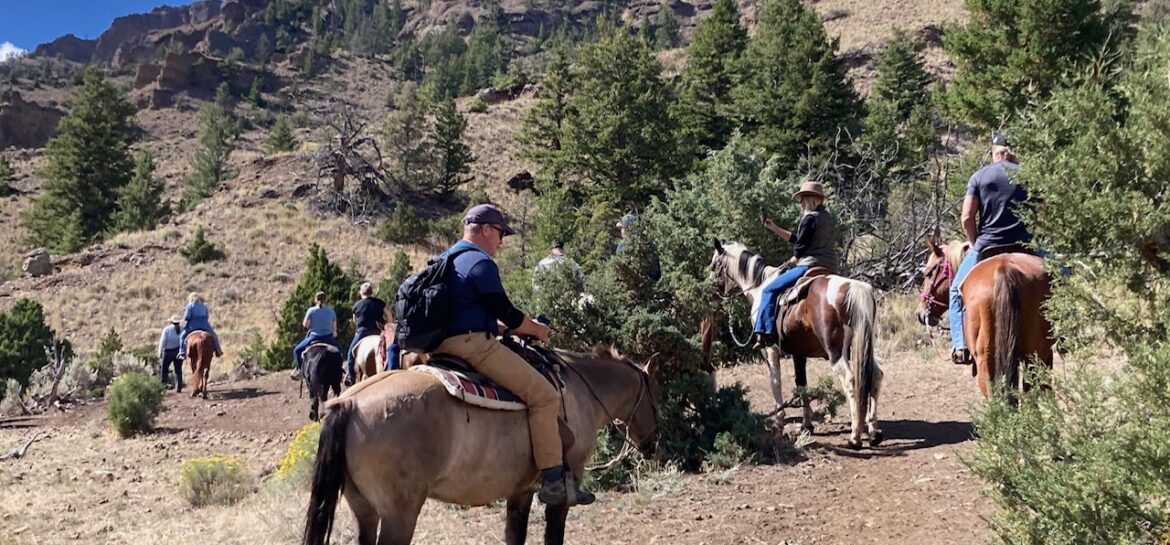 We left Devils Tower mid-morning and headed to Cody, WY where we will be horseback riding through the Shoshone National Forest and mountains. The trip to Cody was about 300 miles and somewhere we lost cell services and the GPS was not directing us correctly so we went about 60 miles in the wrong direction!! A long day of driving took even longer. The mountain formations and scenery were beautiful on the drive, we even saw a bobcat or mountain lion and some mule deer.
It was raining off and on all day but as we got closer to Cody the rain became stronger. We decided to stop in Cody and hit the grocery store for supplies. Traffic was just terrible in Cody! We felt like there must be something going on we didn't know about. The storm was getting stronger and we knew trying to make dinner at a campsite would be difficult so we headed for a restaurant. This is always a challenge since I have so many food allergies (gluten, raw fruit and veggies, tree nuts, and some other items and I'm vegetarian strict). The first restaurant had over an hour wait, and the second one "Buffalo Bill's Irmas" also had a wait, but it was raining so hard we decided to stay put. Built by Buffalo Bill in 1902, this historic hotel and restaurant had the old west look and evidently some "dinner" theater production that we missed; but we saw the actors in the bar area where we found seats to get a drink while we waited. Luckily they had a limited menu at the bar and we could just order some food right where we sat – and that's just what we did.
By the time we exited Irma's, it was pitch dark. We had another 15 or so miles to the campsites I located on the map. It was a very dark ride, slow, rainy, 30-minute ride until we finally found our campsite. We selected Wapitit Campground in the Shoshone National Forest ($15) since we were now in grizzly bear country. It felt better to know that there were other humans within a mile of us.
The night went fine, no bears (phew)! We arrived in the night and didn't see all the bear warnings until the morning. Thank goodness we had no issues. We made a little breakfast, got a little gas (last stop before Yellowstone "Fill 'er up, please"), and headed over to the "Bill Cody Ranch" to do some horseback riding.
Bill Cody Ranch is where my brother, Matthew, and his family rode horses a few times before. So we had it on good authority this would be a good ride. We chose to do the 2 1/2 hour ride (others were longer and included a meal). Boy, thankfully we only did the short ride – my foot was numb and my knees ached by the time we were done!
It was a spectacular ride through beautiful scenery, all part of the Shoshone National Forest. The terrain was moderate to difficult. The path led us through streams, up and down mountain gorges, some very steep, some on the edge of a cliff. We had a great time and I talked to one of the trail guides. She told me lots of stories, especially about grizzly bears, that happened during the rides. Not sure if that was good or not.
We said goodbye to our horses giving them fresh horse treats, thanked our trail guides, and headed back to the car. I purchased a souvenir short and we made lunch. Woody sulked because he did not get to ride a horse today… maybe on the next visit.