Devils Tower (but no aliens)
Categories
Blog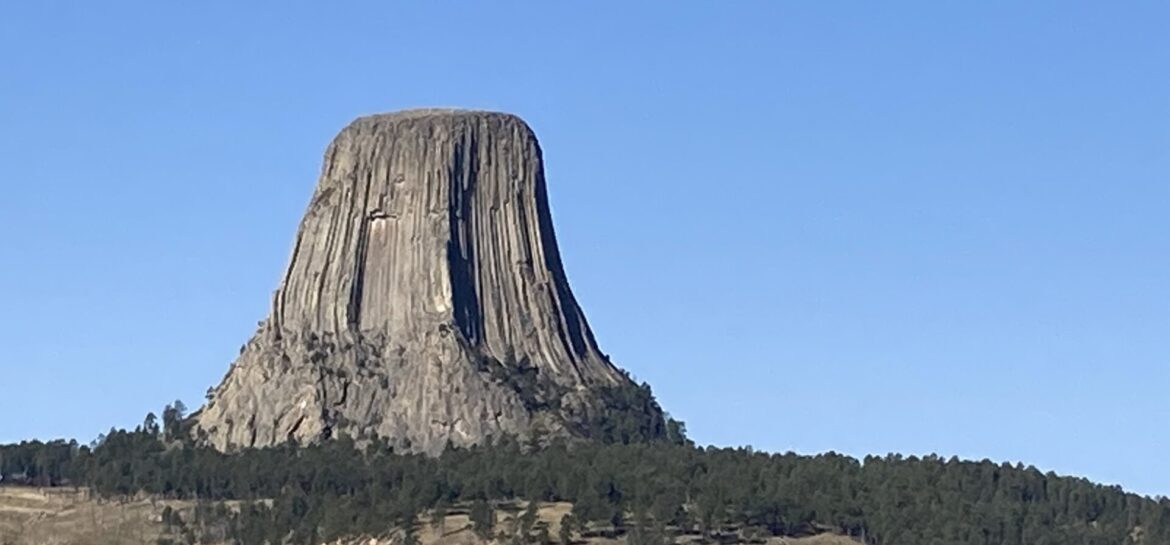 After our late breakfast (early lunch) in Custer, SD we headed to Devils Tower (officially no apostrophe) in Wyoming. This is the famed monument from the movie "Close Encounters of the Third Kind". This was the place Stew was most excited to see.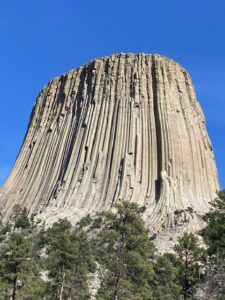 You could see this imposing monument from very far away – It stands 867 feet from its base to its summit and is 180 feet by 300 feet on the summit (about a football field). There are many Native American Legends as to how Devils Tower came to be, you can read about them here.
In 1906 Theodore Roosevelt named "Devils Tower" (no apostrophe) as the first National Monument. The name came from the Native American's name of "Bad God's Tower" relating to some of the stories. Early explorers translated that to "Devil's Tower". But when it was given the monument status the apostrophe was dropped.
The tower was formed underground from molten rock. Magma pushed up into the surrounding sedimentary rock. There it cooled and hardened. The sedimentary rock has since eroded away to show the Tower.  In 200 years there has not been a column that has fallen.
Stew and I decided to hike the "Tower-Trail" which is 1.3 miles around the circumference of the tower. It was a nice hike and we saw two climbers on the tower.
See if you can see the climbers in the photos below. The first photo shows the climber on the face and helpers down below (or fellow climbers). The second photo shows a lone climber in the crevis of one of the columns.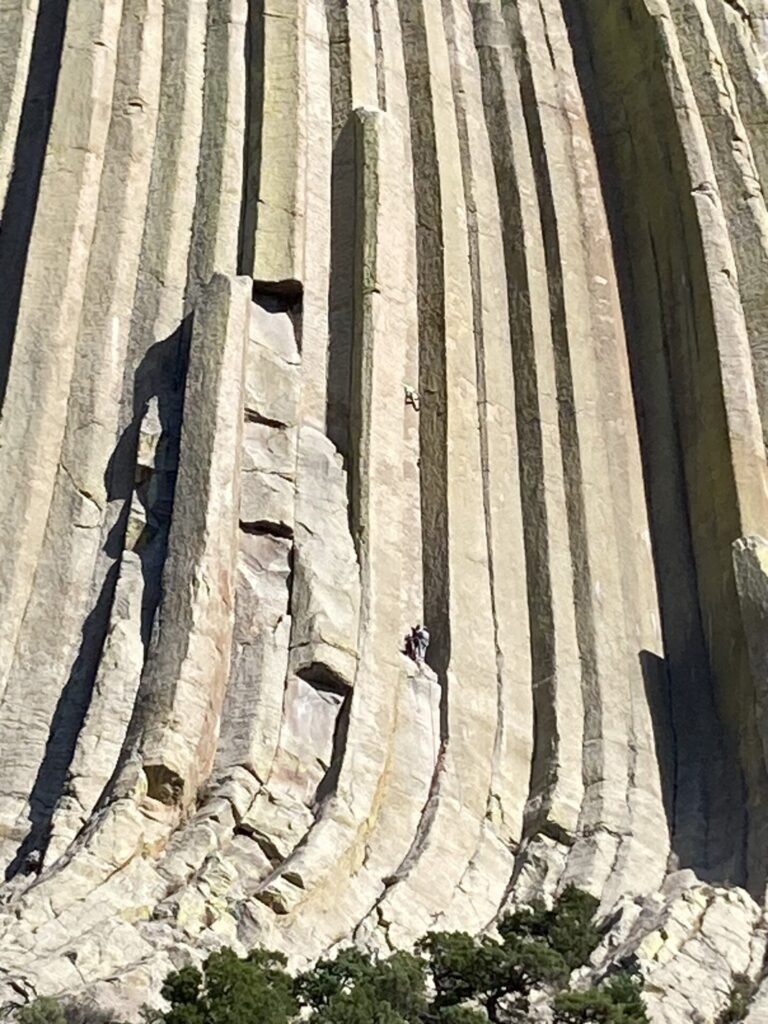 After our hike we headed for the campsite – the one we chose had a view of the tower. Unfortunately there was already a camper set up with the "tower view". But we decided to stay anyway since there was tons of room.
The other campers were traveling in an Earthroamer and have a YouTube channel @earthRoamingAdventures. We enjoyed chatting with Chris and Julie – they gave us some ideas of places to go in Utah.
We made dinner and settled in for the night. Just as we headed to bed another camper showed up – he was from Oregon and he had a converted ambulance!
The next morning we were up bright and early – Stew wanted to get some morning drone footage of the Tower so we headed down the road. As we were packing up a praying mantus hopped into the trunk!
Next stop is Cody, Wyoming. So we all said goodbye to the tower, even Woody had enjoyed Devils Tower!