Custer State Park in the Black Hills
Categories
Blog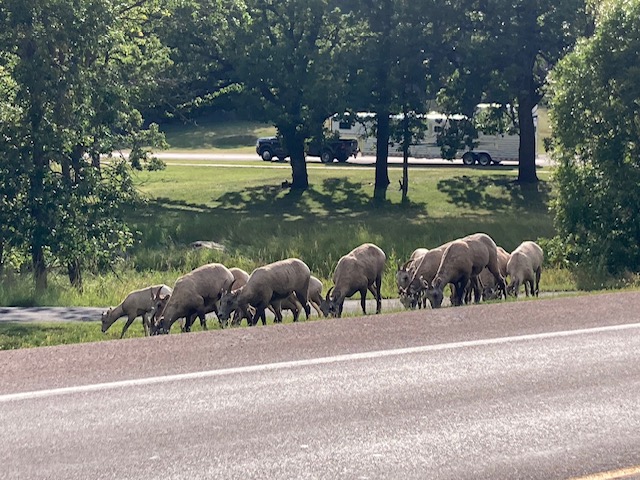 Our plan when we left the hotel in Rapid City, SD was to hit Crazy Horse monument. But we ended up with a problem with our cooler. The 12v plug no longer worked so we had to find an electronics store that supplied 12v plugs. After several calls, we found one and headed over. Thankfully it was one we could easily rewire. Once that was accomplished we were famished and headed for an early lunch at Jersey Mikes.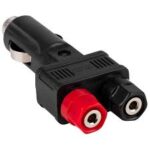 Finally, on the road we headed to Custer State Park. We entered the park through a dirt road, which seemed weird and we thought we were on the wrong road – but it led us to the entrance and a paved road. The sign clearly indicated it was Custer State Park. Woody was enjoying the sites and helping me review the park information.
The landscape at Custer (Black Hills) was so different from the Badlands. Beautiful tall trees and rolling hills surrounded us. Just beyond the visitor center, we spotted a group of big horn sheep crossing the road.
On our travels we have found each state and local area has different rules about camping and droning. Custer State Park allowed flying drones – which was great news for Stew. The National parks forbid it. Camping required we were a mile from a campground and 100 meters from a creek or river. We also read that there was wild camping allowed back French Creek wilderness area. So we headed that way and found a great campsite with a beautiful view of the rolling hills. Once settled I made some dinner. The pictures show all the bins and such we used for cooking and eating our meals. We could use our towels to block the sun, which worked great. After dinner, we had a nice fire and enjoyed the view.
Our night went well – uneventful, which is a blessing – no critters. We were hoping to wake up to elk on the mountainsides – but there were none. The night before, just as we were getting into bed a car drove up to our little campsite – scared us to death. They claimed they were looking for elk, although it was pitch dark so I'm not sure they were being honest. But it had put the thought of elk into my head…
We enjoyed a cup of coffee then packed up camp and decided to so some more exploring of Custer State Park. From our little road, we found some dirt roads that took us to the top of the mountain (top of Swing Road – 43.695844,-103.405998). We first saw a herd of bison on the hillside, then spotted a lone bison walking along the road just a little further on. We continued up the dirt road and finally ended up at a trailhead where Stew could do some droning.
It was a remarkably beautiful day after our overcast and rainy week. Still a little cool, but the sun was bright. After Stew flew the drone for a bit we headed down to the Bison Center which did not disappoint. SO MANY BISON! They enveloped the car. They were so close I finally rolled up my window because I was afraid one would stick his head in and slobber all over the place. A few of the bison were rubbing up against car bumpers and trucks scratching themselves. One woman got out and yelled at the bison to stop doing that to her car. She didn't realize, of course, that you cannot tell a 2-ton animal what to do! Just beyond the bison, we saw a herd of wild donkeys – they definitely thought we might feed them since the car in front of us just did that. I pulled my phone into the car and rolled up my window.
We left Custer State Park mid-morning and headed to the Devil's Tower with a stop in the town of Custer to make a late breakfast. After several failed attempts to find a picnic table in a park, we ended up cooking in Big Rock Park, just outside of Custer village. It had a great overlook across the valley.