Mount Rushmore in the rain
Categories
Blog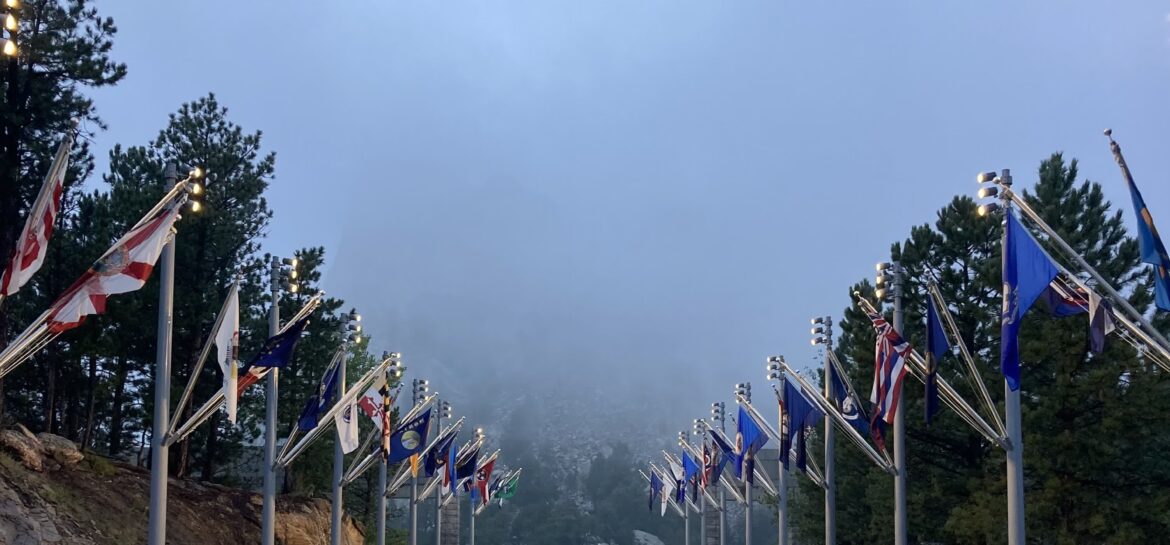 This morning we woke in the Badlands to another rainy overcast day. We debated what to do since we had now been in the rain off and on for days. Most of those days the rain contained itself to the evening and morning, this was going to be an all-day rain, and it was cold.
We wanted to see Mount Rushmore so we decided to head to Rapid City and take in another library. We also needed some groceries and a few other misc items so we could also go to Walmart in Rapid City. After purchasing our supplies in Walmart we pulled to the edge under a tree and made some breakfast. Not too shabby, eggs, toast, kale, and peppers (need those veggies!) and it was good and hot which tasted great! This was our first "Walmart" camping experience!
Next up was the Rapid City Public Library. Great place, and had lots of items to rent and buy like locks, chargers, etc. We were able to secure a study room and got all the devices plugged in and charging. Both of us got started with our email…
Stew piped up that he had just received an email from Hilton regarding some old hotel points that would expire by Dec and would want to consider a hotel if it was free – WELL, YES!! This would work out perfectly – we could shower (after Badland hiking this would feel great!), wash clothes & sheets (they had a laundry room), and go to Mount Rushmore for the night light show. The night light show was going to be difficult if we then needed to find a campsite, the hotel solved the problem!!
So we packed up our stuff and headed to the Hotel to check in and get started on those showers. We also discovered that our sailing friend Christian (S/V Uinen) was nearby doing his own car camping adventure with his cat, Merle. Once the hotel was booked we planned to do dinner with Christian at 5:00 at a local bar and grill.
In the hotel's parking lot we found a drunk, passed-out fella. His name was Woody and he was quite a poor soul. We picked him up, dusted him off, and gave him a comfortable place to sleep off his hangover.
Our showers were fantastic and dinner with Christian was great. We talked a lot about our wild campsites and the sites we had seen. Christian was headed to Chicago to buy a camper van, his car was much smaller than our SUV and he wanted to do more wild camping (as do we!).
All of us headed to Mount Rushmore which was completely fogged in. We could see very little of the monument and it started raining again! Not to mention the temperature was dropping and it was pretty cold! We spent some time inside reading the history of Mount Rushmore (which was very interesting). They also had demonstrations on how the monument was constructed with models used by the original artists.
Finally, the evening presentation began and the lights finally came on. The heat from the lights dissipated the fog and we could see the entire monument.
We hung out there with Christian for a while then headed back to Rapid City and our wonderfully heated hotel.
Once back at the hotel we did laundry and had a wonderful sleep for the night!