Day 2- Tahquamenon Falls
Categories
Blog
Had a great morning at our wild campsite. We decided to just make coffee and pack things up. We were anxious to get to the falls.
Today we were headed to Tahquamenon Falls per Jason C.'s recommendation. I had specked out a wild camping site on some dispersement property near the falls so we thought we would check that out first to see if it was a good place for the night.
The wild campsite I'd specked out for tonight was in a large open area. It was doable, but seem a little uneven and it was super hot so the open area just made it seem hotter. I'll have to see if this is where we stay. I might be able to find something different on our way around Lake Michigan.
We decided to start at the lower Falls and hike a bit to the upper Falls. It was rounding about 90°. Very hot for hiking, so we probably only did about a mile or so. There's actually about a mile on a boardwalk just to get to the lower Falls. On our way back from hiking we decided to take a bit of a dip in the river just a lower Falls. It was quite nice and very cold.
We drove around a bit through the campsites, just to check them out. Then we decided to take some time to make lunch since we had not had much breakfast. We were both fairly hungry. After a bit of hunting, we found a picnic table by the kayak ramp area. It's crazy how Josh can't find picnic tables anymore. I made Stewart a sandwich and I had some egg salad.
After lunch, we took a ride up to the upper Falls to check it out. It was pretty cool.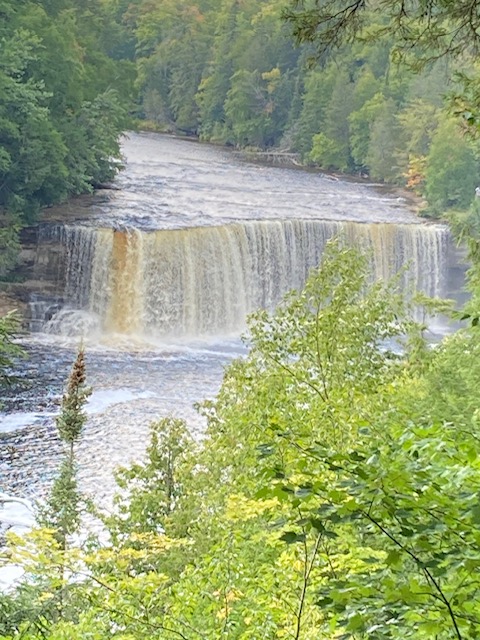 Because it was so blasted hot we decided to get in the car and head on word to the place I had specked at Pratt Lake (North of Pine Stump Junction… 46.608005,-85.690492), hoping we could swim. This was in the north of the upper peninsula by Lake Superior. We actually had some glimpses of Lake Superior.
Again, lots of back roads and dirt roads to get to our spot. Once we arrived, it was great except for the fact that there were several trailers and a tent set up. No one seems to be around, however. There's also a paddle boat and debris looking like people had left in a hurry. We were curious about these neighbors. Because we were in Michigan doing wild camping we are required to post a permit for DNR. So we had that all ready to go on our dashboard. Even the abandoned trailers and the tent had these permits posted on trees. I couldn't imagine the DNR would be coming back through all these dirt roads to check our permits. But post that we did!
It was far too windy to put up our hatch screen and it was unnecessary because the breeze was taking care of any bug problems. We also knew it was supposed to rain in the night. So we just set up camp with the tarp and our cooking area. We both were extremely hot and ready for a nice swim. The lake was very shallow and a bit weedy, but we were able to get fully immersed and feel a lot fresher.
Tacos were on the menu for dinner. I made refried beans and to take care of the mess I actually put parchment paper on the skillet so clean up was much more manageable. Stew was able to finish off his London broil that he had brought from Bay City so he added that to his taco items. Tasted awesome!
We actually set out a laundry line so we could dry all of our wet stuff and towels. It looked a little like a mess but it did the job.
After we got all cleaned up and everything put away (we knew it was going to rain so everything was put away). We retired to our fabulous bed and our iPad watching another episode of "Foundation" from AppleTV. But our view from the car bed was beautiful!
Stew woke me at 7 a.m., we had 30 minutes before the rain. So we made a quick dash to get everything done and back in the car. Just as we got back in the car, ready to pull out, it started pouring. It was quite a downpour. I was thankful to get out of the dirt roads when we did. I was worried we could get really stuck back here and with little to no cell phone service that would not be fun!
The dirt looked like it could get very very very muddy. Lots of ruts and such. I noticed the roads up here are more dirt than they are anything. No gravel or rocks. Just what looked like really messy dusty dirt.
Our neighbors never returned during our stay. Love to know their story.