Installation of Balmar Alternator
Categories
Blog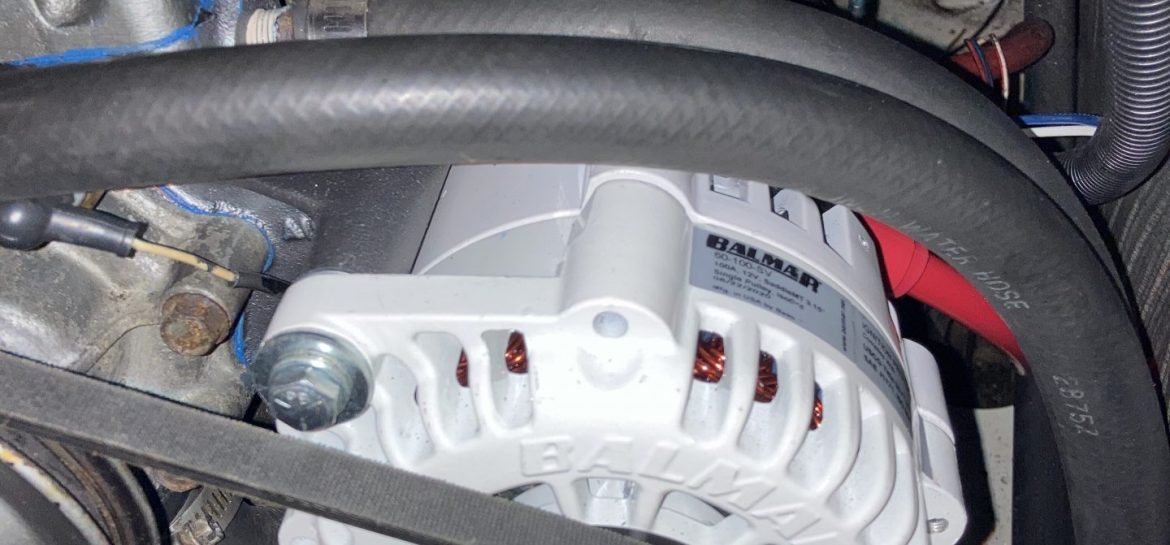 When we started the Balmar 60-YP-100-SV alternator and regulator installation last week we found we needed a new alternator support piece. The hole that holds the pin for the alternator was very worn and that is why our alternator was cavitating so badly (and probably why we had several things break related to the alternator!). The part wouldn't arrive until Monday! We were hoping to leave Dec 15th (Tuesday) for Hilton Head… so we tried to do all the work we could while waiting on the part.
Saturday (Dec 12) was spent under the desk! I did electrical all day – literally!! After breakfast we shut everything down, disconnected the batteries and pulled the batteries out. The idea was to clean things up and make it closer to "spec". I installed a DC(-) bus bar and moved lines around. I also moved two switches to the front to make it easier to reach them and added an ANL fuse for the lithium batteries. I only had to make, crimp and heat shrink 6 lines. I also labeled everything – Stew made the nice neat labels for me to put on each wire. It really cleaned everything up. We finally got the batteries back in place after sunset. Our solar luci light was running on fumes and darkness was upon us! I was just praying it all worked – otherwise we would be in total darkness all night!
Working with the electrical system makes me so nervous. Stew handled getting the batteries reconnected thankfully. We are very lucky that our slip neighbor Chris could review what we did – he stopped over after dinner and checked it out. Of course, always things I can improve – and I want to clean up the solar lines – but we just ran out of light! Next time!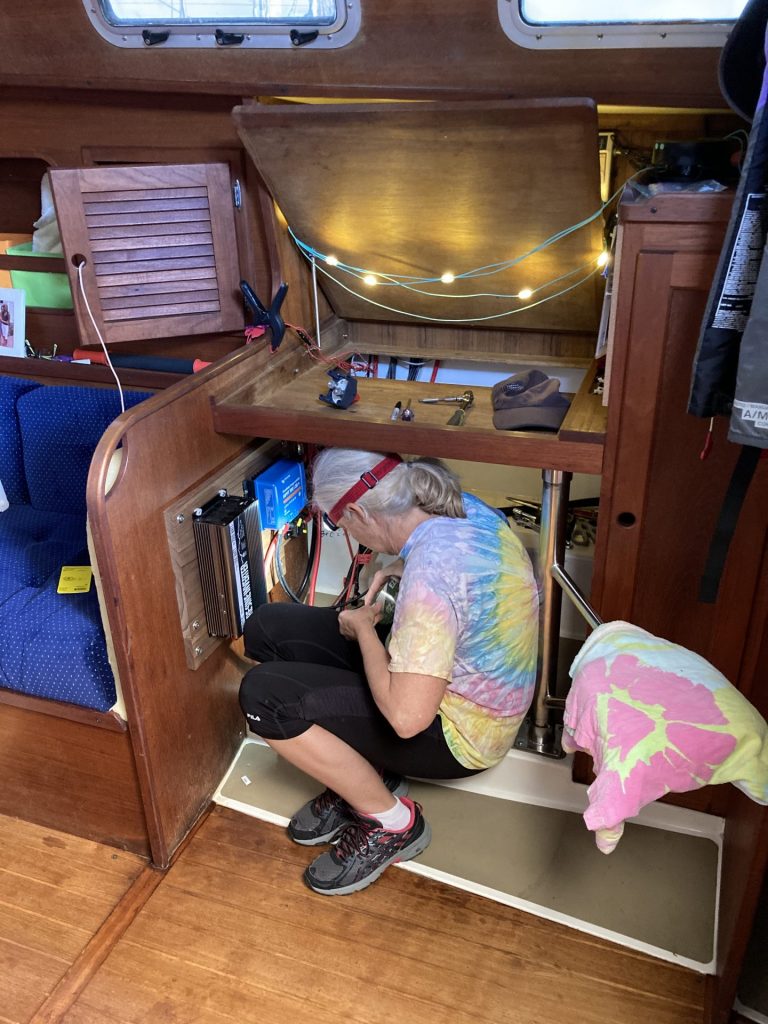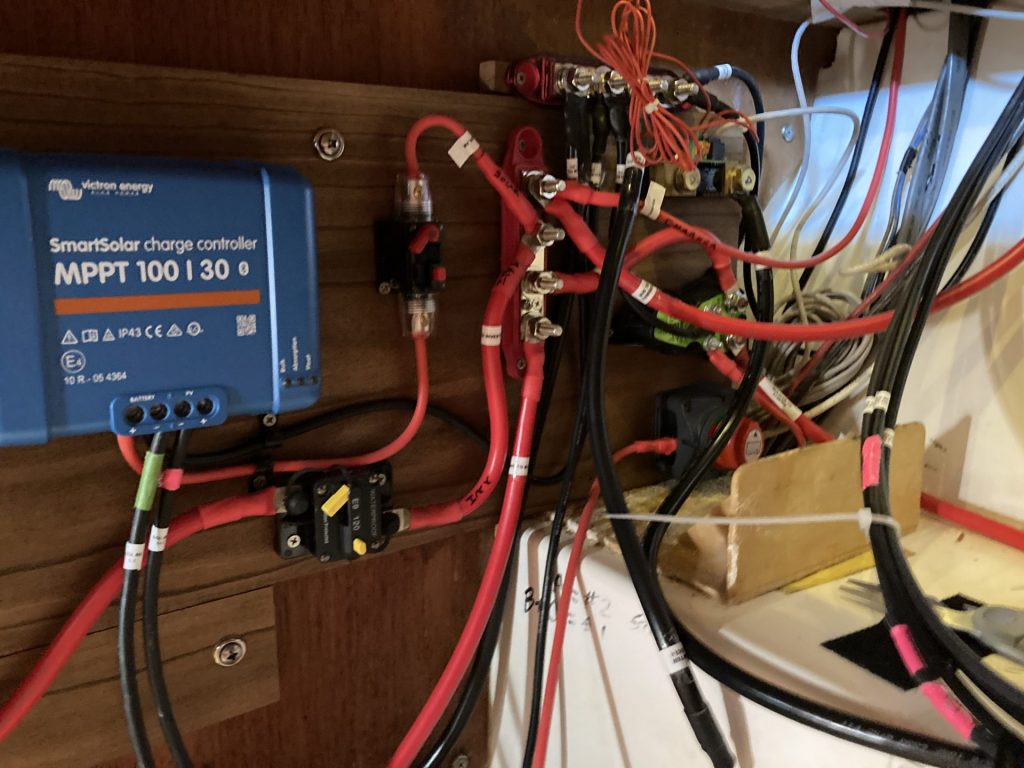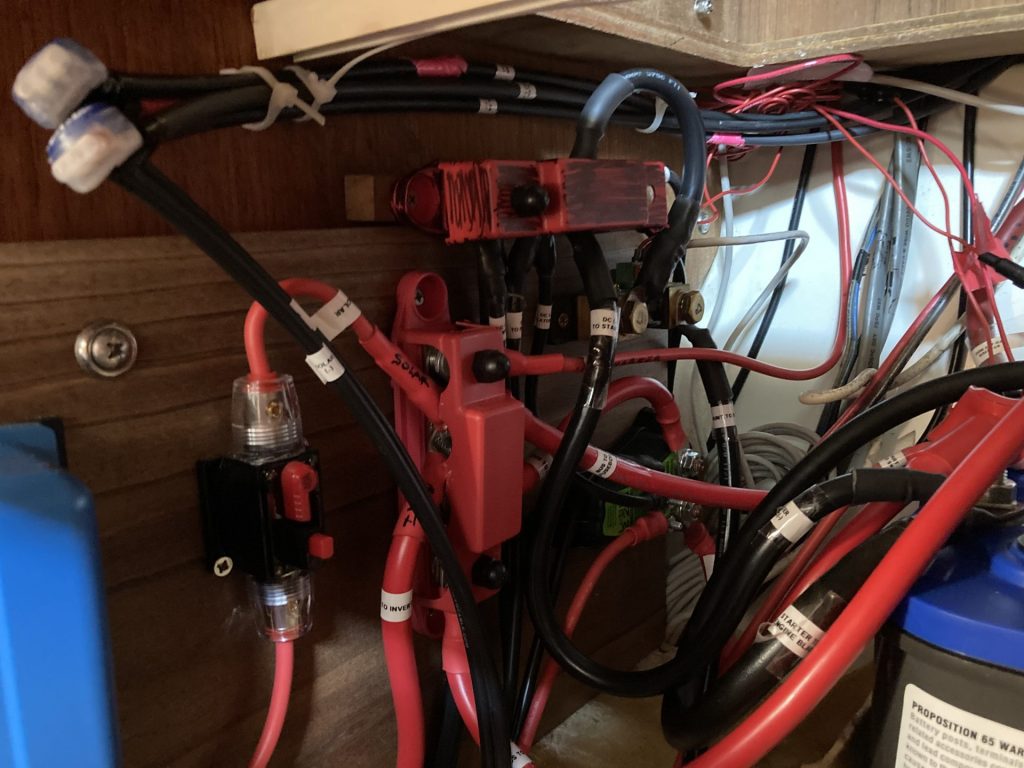 Sunday was more research. It was a beautiful day – sunny and 70 but we just had so much stuff to learn etc. Plus, after Saturdays work Chris (slip neighbor) and I decided that the BIM (Battery Isolator Manager) I was using was just not going to provide lithiums the charge needed when the engine was running – so I ordered a Victron Argo FET from amazon with the hope it would arrive by Tuesday.
Monday we worked during the morning and went to pick up parts in the afternoon. It just takes forever when you leave the marina! It takes about 20 minutes just to walk to your car! There was no time to do much when we returned from errands.
We did find out that West Marine price matches Amazon and Walmart. So almost all the electrical items I picked up were price matched and we saved about $75!! Really awesome.
On another good note – I was able to get a fishing license at Field and Stream and they had the small bucket camp chairs half price – so we picked up 2 of those.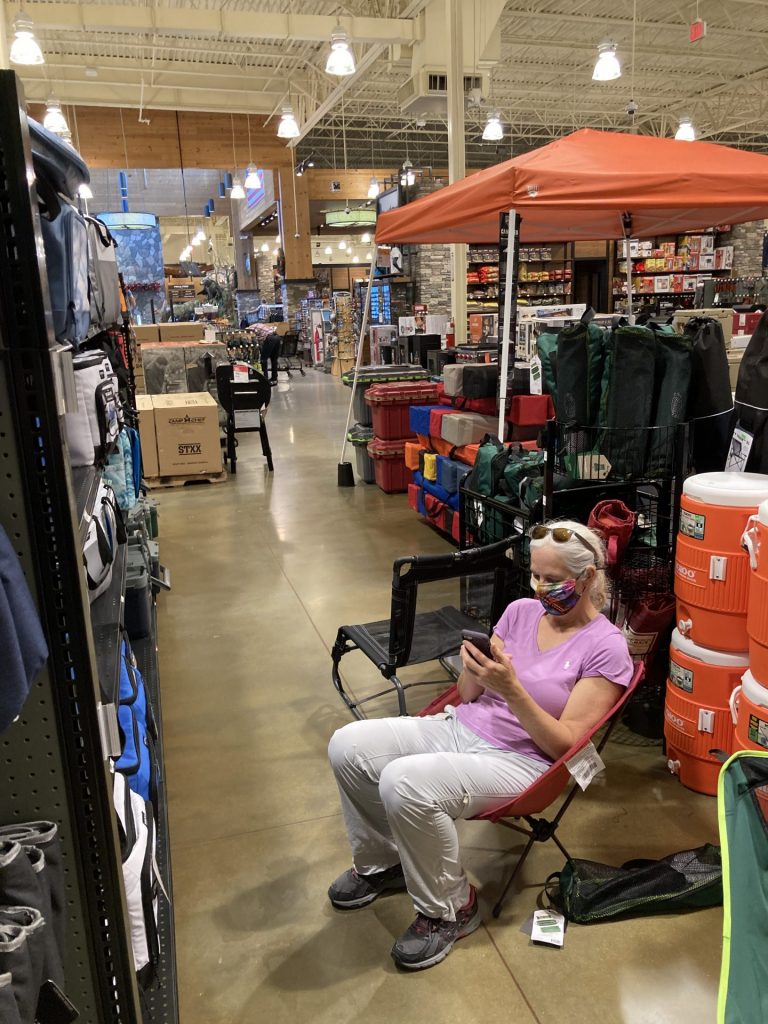 Tuesday and Wednesday are a complete blur. We worked all day. Both were cold and rainy. It took all morning on Tuesday to run the new alternator 1/0 AWG line from the alternator to the connection on the FET. In the process we re-ran other wire in the aft cabin to clean everything up. Chris spent both days really helping us out. He knows both engines and boat wiring. After the clean up of the wires I felt alot better about the electrical safety of the boat.
Wednesday late afternoon we realized we needed some additional connectors and such. It was just pouring but we had to head out in the pitch dark to get the parts from West Marine. We were soaked by the time we reached the car – that pier to the parking lot is like a quarter mile!
We got to West Marine just before closing. They did not have everything so we headed to Lowes and then to dinner at Mellow Mushroom. Its been a while since I have eaten out … always a risk with Covid!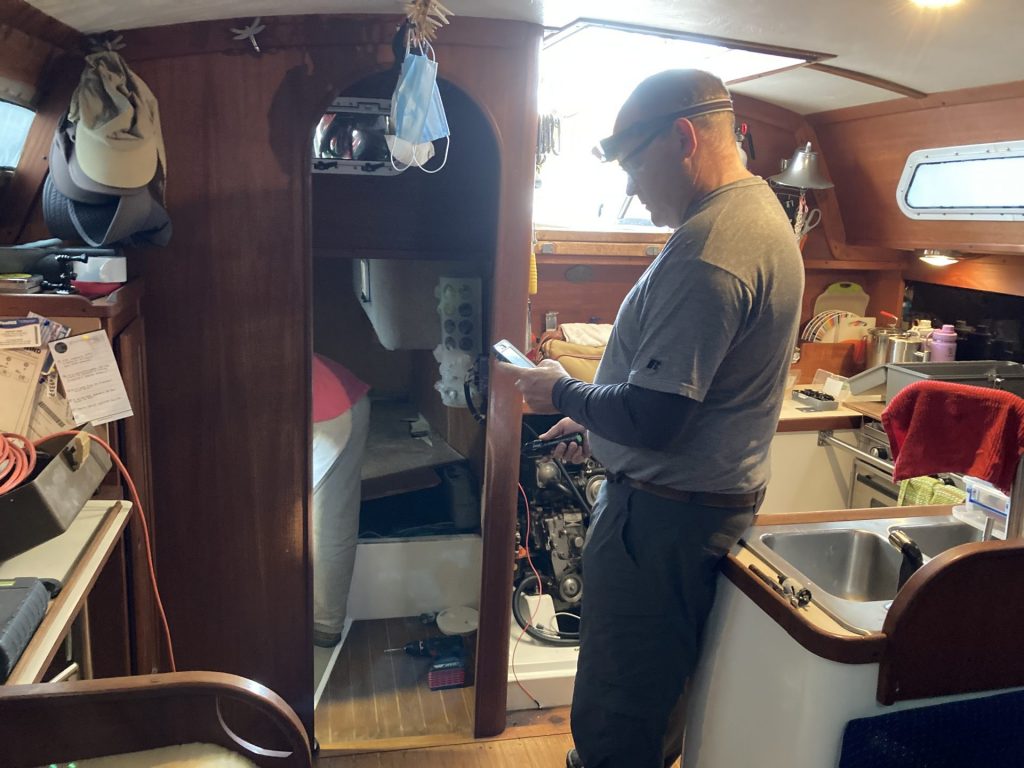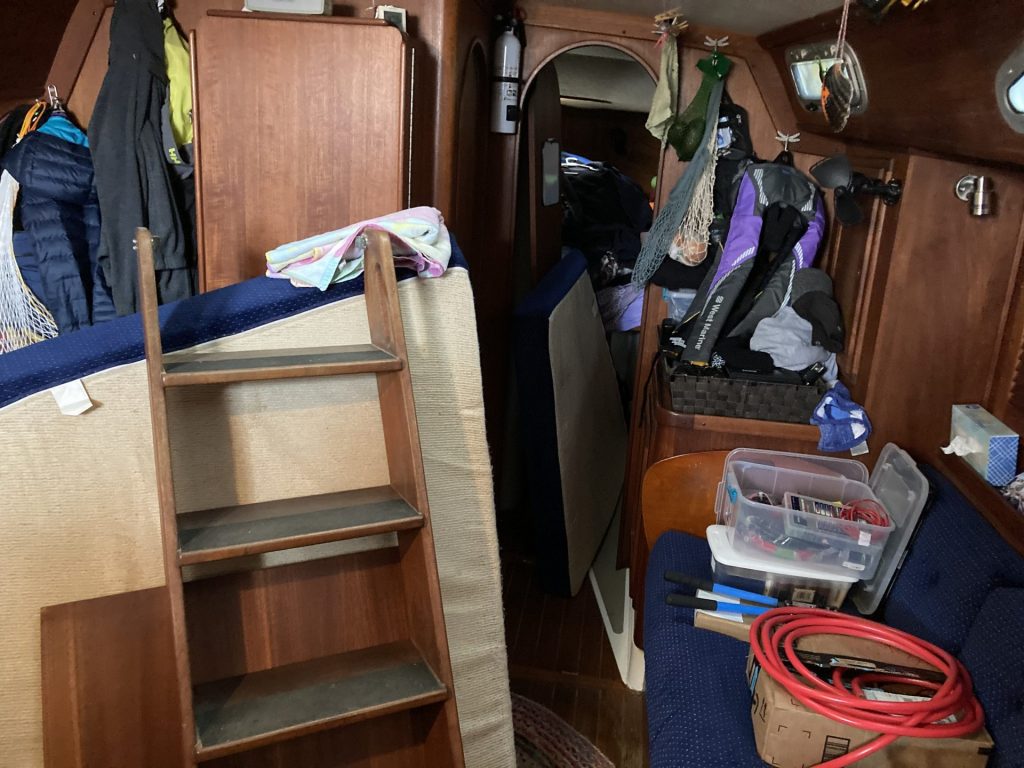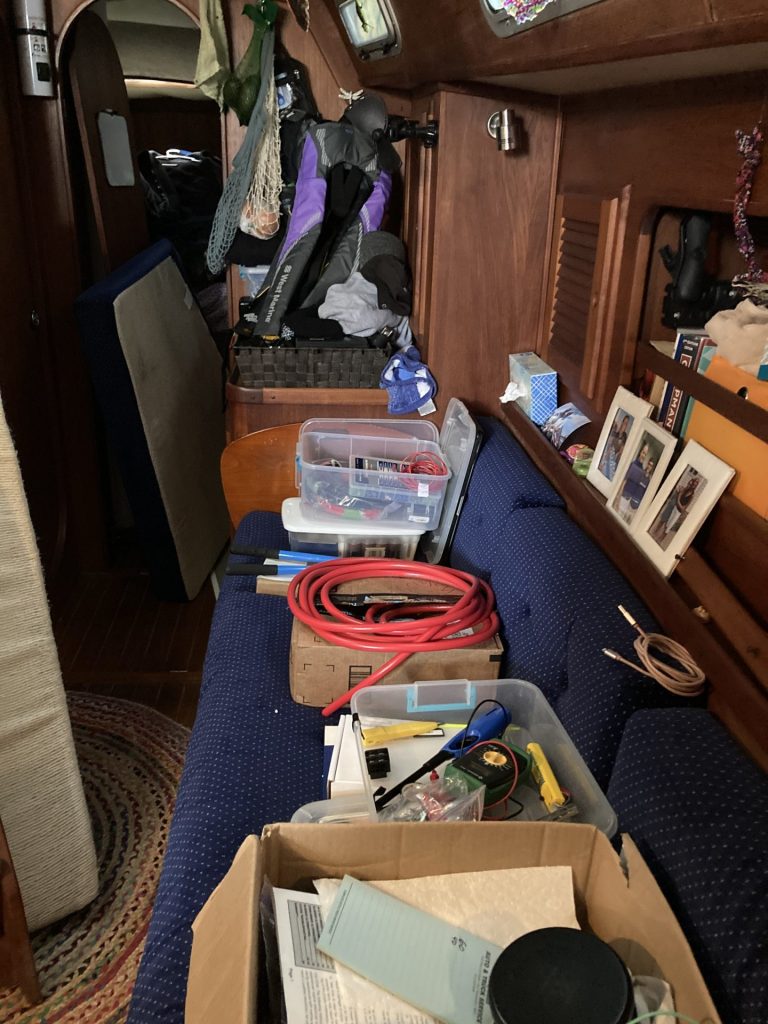 Thursday had to run out and get the last part that arrived at the engine place and we got the alternator into place and Chris helped us finish up the wiring. Everything went pretty smoothly.
Spent the afternoon programming the regulator and performing tests on it, the battery system and finally the engine. After an hour long test of running the engine – things looked good! No hiccups thank goodness!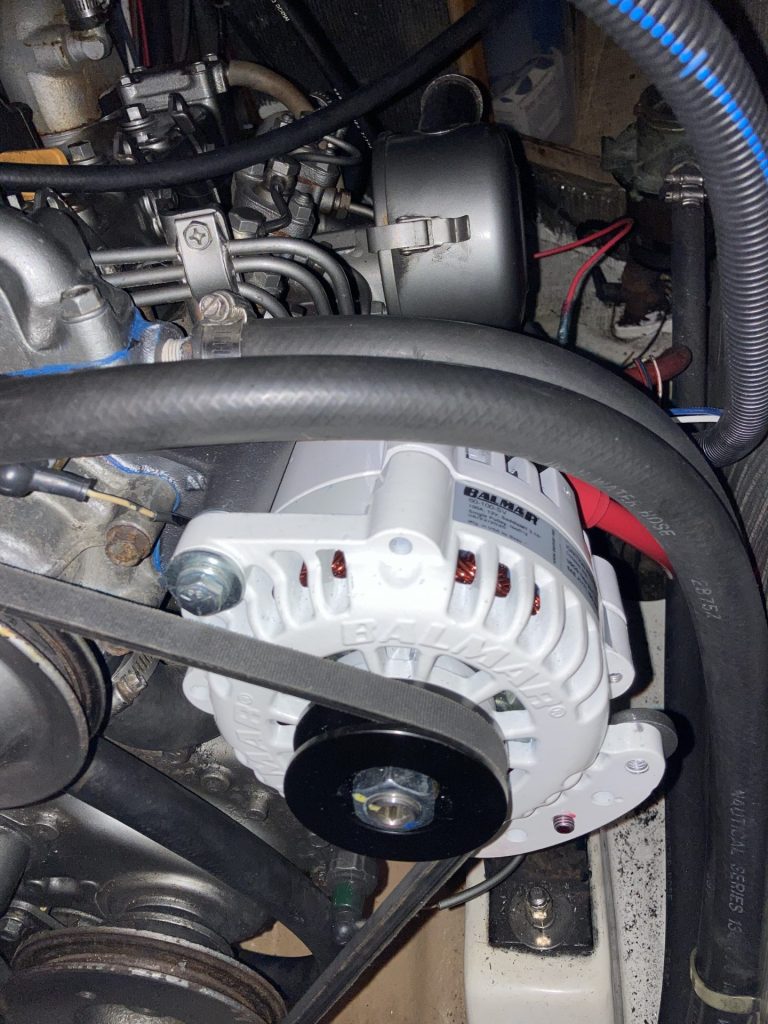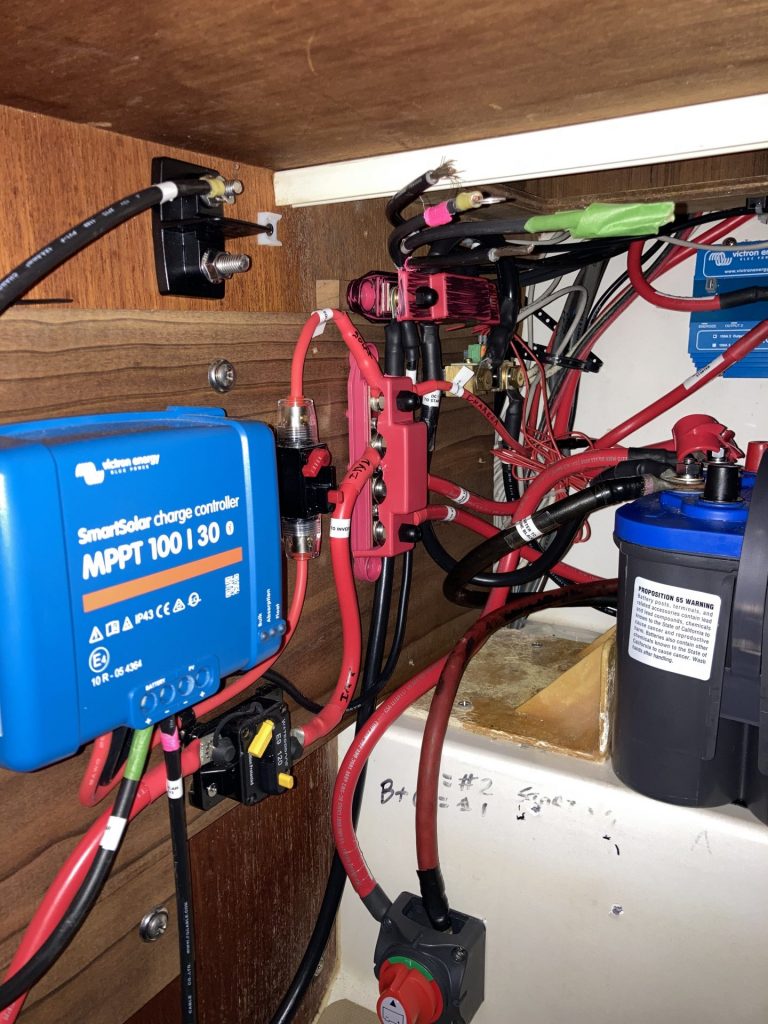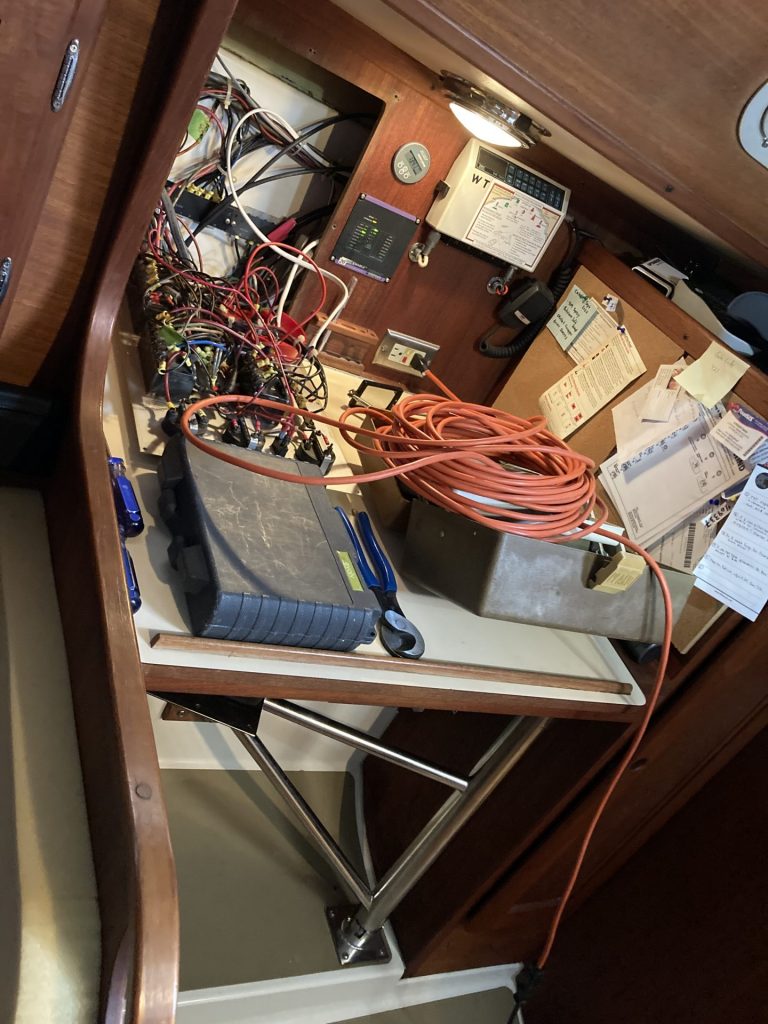 We were set to leave on Friday (Dec 18) FINALLY!! We had to finish cleaning up some of the wiring cleanup- strapping things down and putting some hose around groups that might chafe. Other than that we looked to be ready to go!