Stormy Seas into Charleston
Categories
Blog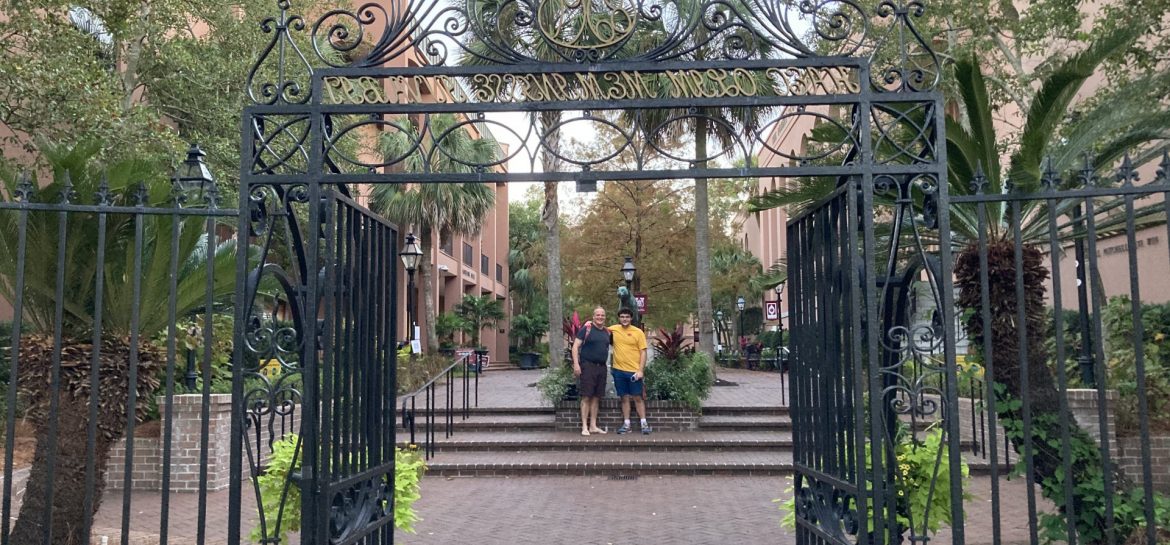 Started day: mile marker 455
Ended day: mile marker 467
The morning was beautifully sunny and we had about 15 miles to reach our marina in Charleston. Our plan was to get there, get settled and spend the late afternoon and evening with our son Cole who attends College of Charleston.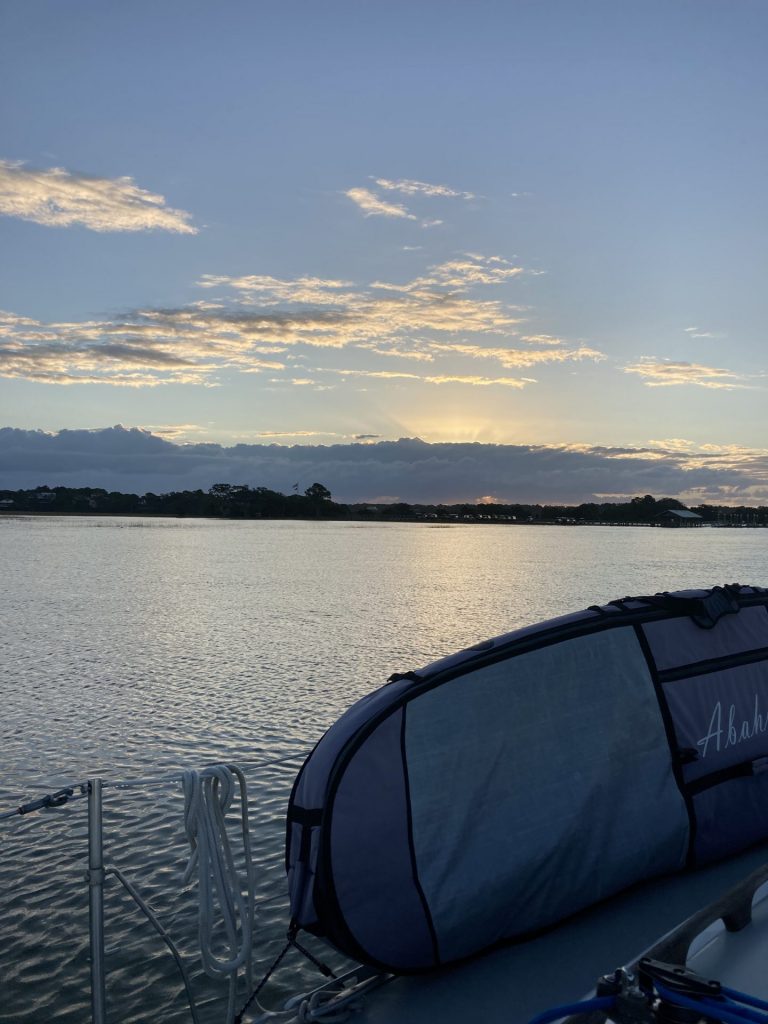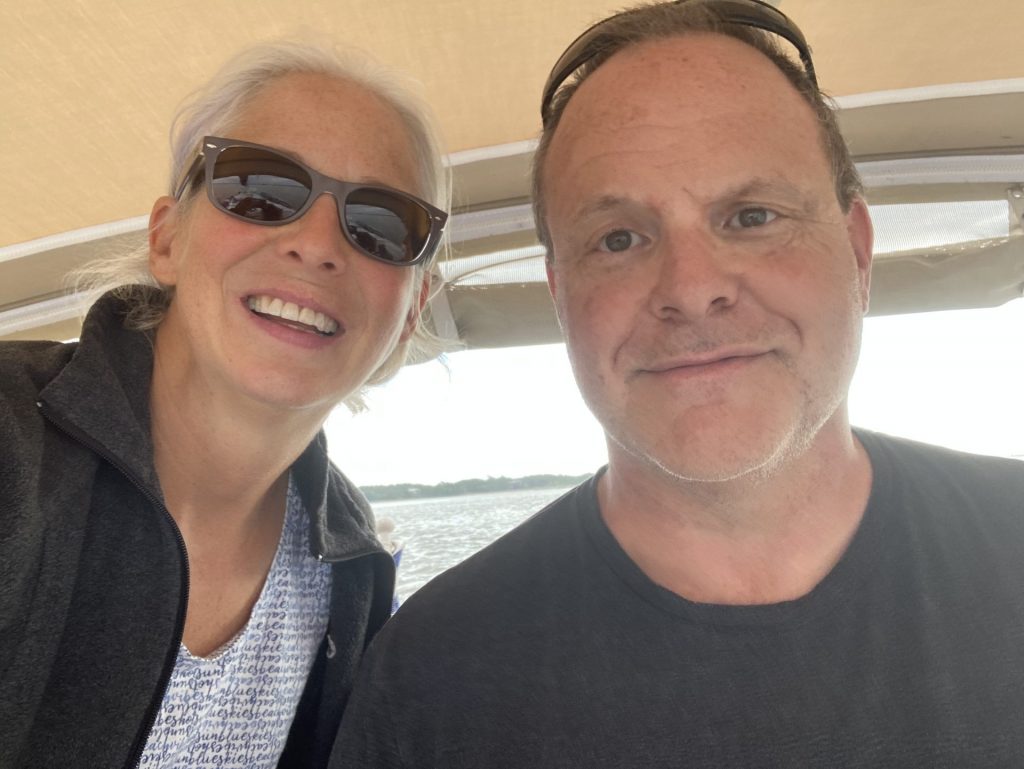 We did have a swing bridge to transit this morning that only opened on the hour. It was going to be important to time that properly so we didn't end up waiting too long…
We left around 9:30 – many dolphin playing in the inlet area. We figured that would give us 90 minutes to make it to the swing bridge at mile marker 462, only 7 miles away, piece of cake, right?
Well, once back into the ICW we realized our speed was significantly decreased due to wind and current. In addition we had some "No-wake" zones as we passed the Isle of Palms area. We were due to arrive at 11:12!!! UGH! I called the swing bridge tender to see if he would wait to open it until a little after 11:00 so we could make the opening… he couldn't stall the opening because 4 boats were waiting already. We plowed ahead – and could see the bridge for miles. That's a killer because it is so close but so far… current and wind were just not helpful this morning.
Luckily the other boats took a little time to get through and although we were minutes behind the last boat the tender kept the bridge open! We were so delighted! This is not typical of the hourly swing bridges. But we made it and thanked the tender profusely!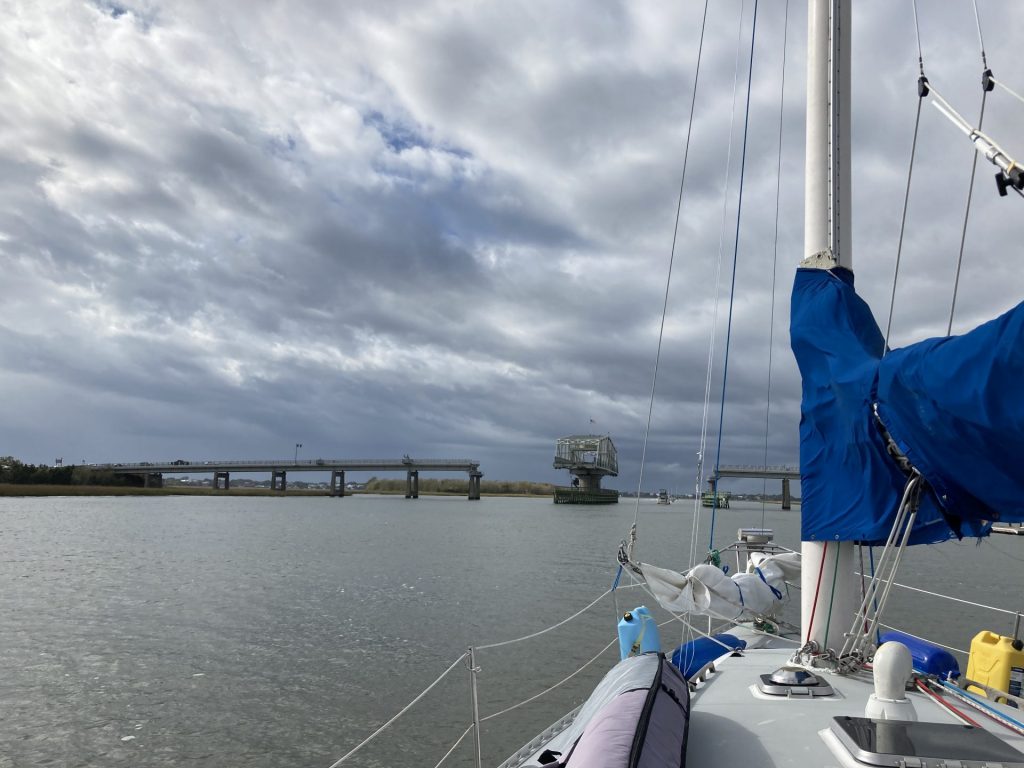 During this race to get the bridge we noticed quite a few storm clouds gathering. They were really looking menacing at this point… so now we were in a race to get to the marina. Nowhere in the forecast had we seen rain or storm!
As we entered the Charleston Harbor rain came and winds and waves really kicked up, gusting 20K. The current was completely against us, wind on the nose. It really felt like we were just standing still. It took us alot longer than expected to make it under the bridge and to the marina.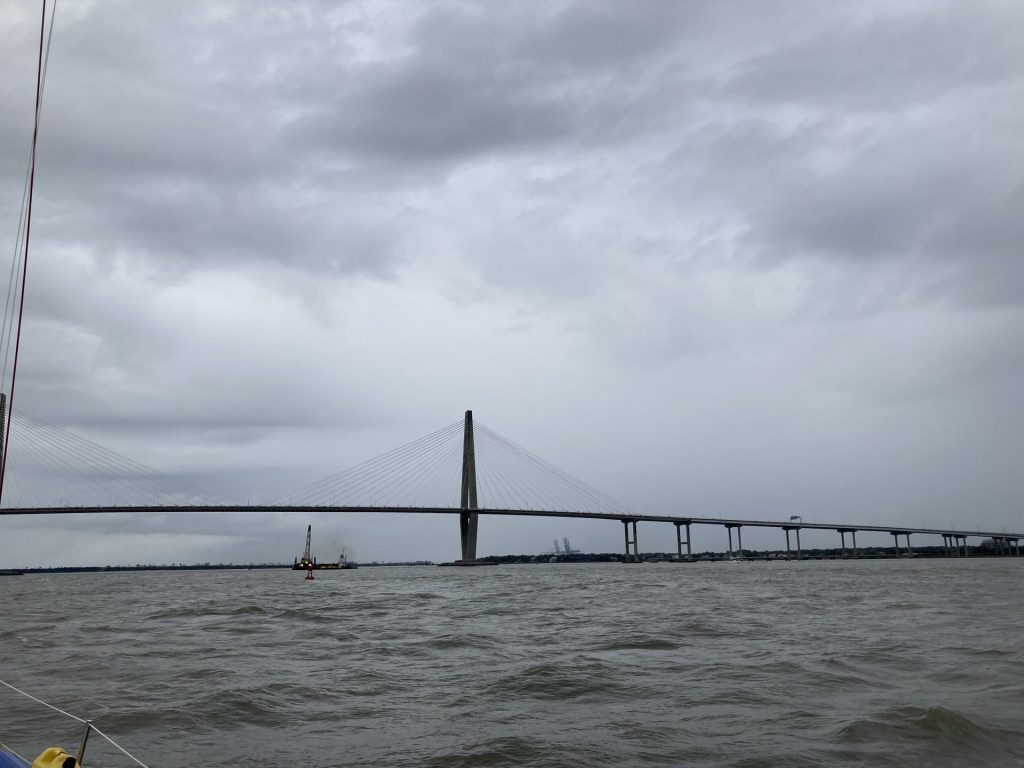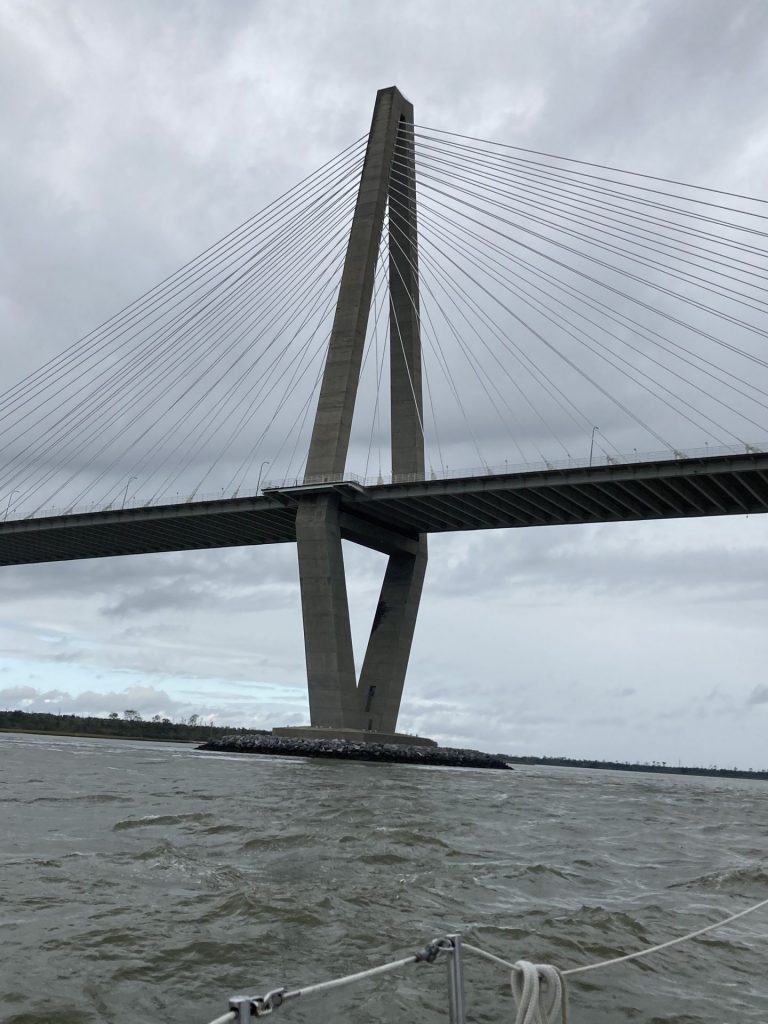 Thankfully there were two dock hands ready to help us as we pulled into the slip. The current was just incredibly strong. But we got parked and tied off and heaved a big sigh of relief. This storm just took us completely off guard. We were expecting an easy sail into Charleston with sunny skies and a dolphin parade!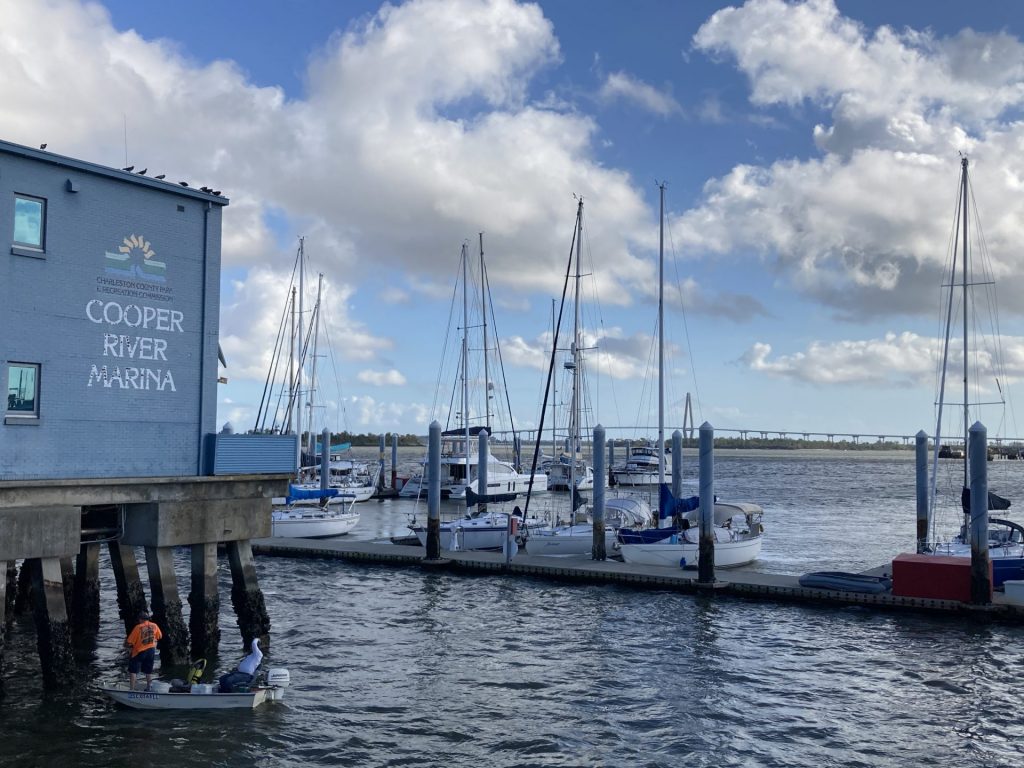 Once in port we got lunch and made contact with Cole to plan the afternoon. We met our slip neighbors, Chris and Debbie. They are here for 2 months and we were fast friends. They are far more experienced sailors but share a similar story – left Maine in Oct and no actual destination, just sailing south. Chris has alot of experience working in boat yards and is very willing to help us with both our electrical system (checking it over for me) and the engine issues we have been having. What a blessing that we met this couple. I just hope we have some talent to share with them!!
Chris suggested we rent a car as this marina is in a very industrial are – too far out and really not safe to bike or walk. We were already renting a car to drive north on Saturday so we just ended up picking it up today to keep for the week. Dustin, a dock hand, drove us to the airport to pick up the car and then we were off to meet Cole at College of Charleston.
What a great campus! It was beautiful with all that old architecture. Unfortunately we could not go into the buildings but had a great time touring the outside and walking through the common areas.
Cole was excited to see us – we had not seen him in person since Sept 5th. Looks like college agrees with him – he loves it!
After touring the college we found a restaurant on King street to enjoy some dinner together. Had a great time!!