Visiting Family in Myrtle Beach
Categories
Blog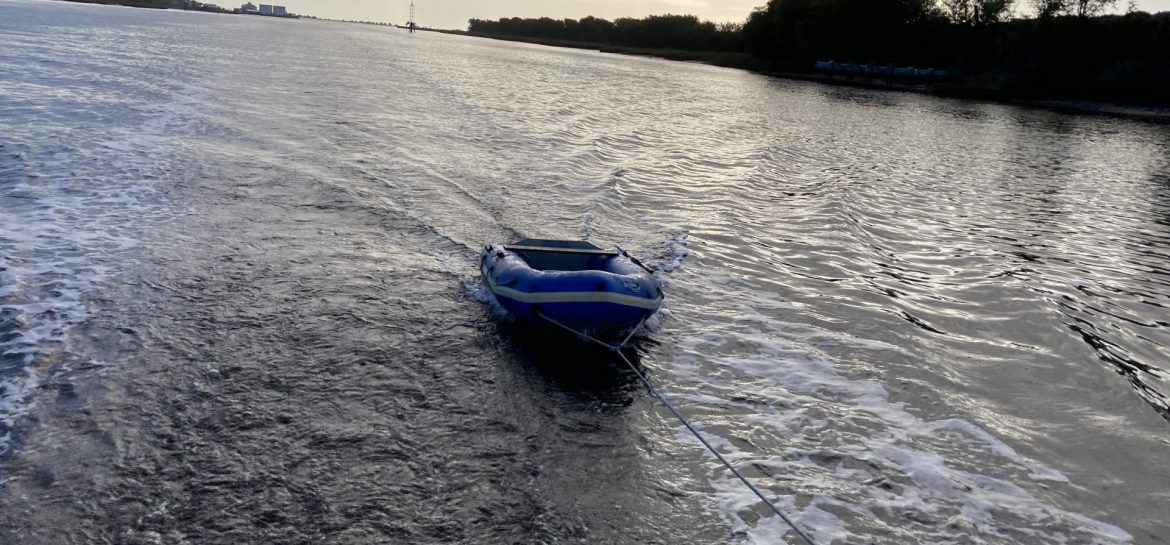 Started day: mile marker 297
Ended day: mile marker 373
This morning we were up at the crack of dawn again. But today it was important to get an early start to transit Cape Fear River and round the point at Southport. The tide would be with us until about 10am – wind was coming from the East but at least it was not on the nose.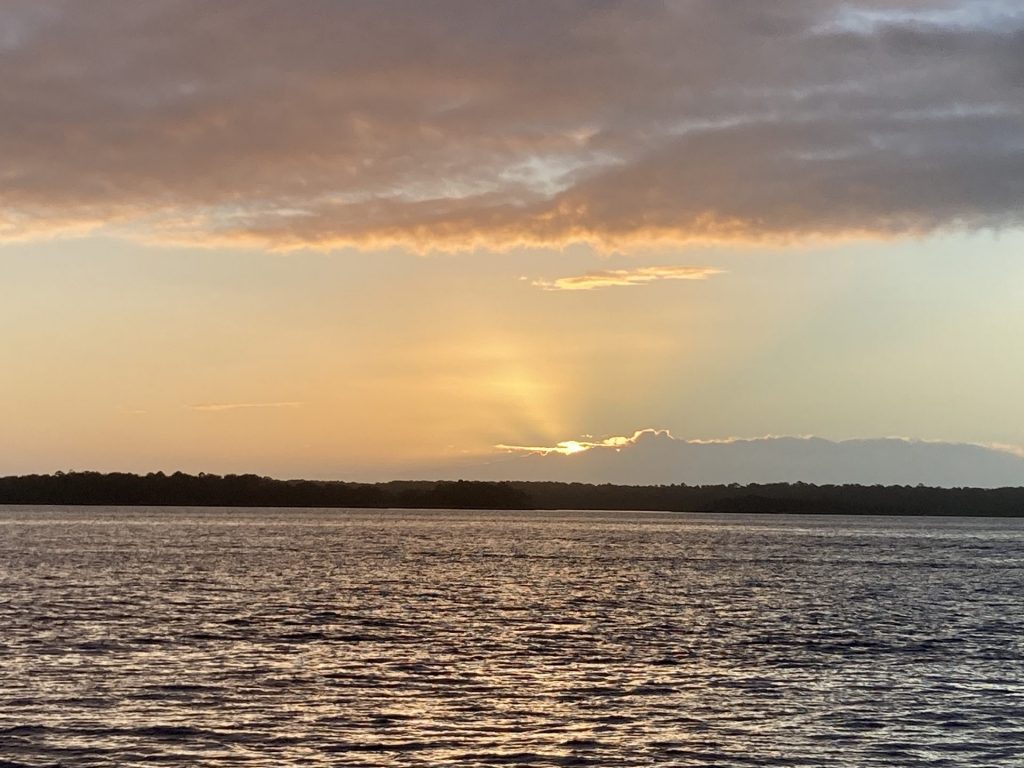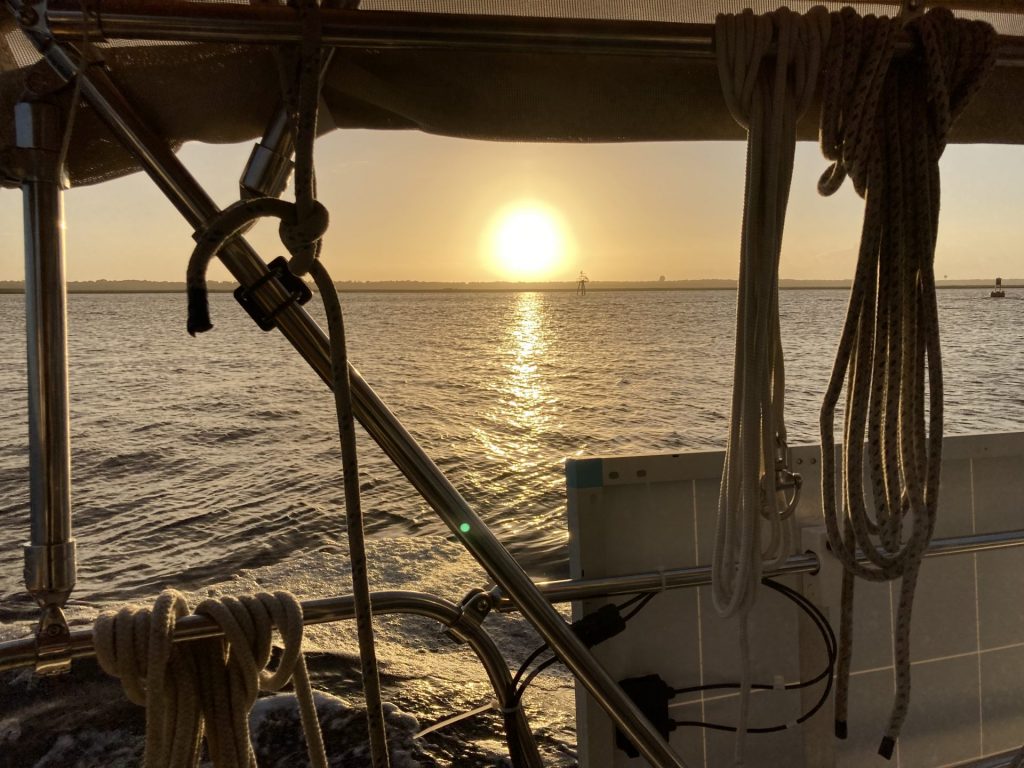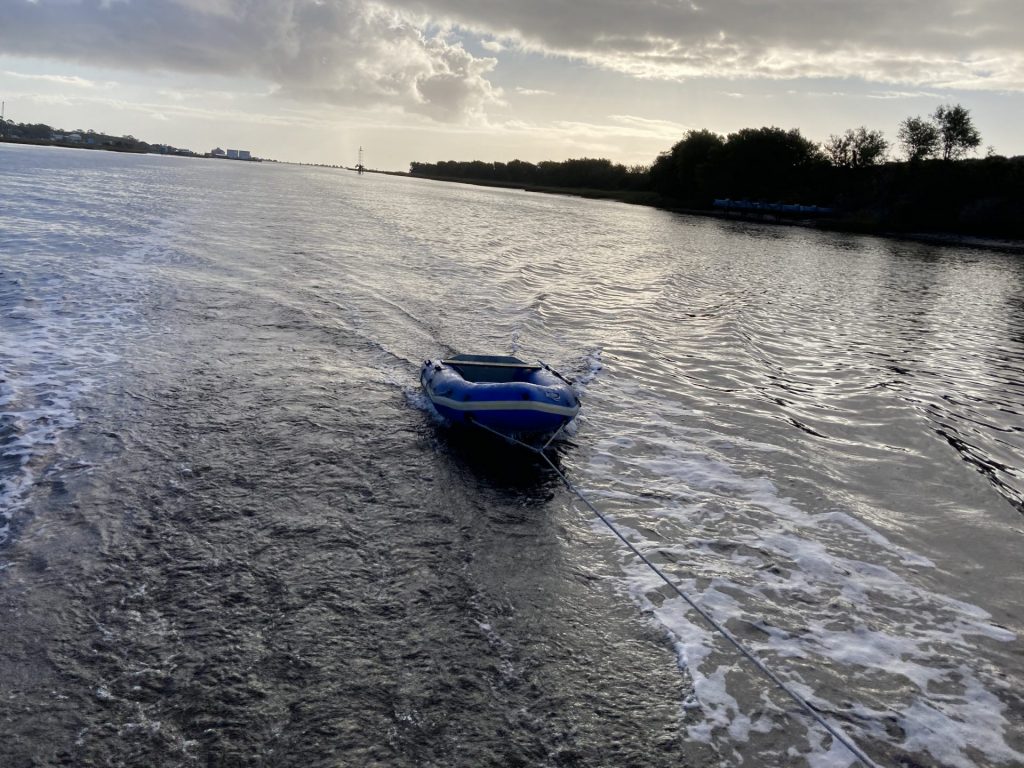 We had no trouble down the river – the current at the point was strong but we had no trouble there either. Those were our two biggest worries today and they were now behind us. The tide was not with us for a bit but it was a calm sunny day so it was fine. Just slowed us down.
We passed many islands and more shipwrecks. Southport was hit by hurricane Matthew and hit by a storm this fall – we could see some of the devastation still.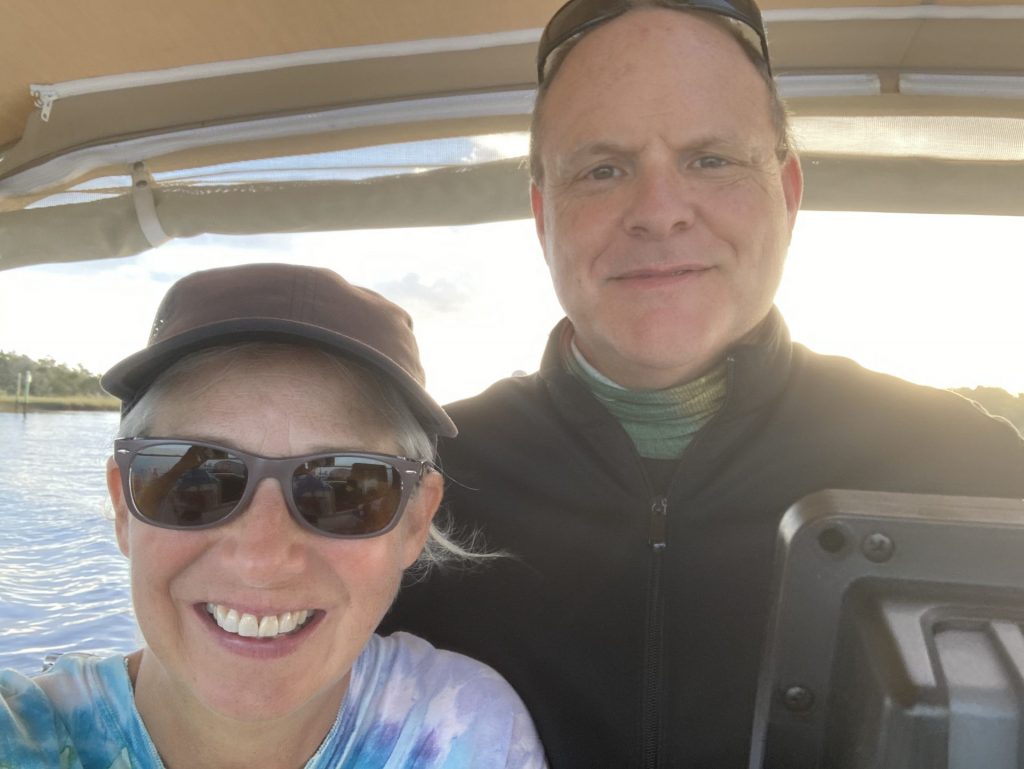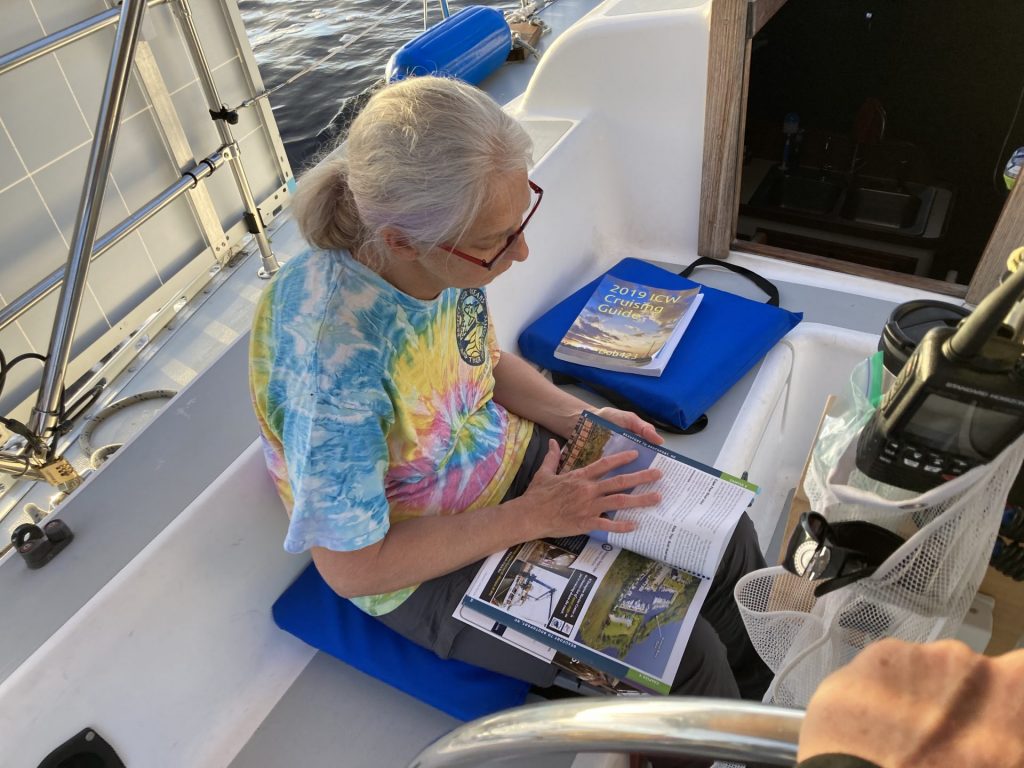 There were several shoaling situations today. The worst one was at Lockwoods Folly Inlet. As we approached the inlet we could see there were several boats just sitting in the ICW. No sooner did we notice this and the VHF came to life. One of the stuck boaters hailed us on the VHF – they had all run aground. Some were in as little as 2 feet of water!
Stew had just downloaded updates to our aqua map charts and USACE Surveys and felt confident we could thread the needle and move our way through. Sure enough we did! By using the surveys he could tell where the water was deep vs shallow (this is a color coded scan of the depth of the area).
We made it out the other side and did not even touch once. It was hard to fit in the cockpit after that – The Captain and his ego took up alot of the room! He felt pretty good about this and we did post in the ICW facebook group to alert others of the problem at Lockwoods Folly Inlet. Stew really did a great job!
As we continued down the ICW we looked back and saw another high speed large cruiser coming into the Lockwoods Folly inlet. The Captain obviously did not have his VHF radio on as he did not slow down. We saw what looked like him running aground as he seemed to skid to the side. He was stuck! But as a nice gift, his wake freed one of the other cruisers pushing the boat off its mud shelf. I'm sure the other stuck boats got a not-so-nice rocking however. This demonstrates the importance of keeping the VHF on and scanning – never know when a boater might be alerting you of trouble.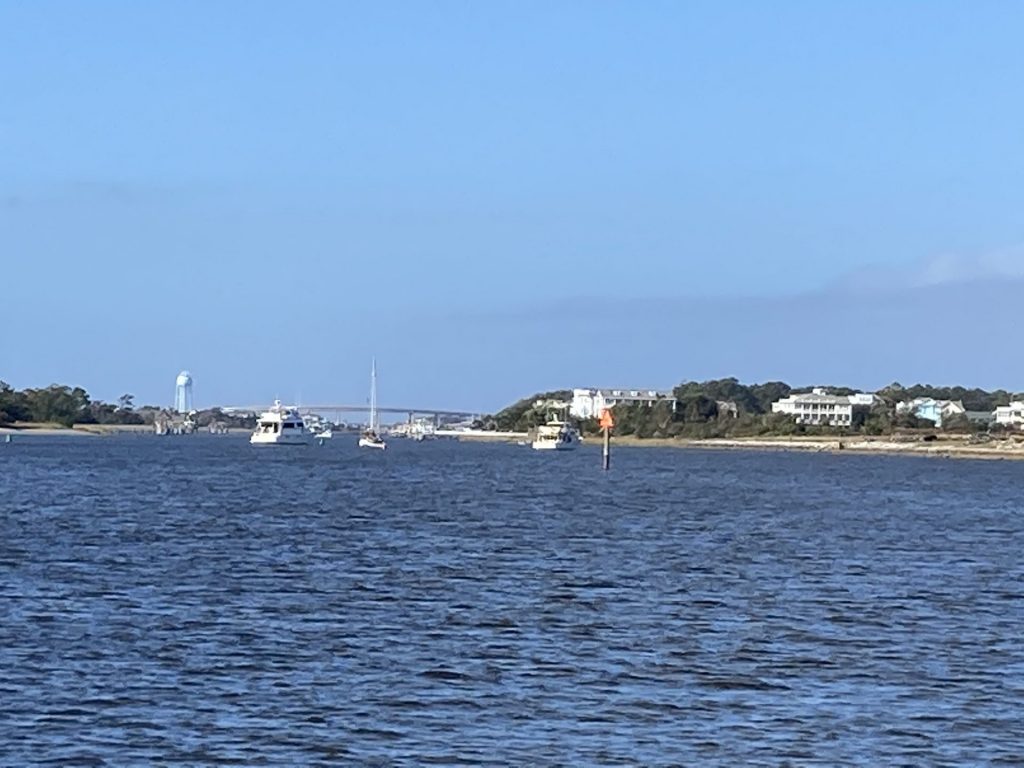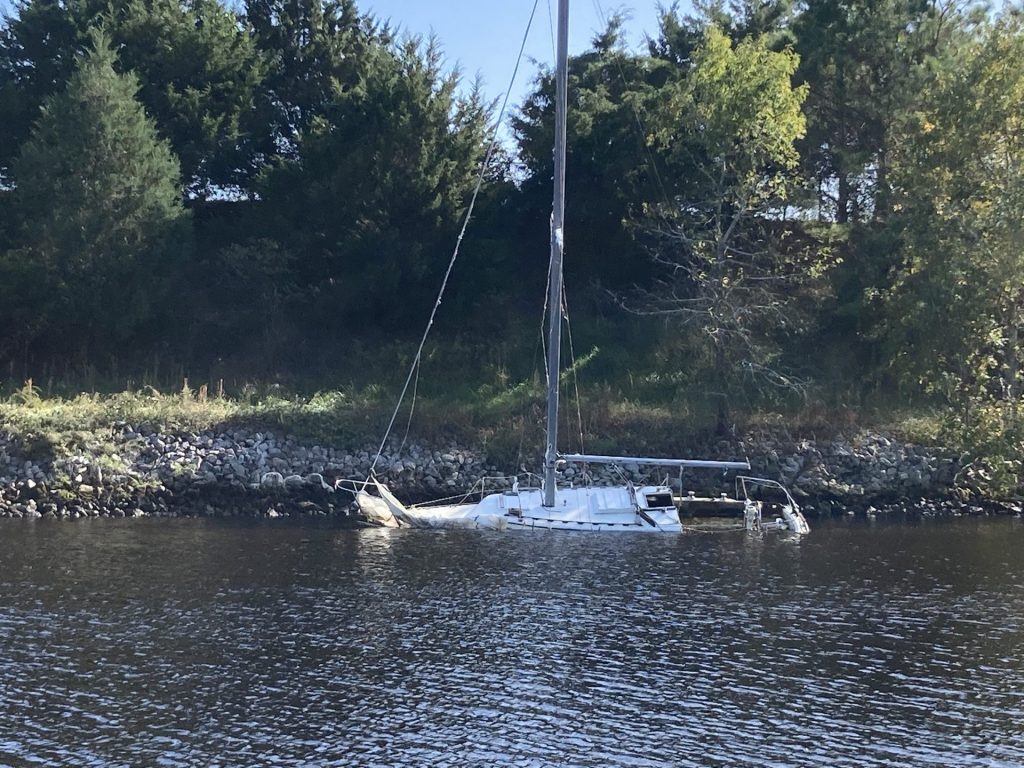 We crossed into South Carolina today (mile marker 340.9). Shortly after that we passed through the Nixon Crossroads bridge and the Captain Archie Neil "POO" McLaughlin Swing Bridge. These two bridges denote the dividing line between saltwater and freshwater. We will now need a freshwater fishing license if we want to fish over the next few days! I thought this was pretty amazing that the water can be saltwater on one side of the bridge and fresh on the other side. This also meant that we were now in alligator country instead of shark and dolphin country!!
Here we were again, almost to sunset and still not at our marina – sunset was in just 30 minutes. We were so close to our marina for the night but saw there was a backup of boats at the Socastee Swing Bridge. There was an auto accident that had traffic backed up on the bridge so it was unable to open. We had to wait about 30 minutes for it to finally swing and allow us to pass. Luckily our marina was just 15 minutes away – sunlight was quickly fading.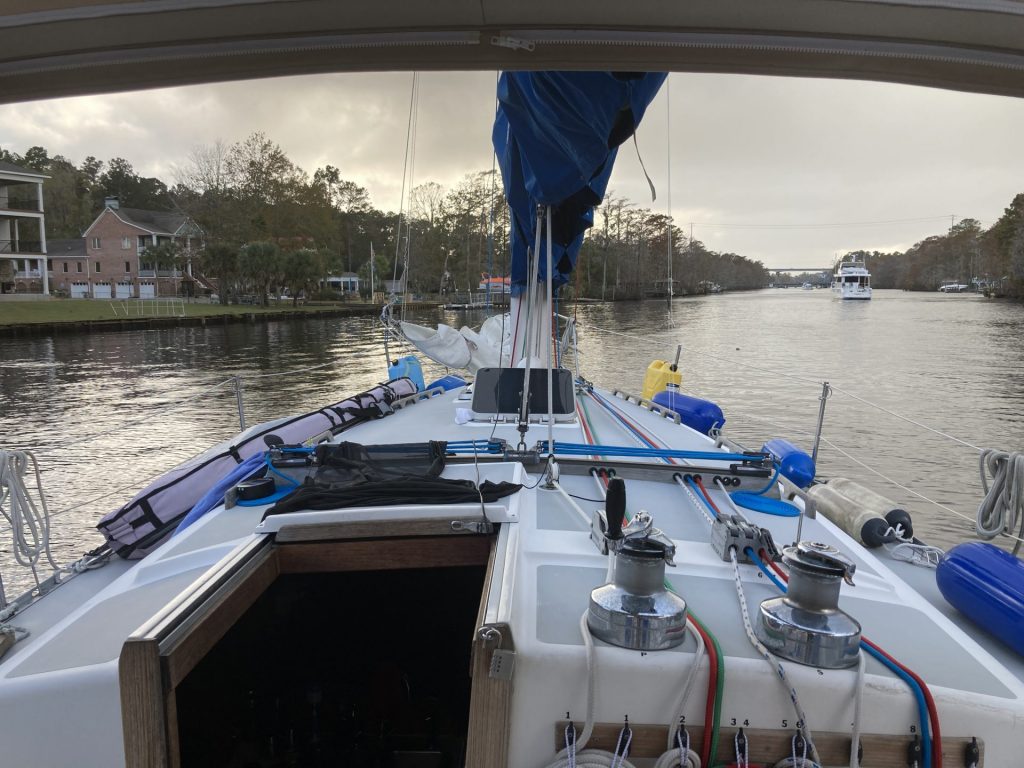 The entrance to the Osprey Marina looked like you were going back into swamp land. The channel was very narrow. So glad we had at least a little sunlight to get into the dock. Once inside there was very little wiggle room. Stew ended up backing the boat into the dock so our nose was pointing out to the marina channel. We knew rain and storms were coming tomorrow and this is a far better way for us to be facing should there be alot of waves and wind coming into the marina.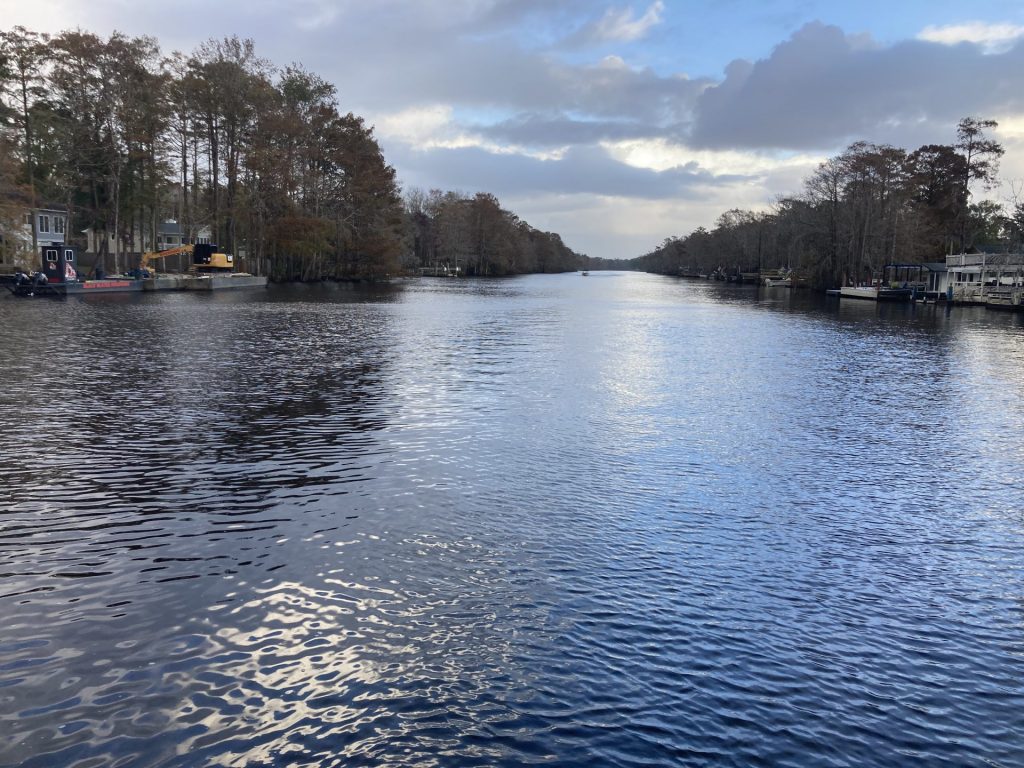 The next day was rain, rain, rain!! We had set up an appointment to see Gay, Stew's mom, who is in a senior assisted care facility. We would not be able to see her in person but we could chat through a window. So we stood for about 45 minutes outside looking in a window talking on the phone in the rain! Not the best set up in my opinion. I understand the seniors need to be kept safe – but certainly after more than 6 months there could have a better set up for visits!!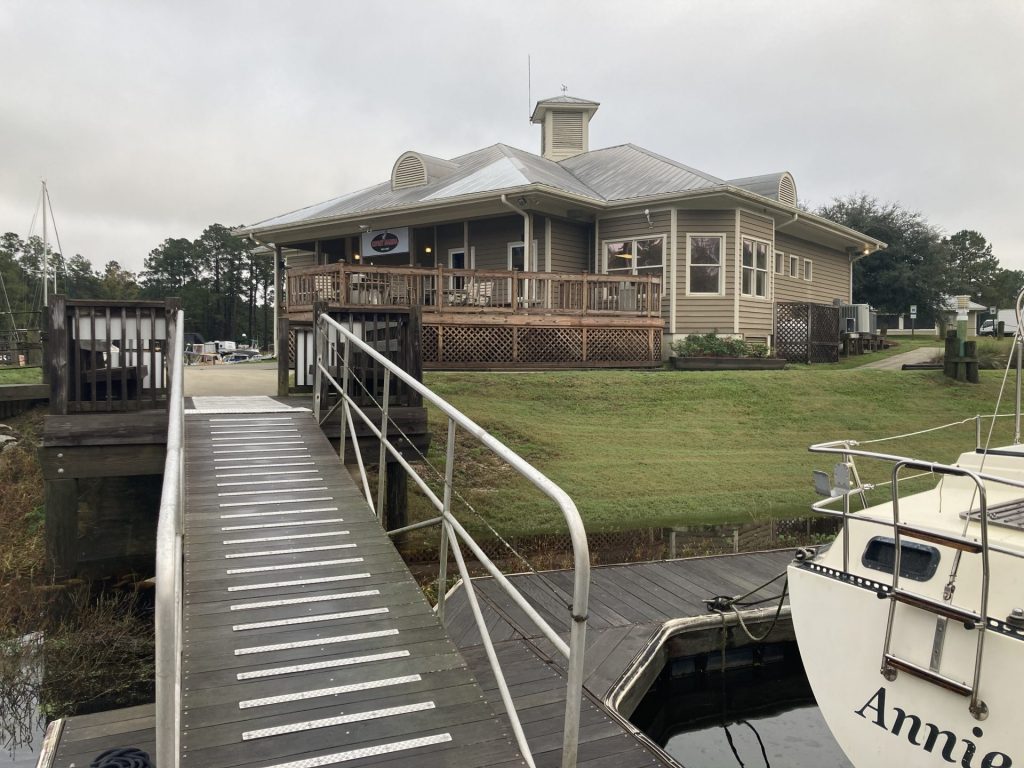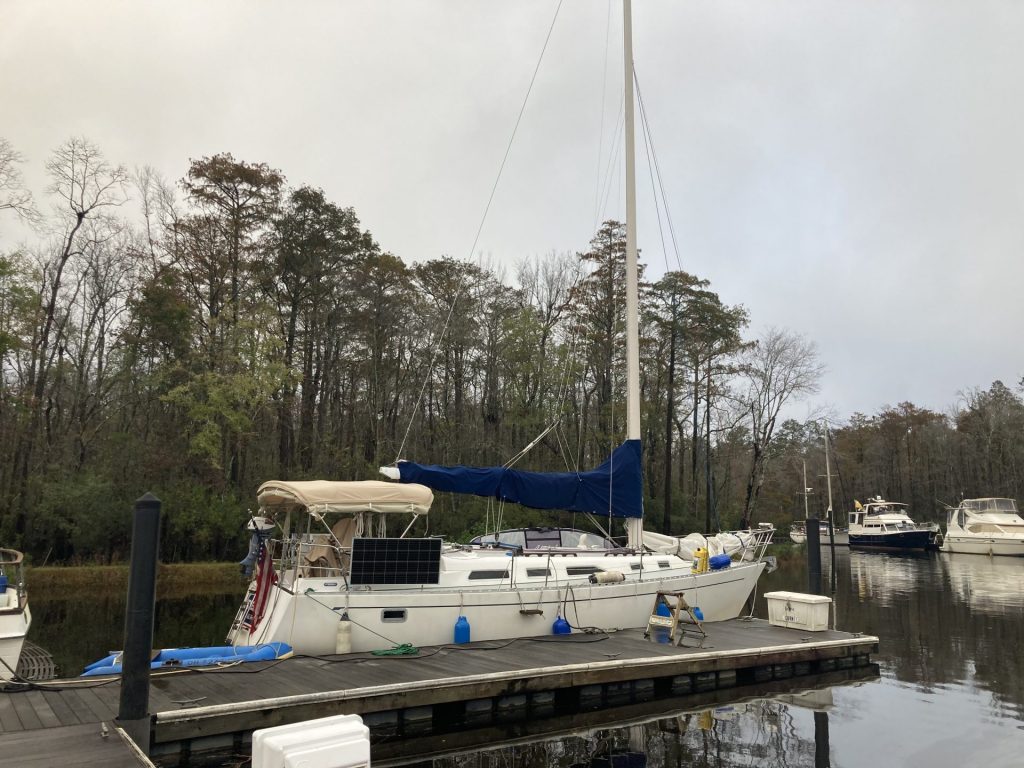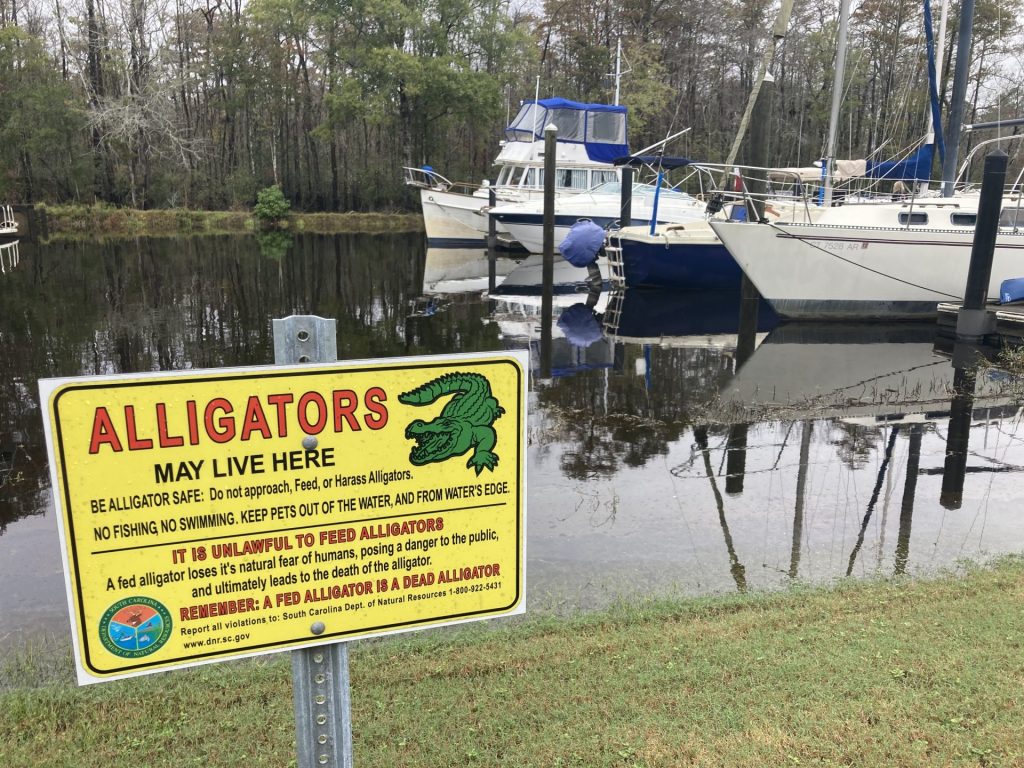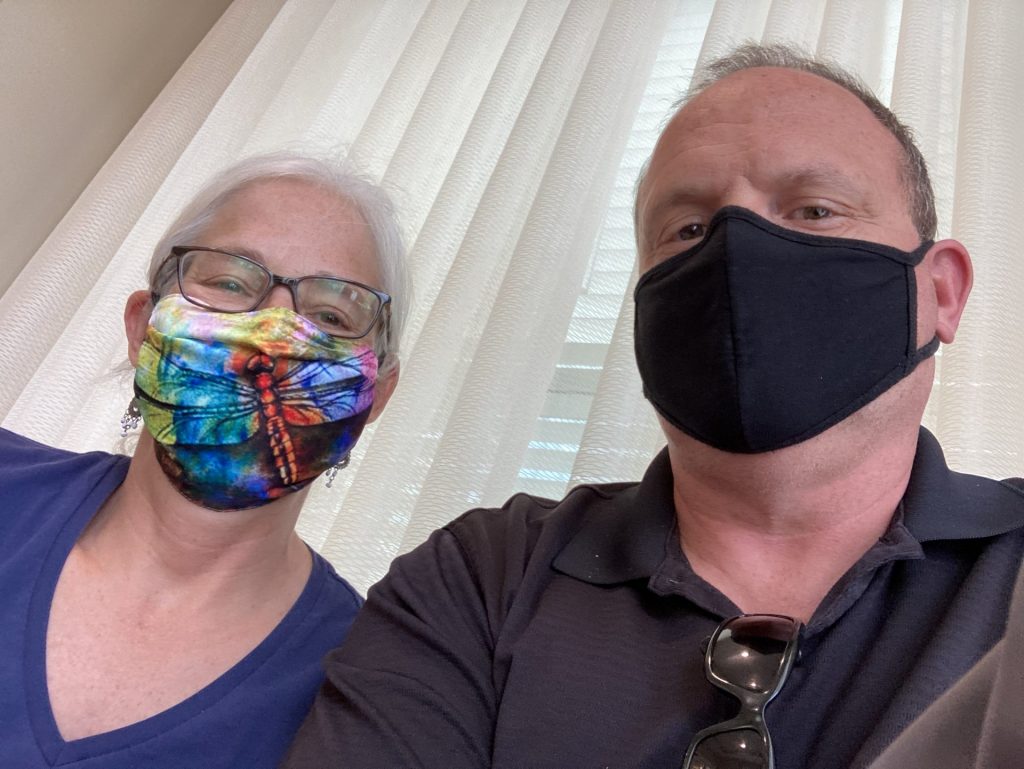 We spent lunch and early afternoon with Rob, Stew's brother and his girlfriend Joanie. It was nice to catch up and see some of the sites in Myrtle Beach.
We stayed another day due to rain and gale winds. Stew spent the day with his brother, running errands and getting some lunch. I did laundry and cleaned the v-berth and bathroom, wiping down the walls etc. It really needed it!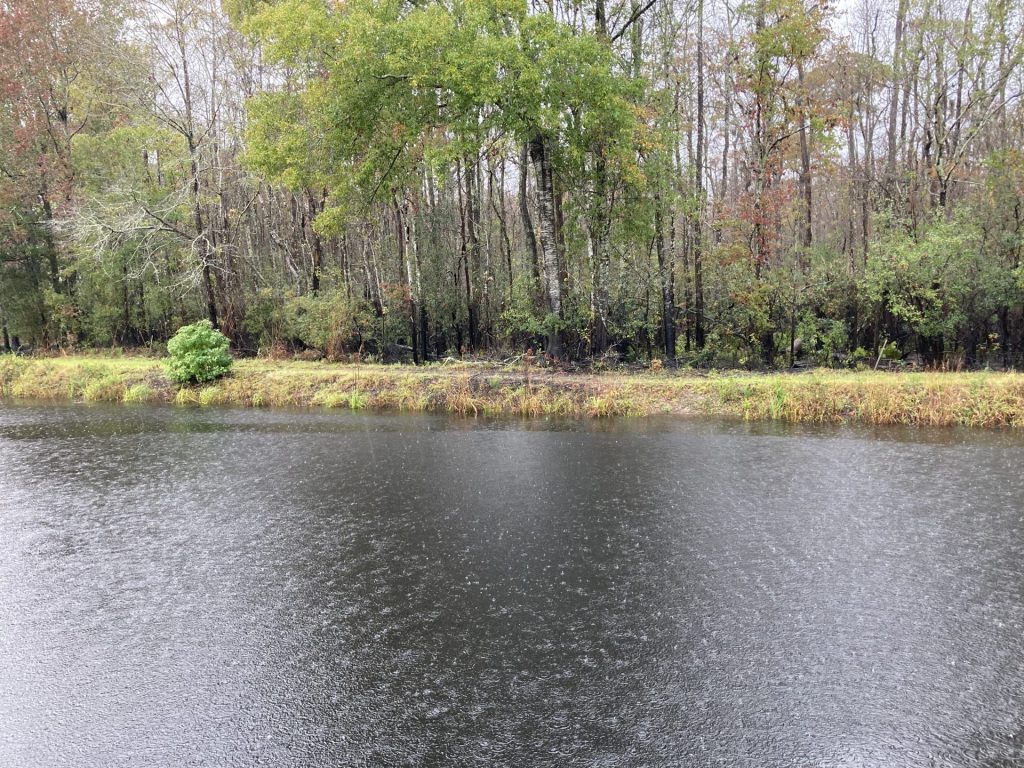 We were anxious to get on our way and prepared for a departure tomorrow Nov 13th. Only 2 days away from Charleston and seeing Stew's son Cole! We are very excited!