Not all fun and games
Categories
Blog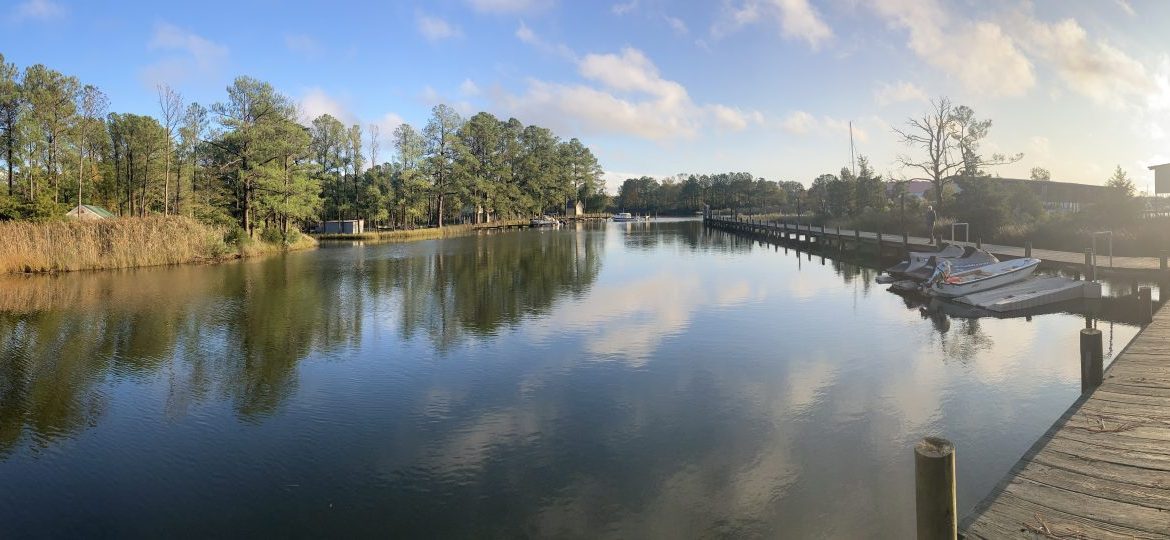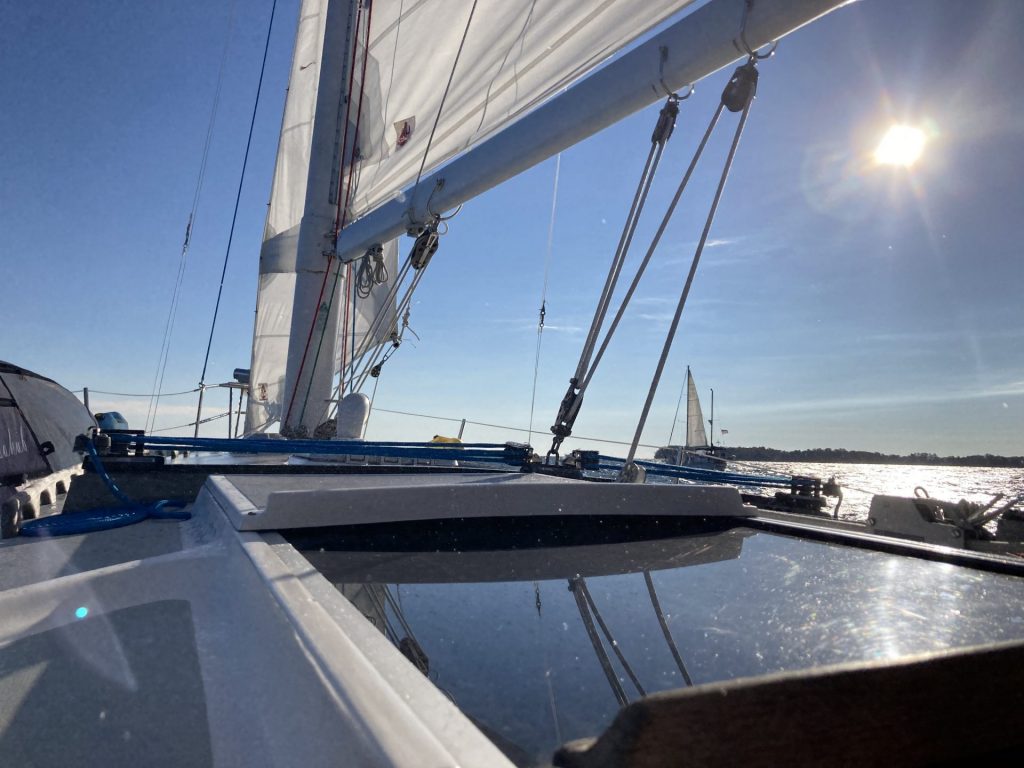 This morning was really cold but promised to be a sunny day so we took off from our quite, calm Back Creek in Solomons Island area and headed out to the Chesapeake Bay. The wind predictions indicated the wind would be from the north around 10-15, but the tide was coming up the Bay… this meant that although the wind would push us, it would be choppy… and we would fight against the flood tide.
We typically put our sails up in the inlet or quiet inner bay area, that is always the plan. But this morning the chop started before we ever entered the chesapeake. So we were trying to put the sails up in a fair amount of wind and chop which I find really scary.
I usually take care of the front sail, then we switch and I drive while Stew raises the main sail. To raise the main sail it is important to face the boat into the wind – it is a big sail and takes several minutes to get it fully raised. This morning, we faced a great many difficulties… another sailboat was right beside us exited Back Creek and we could not shake him, several motor boats (fishing boats) were also exiting, and several more were coming in. To make matters even more crazy there were so many crab pots all over it was like pinball trying to dodge them all (and the fishing boats that seemed to drop anchor right in front of us to grab some of the crab pots). Waves were washing over the front of the boat splashing saltwater all the way to the steering wheel. It was crazy – and it was cold!! This is my least favorite part of the day – taking a close second is putting the sails down at the end of the day in wind and chop!!
We try to be a safe as possible when we sail – making sure we have our harnesses on, life jackets and tethers set up. On a day like today it is really hard to go up and down into the cabin so you have to hope you have enough layers on when you started. The typical problem is that it seemed warmer when you start – little wind in the marina and your moving around in a warmer cabin. But today we knew it would be cold so we each had quite a few layers. You feel like that kid in the snowsuit that can barely move…
Once you are dressed and you think all is well – then that saltwater spray comes up and over the bow of the boat and gets everything wet. The foul weather gear (pants and jacket) are water proof but not the gloves, hat, glasses and your face!
It was a great sailing day (according to Stew) – but by the end of the day you are exhausted. Today especially because moving around was exhausting with all the layers, and I was cold most of the day. I did make some lunch – with much effort I heated leftover Spanish rice garbanzo dish we love. The stove is a gimble stove which means even as the boat is rolling the stove remains straight so the pot stays in place. It still makes me nervous but the hot lunch was so worth it!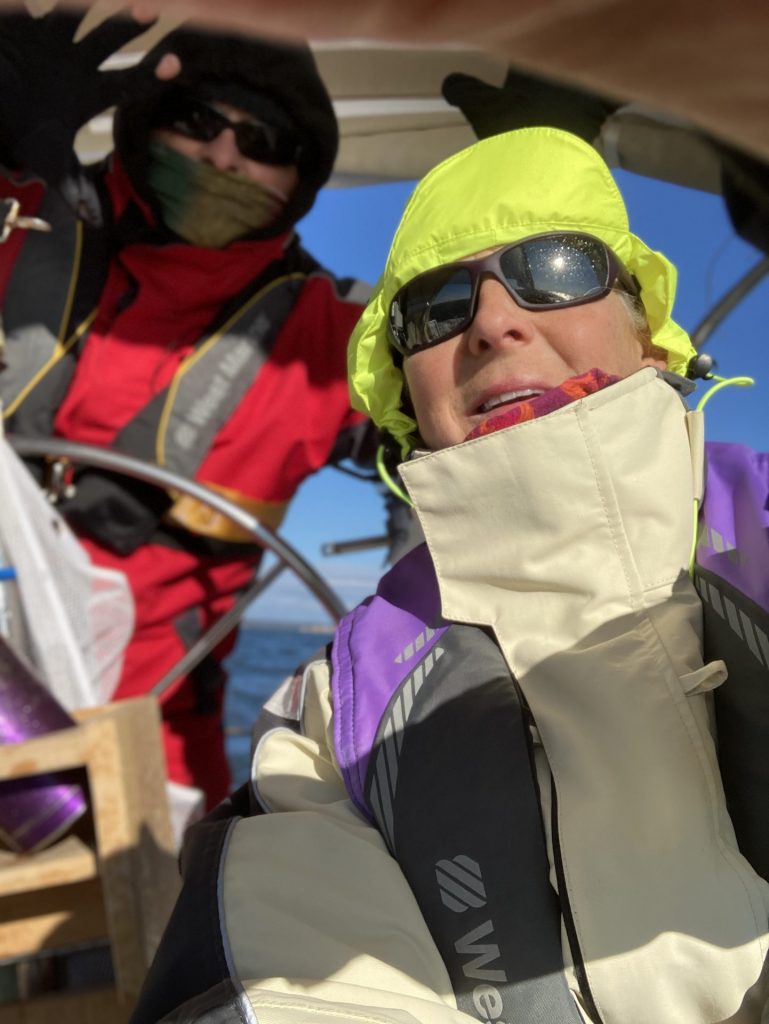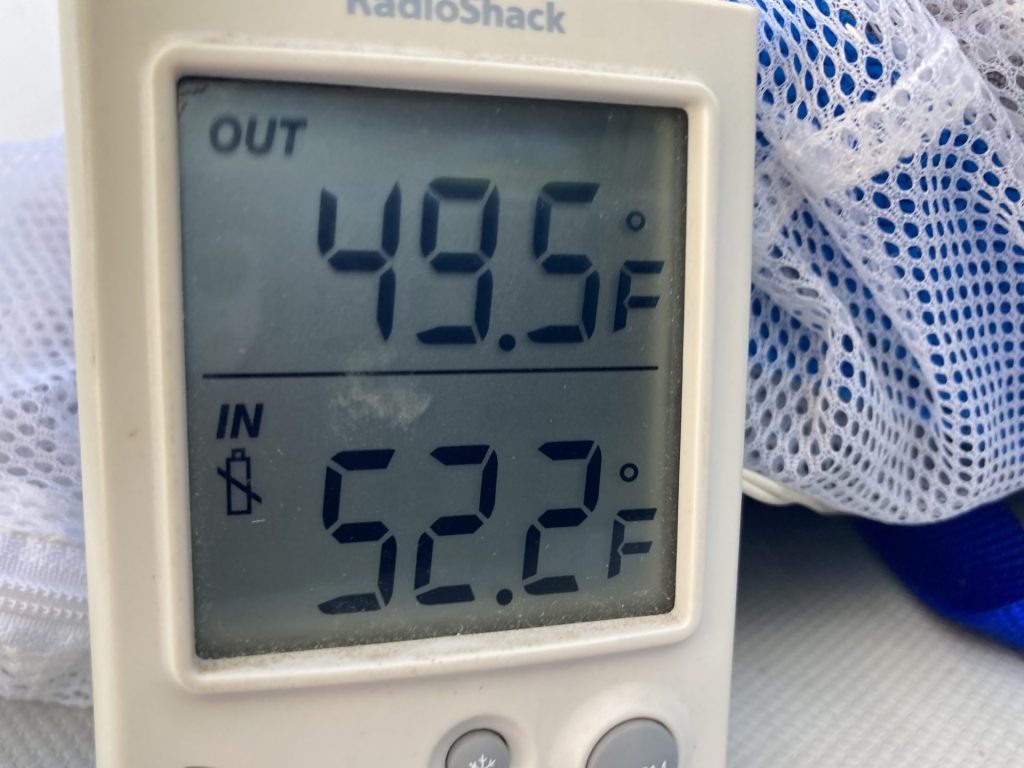 We had planned to anchor tonight in Jackson Creek, just south of Deltaville. But we were so cold and the night was going to be even colder so we decided we needed to have heat tonight. With shore power we can run the heater – and we can take hot showers! We also noticed that there were now gale warnings for the next 3 days and it looked worse than the last storm.
I called 5 marinas before I found one that had room for us tonight. It was Saturday night (always busier) and maybe others were looking to tuck in before the strong winds hit.
Thankfully we found one just North of Deltaville, Doziers Yachting Center, that had room and we would be in an actual slip!! This would be far more protection than we have had in the last several marinas. As I read the reviews it looked spectacular!! This would also be quite a change from the pervious places.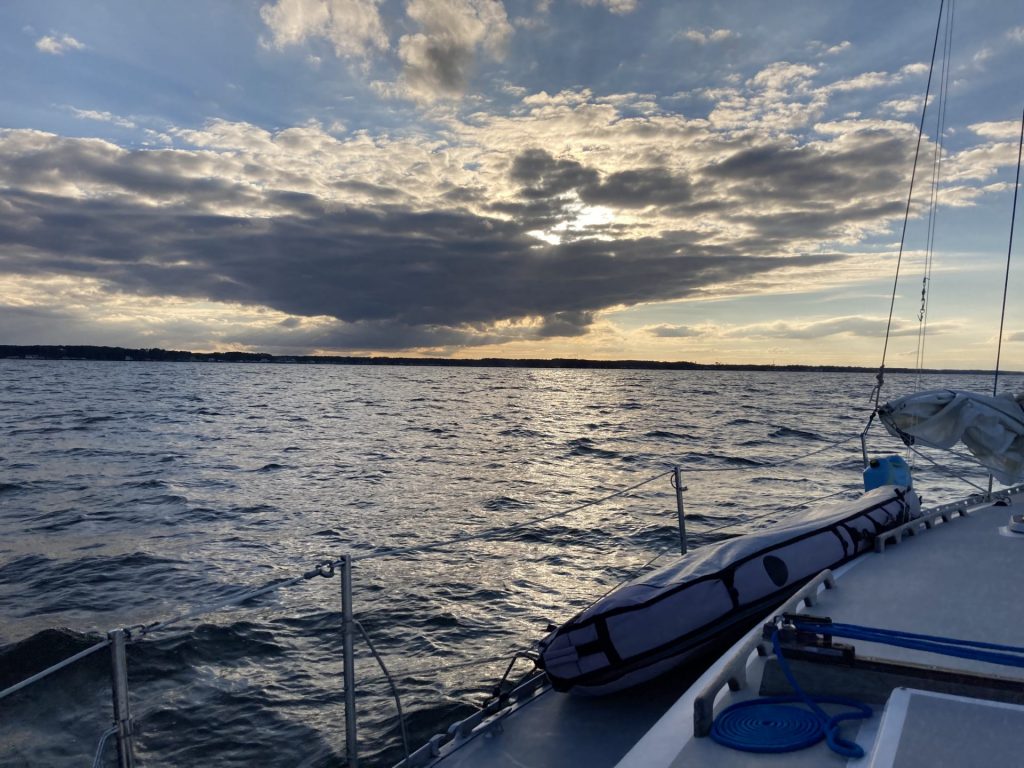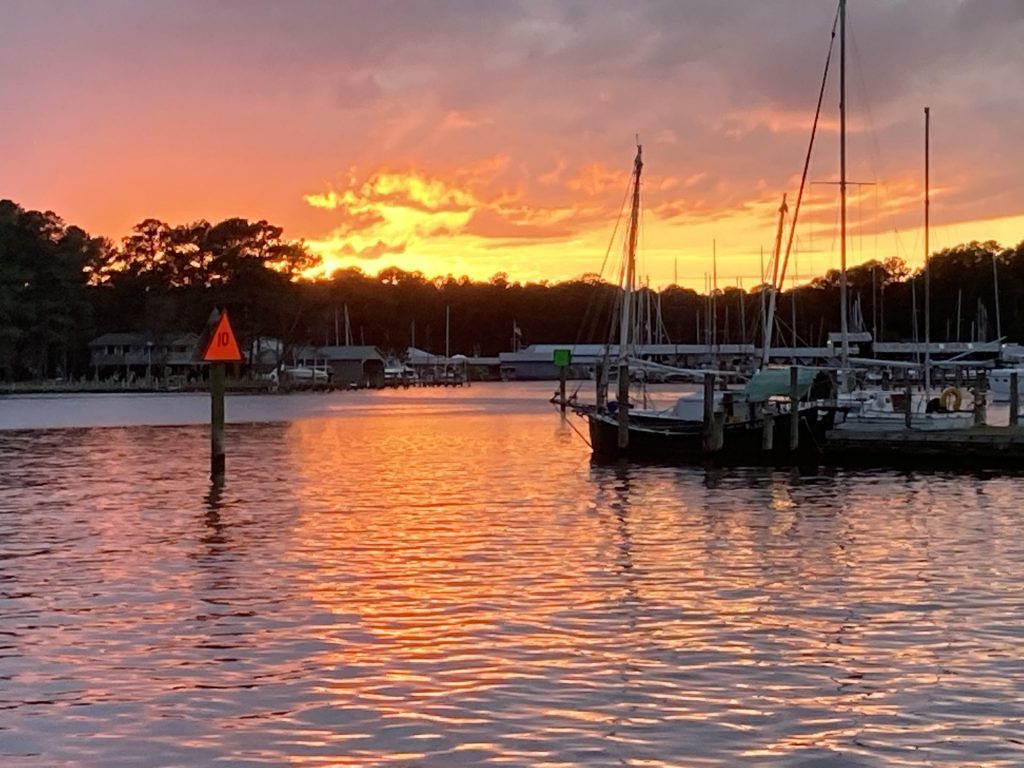 The next morning (Sunday, Nov 1) wasn't too bad. We knew we were staying so I slept very well. No winds in the night and the boat was pretty still – heater and hot water bottle kept me warm.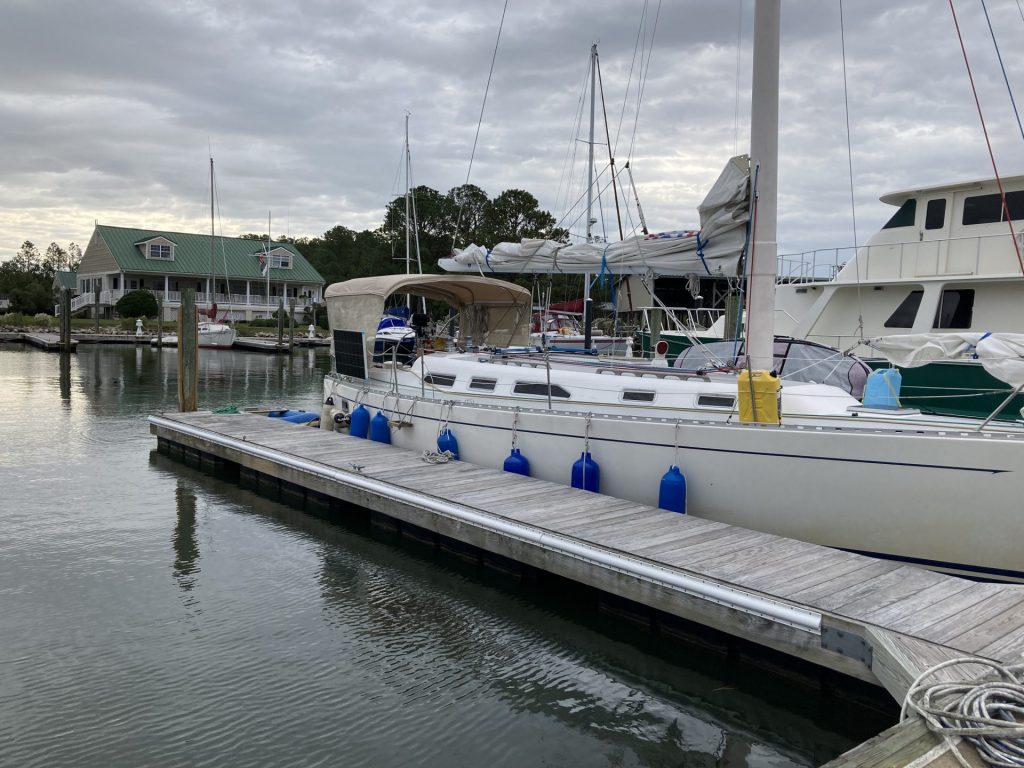 We were able to enjoy church (our church from Erie is now live on face book) and eat breakfast.
It rained most of the main part of the day but we were able to borrow a courtesy car (yes, provided by the marina!) and go into town. We didn't have alot to do, and it was Sunday so most of the places were closed – but we did get a steak for stew to grill and went to the seafood market to get shrimp for me.
After the rain stopped we got out for a walk around the marina area – it was beautiful and felt good to get a walk in.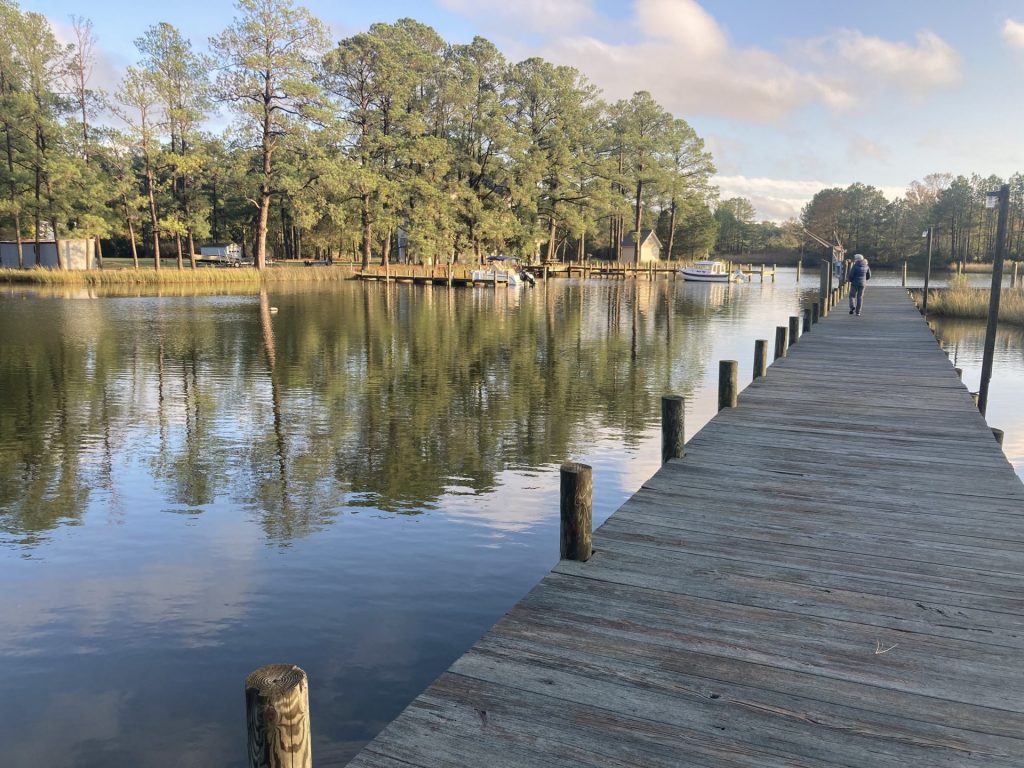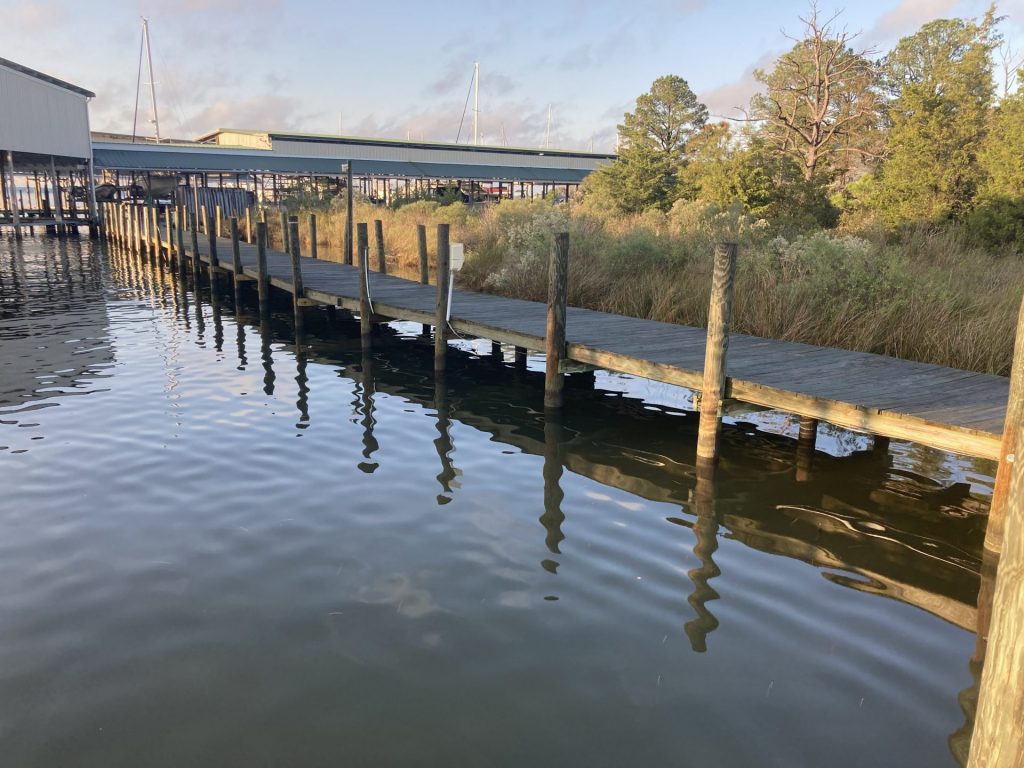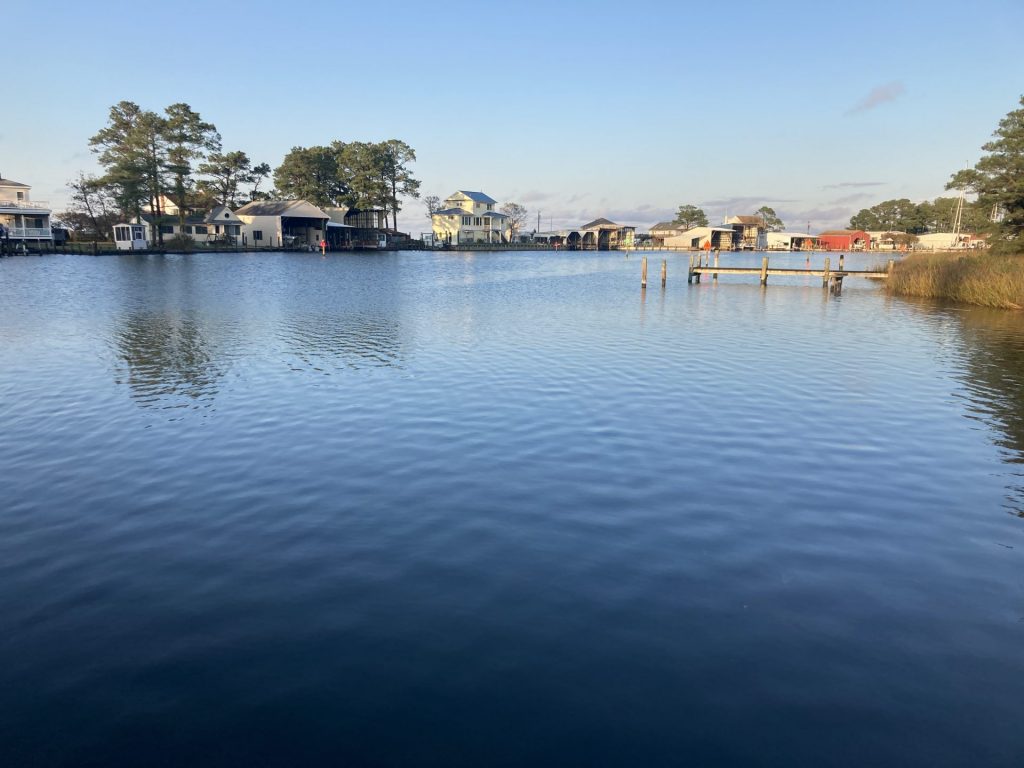 After dinner we took another look at the weather for tonight and Monday – it looked terrible. Gale warnings – winds would be up to 50K and waves 6-8 ft on the bay. It looked like it was going to be a rolling night.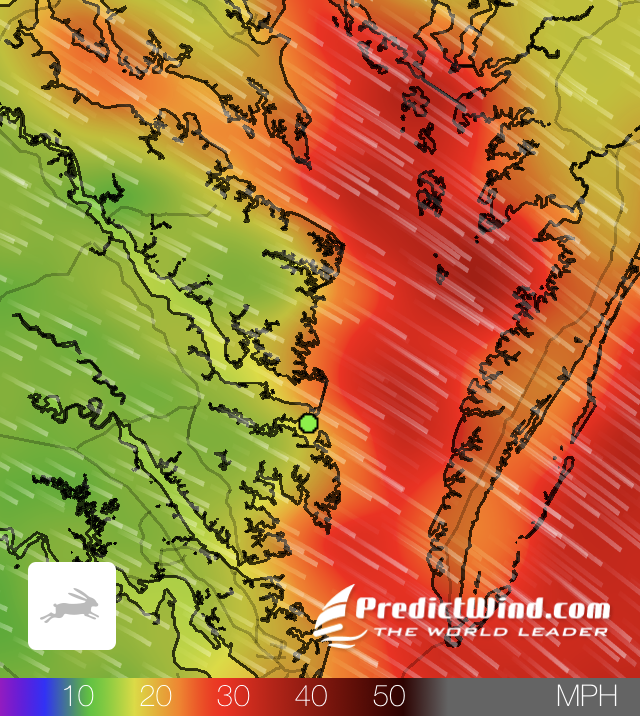 It was a very rolly night! Stew really couldn't sleep with all the banging and howling and rocking. I honestly think my weathering all those storms this summer on lake Erie on the boat by myself may have helped me. Plus I knew we were safer here in the marina (than on a mooring ball).
We also found out from friends in Cleveland that Lake Erie had crazy winds – 50K and 10′ (yes, bouy indicated 10′) waves!! Crazy weather.
We spent Monday working on our own things – I caught up on finances and did some baking. Stew worked on the next video and slept.
We really hope to be on our way to Norfolk tomorrow – winds and waves look a little crazy in the morning but they are forecasted to settle down by mid-day … might plan on a late start!