Landed in Rome (NY)
Categories
Blog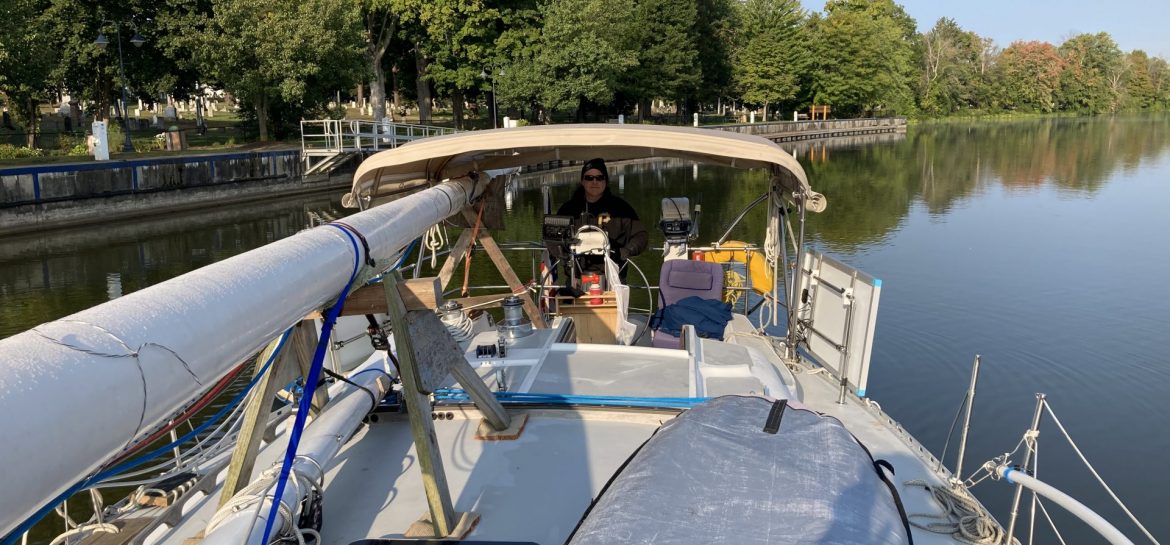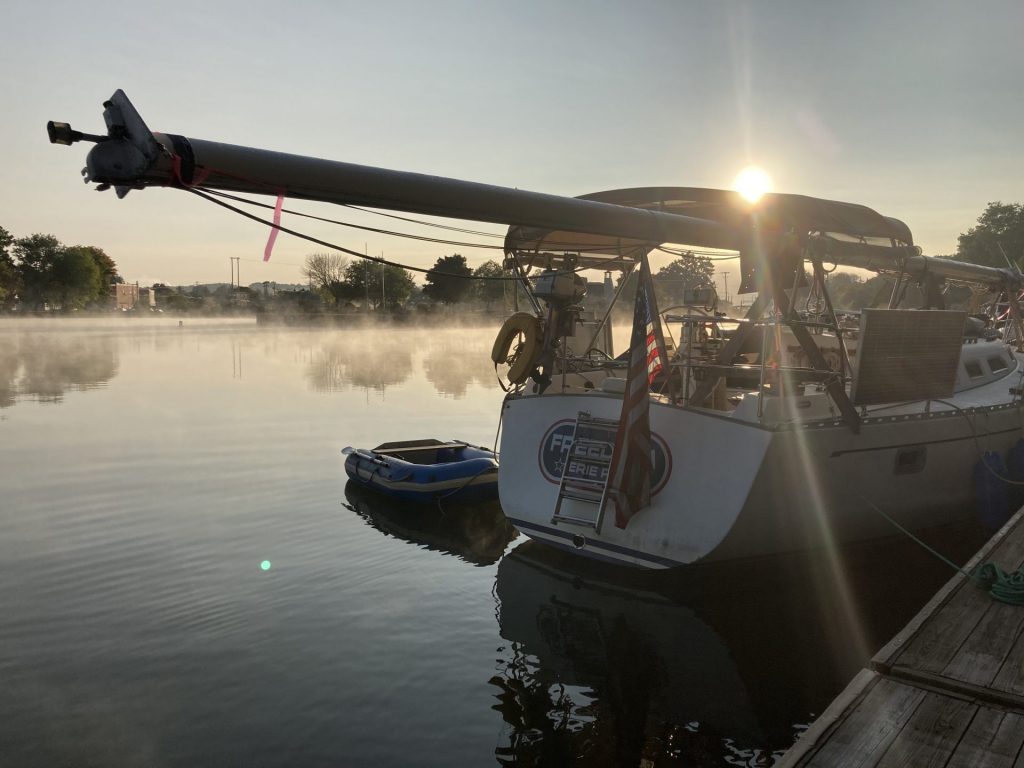 The morning was another cold one but our little heater to the rescue… this may be the last morning for a while that we will have electricity to run the heater.
Our mornings begin pretty much the same way – we boil water for coffee and we also fill two 24 oz thermoses with hot water. We use these to either "reheat" the coffee as the morning progresses and/or to make our oatmeal on the road. After the water is made we do yoga.. yes, right on the boat. Stew takes the v-berth and I take the floor in the salon. We basically do only floor yoga since Stew has limited height in the v-berth. But we both feel much better after the yoga as it includes lots of stretching and twisting…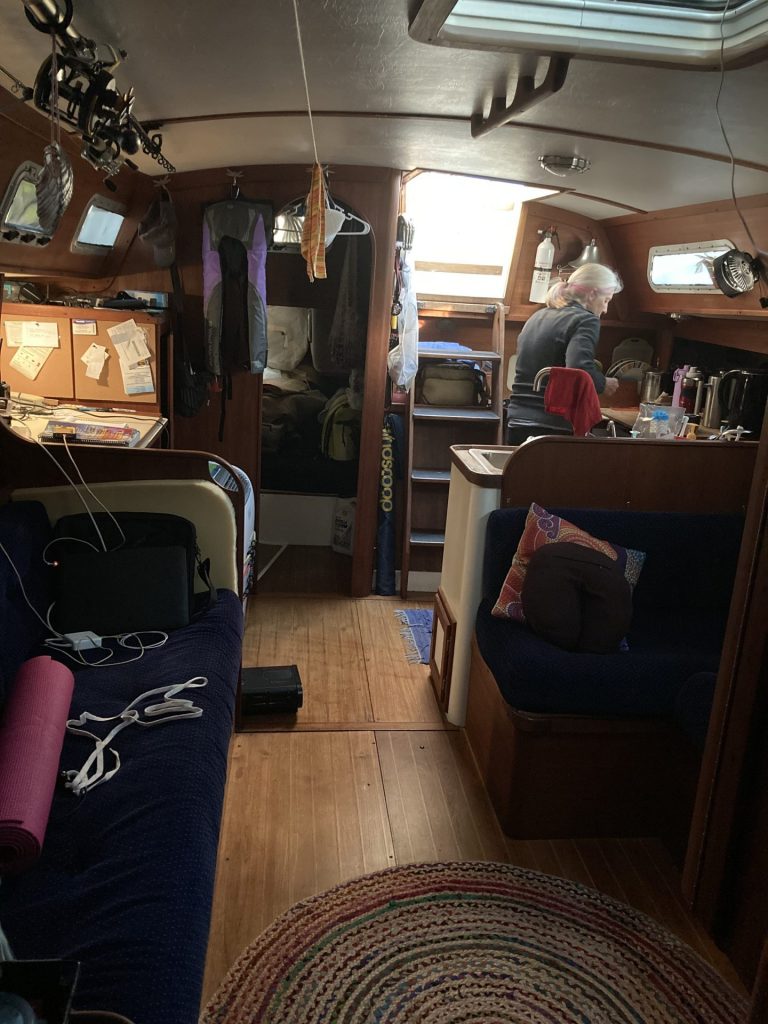 After yoga, Stew does the prep to get us off the dock – checks engine oil and diesel. I am in charge of securing the cabin (making sure nothing will fall if we hit turbulence) and make more notes about the locks etc for the day. Stew also checks weather. Once all is complete then we shove off for our daily adventure.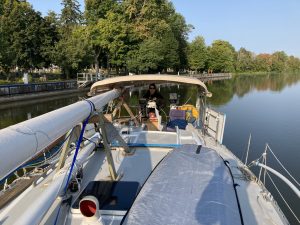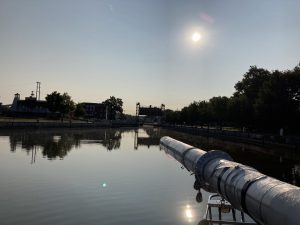 At some point in the morning we finally decide to eat. The instant oatmeal is my favorite, esp with the cold mornings we have been having. The choice is usually oatmeal, eggs, or protein shake. This morning was oatmeal – with yogurt, berries, banana, and granola!!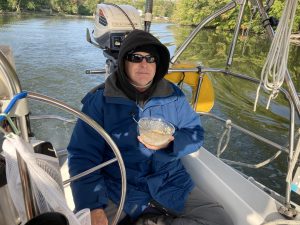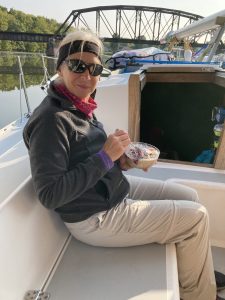 After a little breakfast I usually connect with family and friends. Some texting to the kids and a birthday call to my Mom – she turns 79 today!!
Much of our travel today was through Oneida lake. The lake is a bit shallow and very rough (hey, we are used to Lake Erie so this was nothing). It is a very long lake – 20 miles long. I imagine in the summer this would be a fun lake to swim and fish. But it is cold and it is Tuesday – so there is little activity on the lake.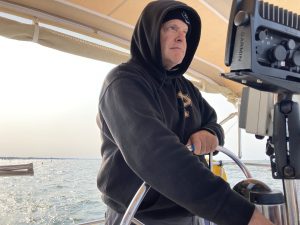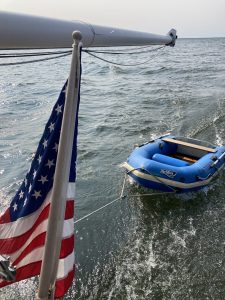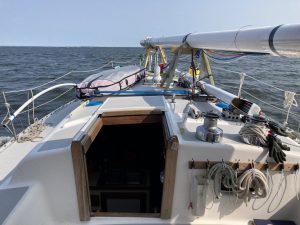 Our friend "Tiny" has been reporting on a regular basis. More debris is ahead. It seems the water is a bit rougher, shallower, and there is more floating and submerged logs. We kept an eagle eye as best we could to avoid the problem areas.
After 4 locks and 57 miles were were ready to call it a day! We pulled into Bellamy Harbor Park and as reported there was alot of silt under us to approach the newer docks. We did get stuck but a quick reverse revving of the engine by Captain Stew and we were on our way again. We ended up docking at the old piling part of the dock which was more like 7′. This area was in great disrepair and it was difficult even disembarking. We raised all the fenders to protect the boat.
The park has restrooms and showers but they were all locked up for the season. We have encountered this several times – which makes no sense to me since the canal is open until Oct 14th – it seems the facilities for the boaters should be open through that date!! Esp because we are stopping just for those very facilties!
After a good look around the park we headed back to the boat and made a great dinner. Stew has fish tacos (with some "street" corn tortillas) from a cod fillet I had in the little itty bitty freezer and I had salmon. Both had some cooked kale that had seem better days – but was very good cooked.