Library Time and the Jolly Green Giant
Categories
Blog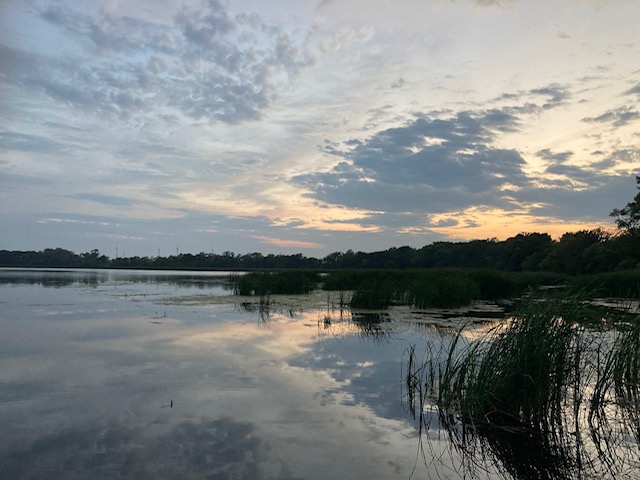 After leaving our campsite we decided to spend some time at a library – get caught up on wifi and charge up all of our devices. We have been doing okay charging things as we drive and running the cooler on the car charger, but the large solar generator doesn't always get charged completely. The solar generator runs the Coleman 12v cooler when we are not driving, but it will only support it for about 8 hours. We have to choose what 8 hours to keep the cooler on. Rather a pain in the neck! I actually thought it would maintain the cooler for longer (turns out the cooler draws about 55-60 watts and the solar charger should only be taken down to about 10% or 20%. However, there is no auto shutoff for the solar generator at that point so I have to watch that I do not leave the cooler plugged in too long. So sometime during the night, I unplug the cooler to keep the battery at least 10%.)
We found a library in La Crosse, WI that looked "full service" and it was tight on our path. We also planned to pick up a few groceries at their People's food Coop (very similar to the one in Erie).
The library was great. We were able to get a study room for a little while then moved out to the main area. There were so many outlets – which was good since we had so many items to charge! I caught up on email and did some financial business while Stew worked on drone footage and dealing with other media processing. We both enjoyed scrolling Facebook a bit and sending photos to friends. We are typically very frugal with our data since we need high speed while we travel and do not want to be throttled. So when we have free wifi we really have a lot we want to do. We also make sure we download maps in case we end up in areas with no cell service.
After the library, we headed to the People's Food Coop for some groceries and ended up just making lunch in their parking lot.
By around 3:30 we were back on the road heading to see the Jolly Green Giant in Blue Earth, Minnesota. Unfortunately, we arrived after the visitor center had closed, Google maps had the wrong hours listed! But we had fun taking pictures and Stew did some droning.
We continued on down the road, checking out a few boondocking spots on the way. More rules in Minnesota regarding boondocking so we ended up with a campsite in Iowa, on Swan Lake near Esterville, IA. Another boat launch spot, but there were no boaters when we arrived. We had a nice fire but ended up cooking in the dark.
Night was peaceful as usual so we slept well. Since the rain seemed to have passed we left the tent up, but closed the hatch at night (don't want any little animals crawling in bed with me!) In the morning we made eggs, packed up and got on our way. It finally looked like it was going to be a nice day!