First night car-camping
Categories
Blog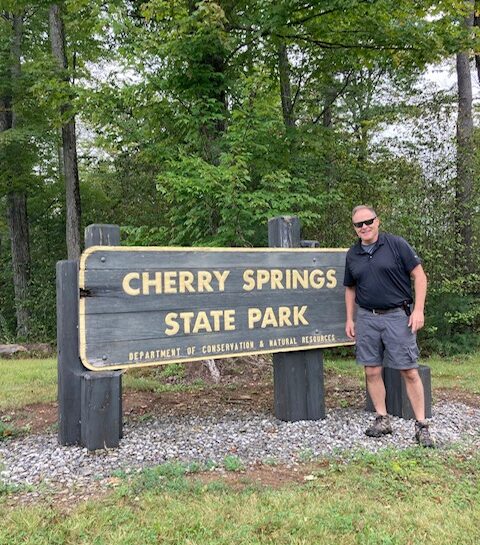 We did practice sleeping in the car at the cabin but this was going to be the first night we camped in a campground.
We had most everything packed and ready to go – the day was a bit dreary, rain was in the forecast so we weren't in a hurry to head to Cherry Springs State Park to camp. Stew had always wanted to camp at Cherry Springs so we were really looking forward to it – but rain and camping are no fun!
We left the cabin around 3:00 and arrived at Cherry Springs around 4:00. We had secured the last available campsite (#2). It seemed like a great spot. We had wild on one side, a bathroom up the hill behind us, and a clear view of the night sky. Cherry Springs State Park is known as one of the darkest places on the East Coast and it is great for viewing the stars. Unfortunately, the clouds were thick so we probably weren't going to see many stars.
We spent some time getting the SUV flat so we were not sleeping on an incline. Then the job was to find some wood for our campfire. Once that was complete we put up the bug net tent on the back of the hatch and had our dinner salads and snacks.
Once we finished eating we decided to pack away the hatch bug tent in case it rained in the night. We really didn't need it anymore that evening and it would be too cold to keep the hatch open all night.
We had a great campfire and enjoyed that well past dark. With the sky still looking like rain, we packed up the chairs, took care of bedtime activities, and climbed into our car-bed. We were nice and cozy as the drops of rain began to fall – boy did it pour!! Luckily we had everything securely packed in the car so nothing got wet.
We awoke in the morning to a little fog, but a nice day. We took off for Erie around 10:00.
We had a nice visit in Erie and celebrated Stew's 54th birthday. Of course we got to see Arlo, the star of the visit!!