Here we go…
Categories
Blog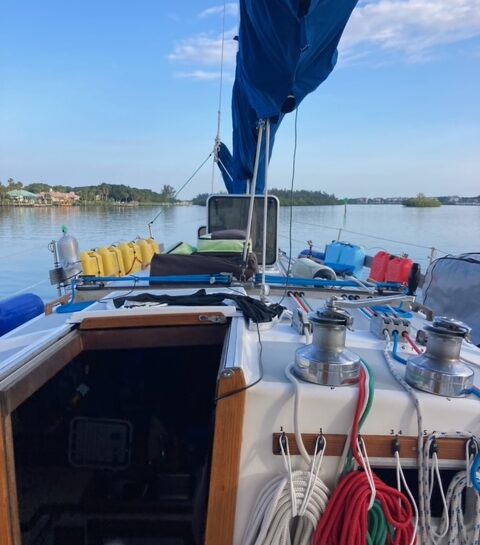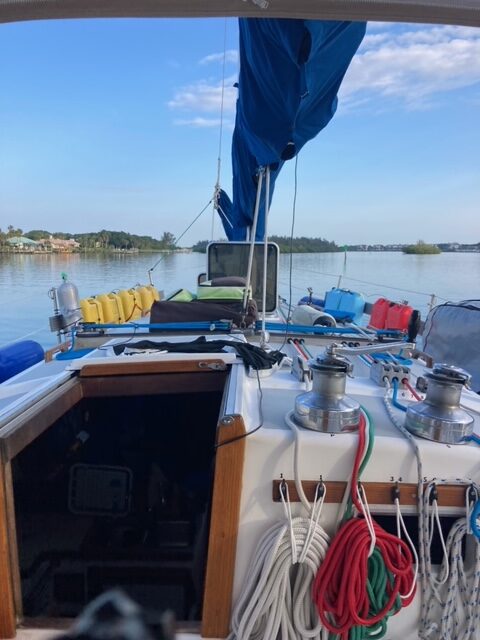 I'm writing this sitting at a bus stop outside Lowes in vero beach. It's about 87 and so humid I have to watch I don't drip sweat on my phone!
We just picked up the parts needed for our charger install, hopefully we have everything now.
We left Boca Lake on Friday and cruised to Hobe Sound for a really nice anchorage. 17 bridges are brutal! then Saturday we landed in Vero beach with the plan to use the free goLine bus to get parts for our project. Of course the bus doesn't run on Sunday! So a brief recalculation on the plan…. we are used to that!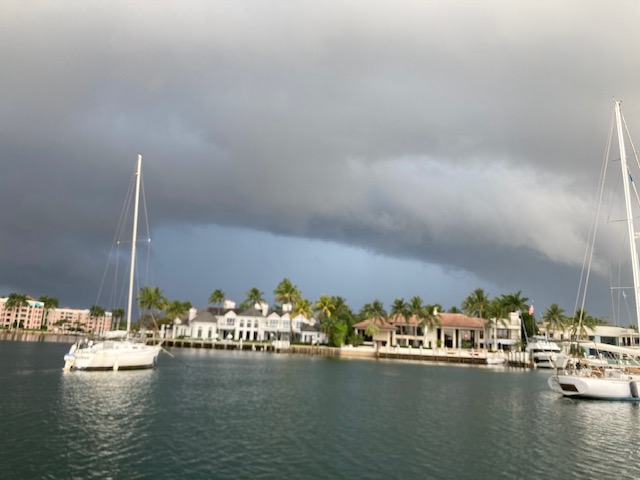 In the best case we would have been able to just cruise up the east coast directly to Titusville and do all our work from the dock there. But they cannot get us a slip until Sunday, April 9! So the plan is to be here at Vero Beach for 2-3 nights on a mooring ball and get some work done.
Besides the installation of the shore charger we need to sort thru the 3 months of Bahamas provisions to decide what can stay aboard and what needs to go… go with us or go to my mother's apt in Sun City Center. I did much of this yesterday.
We also needed to pickle the watermaker, which we also did yesterday.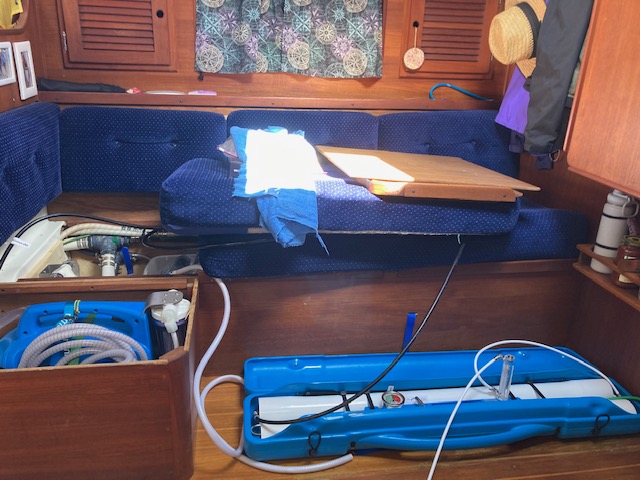 We leave tomorrow for Cocoa Beach Village marina. We will have a slip so we can load the rental car with all the stuff to take to my mother's. we will then drive over to mom's, stay the night, load up stew's gear and warm Erie clothes and go back to Cocoa Beach.
Friday we will cruise to Titusville and either take a mooring ball or anchor for 2 nights until our slip frees up on Sunday.
While in the mooring we will take the Space Coast bus to Cocoa Beach to fetch the car.
Sunday we will land in the slip and really begin the hurricane prep! We will leave April 11th for Erie!
If this sounds complicated, you are right. Luckily we wrote it all down and each morning we can remind ourselves what we are supposed to be doing (and what day it is and where we are).
Now for our current situation. I love Vero Beach mooring area, but it is dang hot and humid. And the bugs! Driving me crazy. We try to get in bed by 7:30 so we are covered up and no lights are on. Those stupid no see-ums still get us!! They esp like the ankles!
As I sit here literally liquid at this bus stop I am dreaming of a cold shower. But alas we will return to our hot, closed up boat and work to get the charger installed. Wish us luck!!