Fun in Fort Lauderdale
Categories
Blog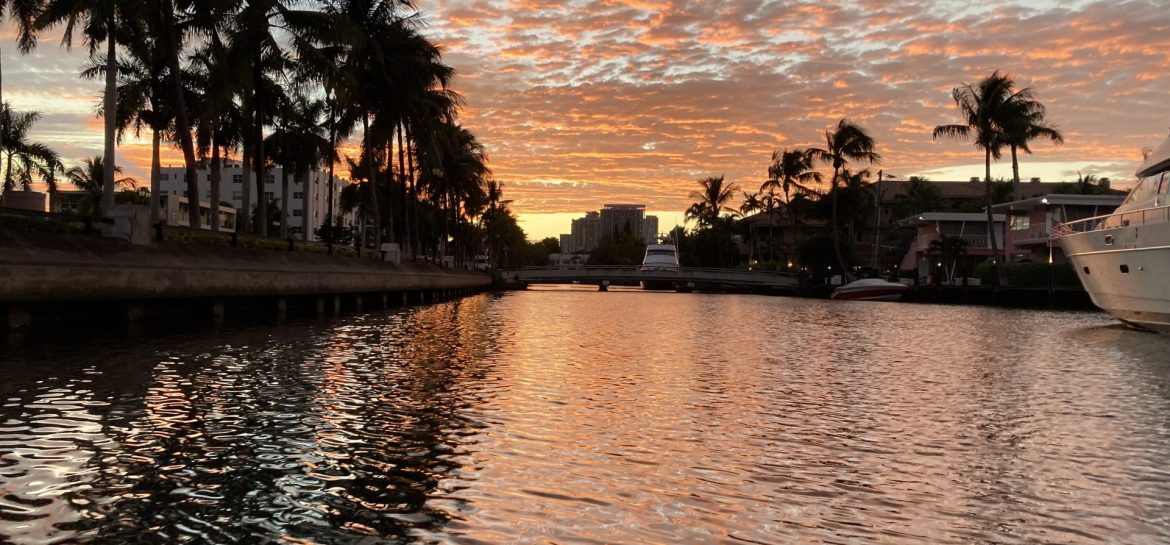 Sunday (Dec 19th) we awoke to more rain, but it cleared enough for a nice breakfast on the "veranda".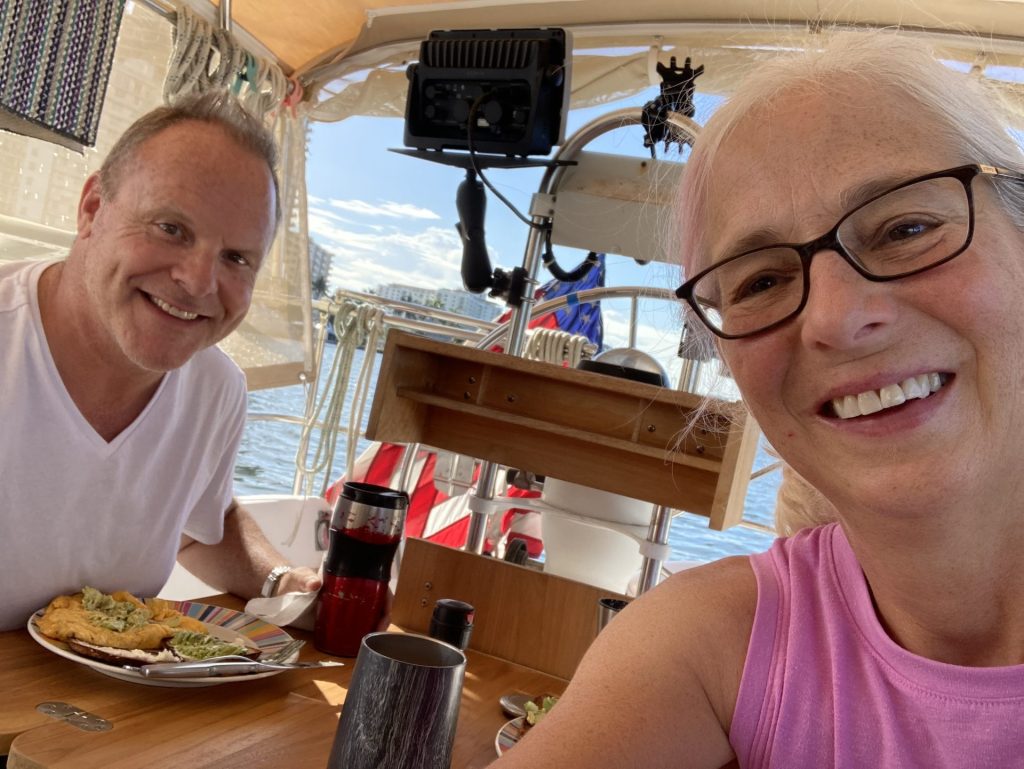 After breakfast we loaded up Pete the dinghy with our laundry, all of our shower gear, and reusable grocery bags and set off down the canal system to find Moondance, the Sailing Jason's boat. The canals in Fort Lauderdale are noteworthy with low bridges and houses all along the ride. It took us about 20 minutes to get to Moondance.
The Jasons were so great! First off, their boat is one of those really classic sailboats, 1978 Hinkley H43 that was not in good condition when they bought her, nothing worked. But you could never tell! It is beautiful inside and out as they have restored much of the teak and upgraded the systems and rigging etc. Super impressed with all the work they have done.
We got laundry started and spent the afternoon talking non-stop about boating etc. Eventually we got showers and Jason G. took me to the grocery to provision. We decided to stay for dinner as they have a grill on the dockside that we can use. It was a wonderful evening and we chatted until about 9:30pm – we could have gone on all night! We made a plan to return on Monday to do more provisioning and get some parts for some of our projects.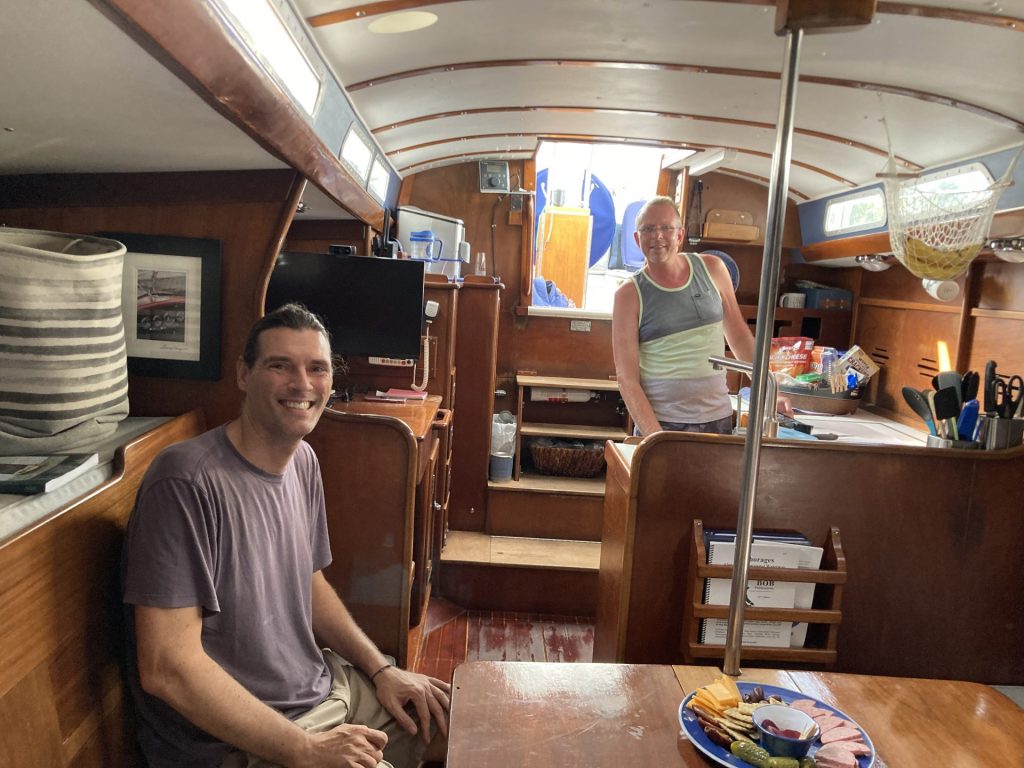 Stew and I headed back in the dinghy through the canals. It was fun to see all the Christmas lights. Many of the houses were decorated for the holidays on the canal side as well as on the road side. What a great time we had tonight! And we had clean clothes and clean sheets to boot!
Monday (Dec 20th), we woke early and dealt with the toilet solid tank – always a job we put off, but ends up being not bad at all! We also made water – which took us about 3.5 hours. Each time we make water we get a little better at it. Plus, Stew uses the first couple of buckets to wash down the boat deck. Feels good to have clean decks every four or five days.
Around lunch we headed back to the Jasons' boat. They were so kind as to let us borrow their car – which made things so much easier for all the errands we had. We brought our computers to use some wifi (this never happened unfortunately, too many errands), our propane tank to fill (which was far more difficult to fill than we could have imagined!), our toilet garbage, and more reusable bags to fill with groceries. We went to this great marine consignment store called "Sailors". It was filled with both new and used marine items. We ended up getting some dive gear for me and some parts for the boat (dock line, rope gun etc). We hit a few more marine shops and then searched for propane. Lastly we hit Whole Foods where we planned to lunch and use wifi, however it was already 5:30 so we grabbed some groceries and several cases of beverages and headed back to Moondance. It was a full dinghy going home!! Another ride down the canals at night – so fun.
Tuesday (Dec 21st) , Stew got up and around early as he wanted to use Jasons' car again to get a tachometer for the engine. I remained on the boat. Somehow we had missed the fact that a BIG GALE force storm was headed this way. I could swear we looked at the weather and neither of us saw this at 6am… but by 10am it was coming fast. Stew had taken the dinghy to Jasons' boat (20-minute ride) and taken their car to get the tachometer by the time we realized the storm was coming. But thankfully he returned before it really started although he had a wet ride back on the dinghy.
The storm lasted the afternoon with rain, thunder, lightning, and gale force wind. This was our first really bad storm while at anchor. I'm glad it wasn't at night! It was scary enough. What I kept telling myself is that all these derelict boats seem to stay on the anchor for years, through all sorts of weather… we just needed one day!!
The storm passed by 4pm and we made plans to take the Jasons out for dinner at a great little seafood place they knew called the Fish Shack, mostly fresh seafood right off the boat. Another dinghy ride – boy was it beautiful on the way there – the sky was a bright orange.
We had a great dinner and said our goodbyes as we planned to leave on Wednesday to head to the Florida Keys. We are so happy to have met these new friends! You can follow their story on Facebook: The Sailing Jasons page.