Arriving in Florida – FINALLY
Categories
Blog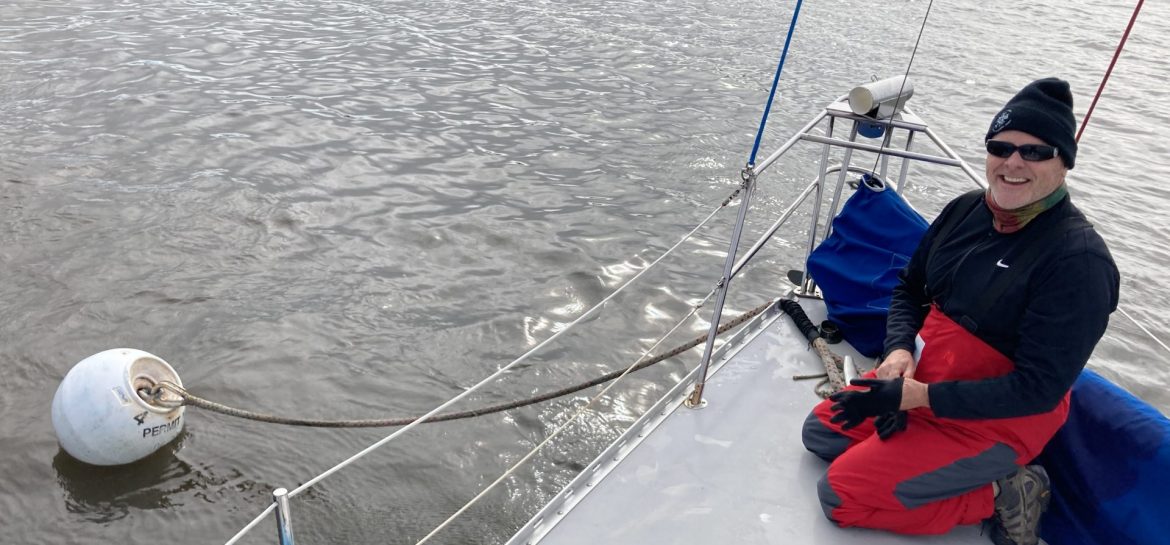 Started day: mile marker 700
Ended day: mile marker 717
Once it was daylight (around 7:30am) we checked around the boat for the crab pot buoy. Last night when anchoring we had accidentally drifted across a crab pot. This can be a huge problem as the line can tangle around the propeller (or really anything under the boat). When we noticed this had happened we immediately put the motor into neutral but we decided not to try to move the boat because the current was swift and we were losing light.
As Stew walked around the boat looking for that white buoy he spotted it just between the back of the boat and Pete, the dinghy. So we hurried and took our places to raise the anchor and hoped to clear it. Tide was pulling us in a different direction than last night (but of course the crab pot was also being pulled in the same direction). Stew pulled on the anchor and I waited to throw the motor into forward to release the anchor and then keep it in forward to clear the crab pot. Thankfully it worked. Even with sleep still in our eyes… we didn't even make coffee yet!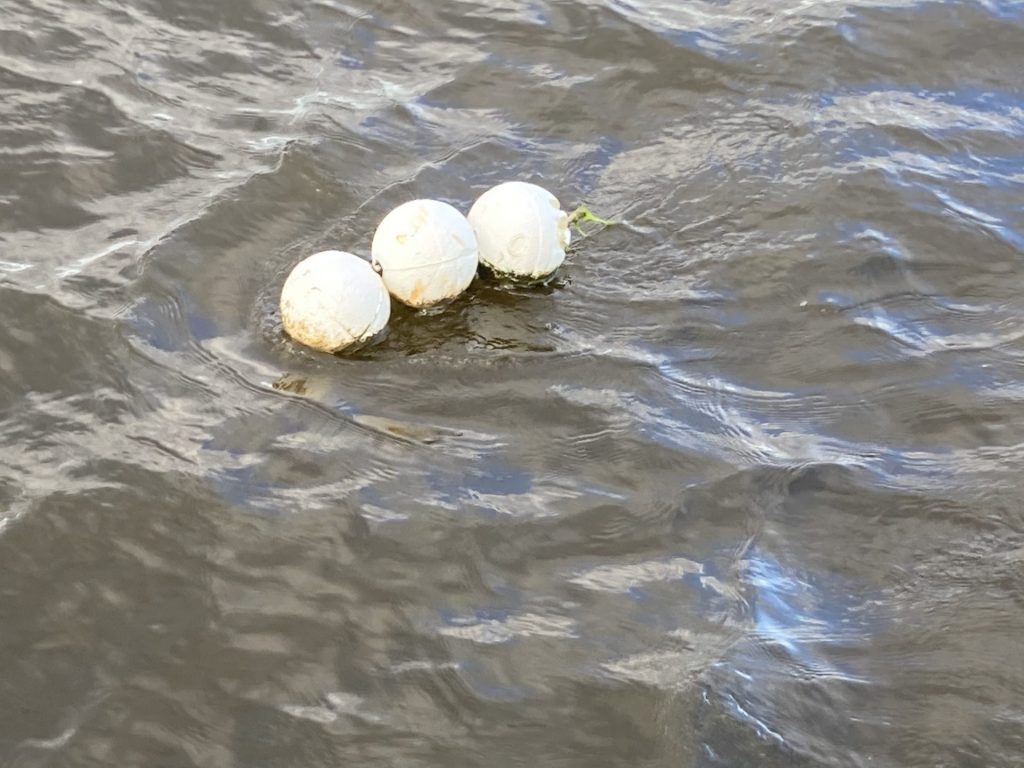 We didn't have far to go today – just 17 miles to Fernandina, FL where we would meet up with Dave and Diane for dinner and see my cousin Donna and her husband Gary.
We passed through St. Mary's River Inlet without too much headache and crossed into Florida!!! FINALLY!!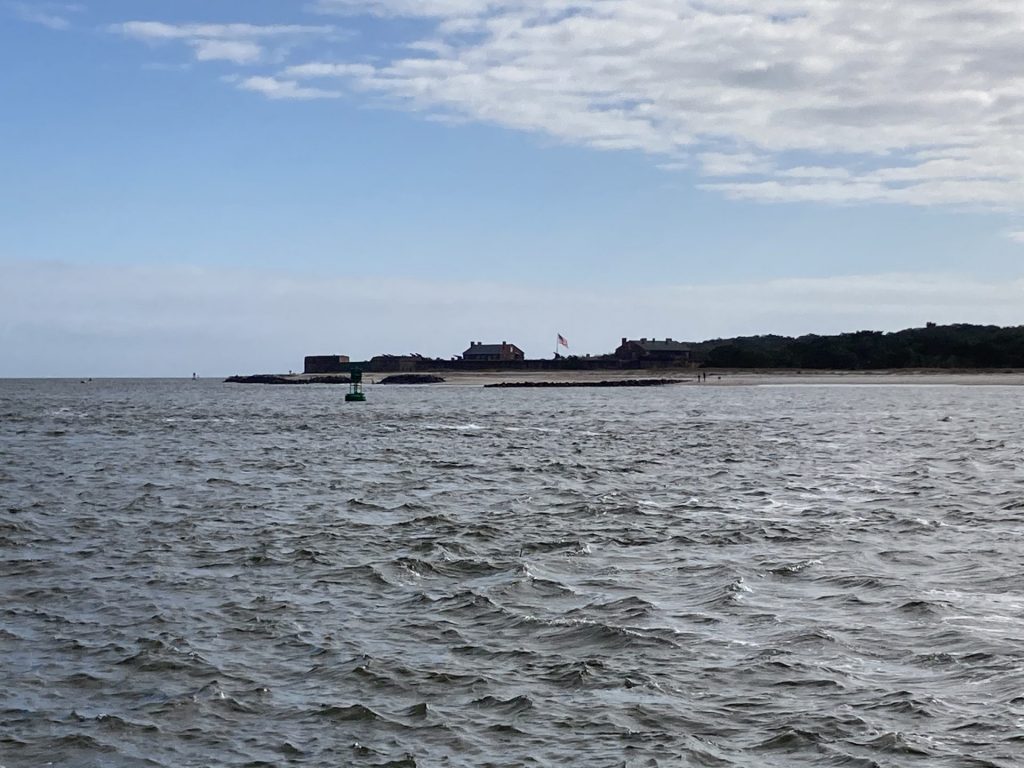 We debated what we wanted to do once at Fernandina – mooring ball, anchor, or marina. The pricing down the eastern coast line is far more expensive than in Lake Erie. The Fernandina Harbor marina was $2.50/ft plus electric ($6 for 30 amp service/night). This would be $100 for the night if we dock!! We don't even pay that for an airbnb on land!! A mooring is $25/ night and anchoring is free. The advantage of the mooring is that the boat won't drag while we are gone – that is worth the $25 since we plan to do some stuff on shore. Just gives you an ease of mind knowing you are attached to a secure anchor. We booked 2 nights and plan to meet up with Dave and Diane for dinner this evening… they are planning to leave the marina tomorrow and just stayed an extra night so we could meet up.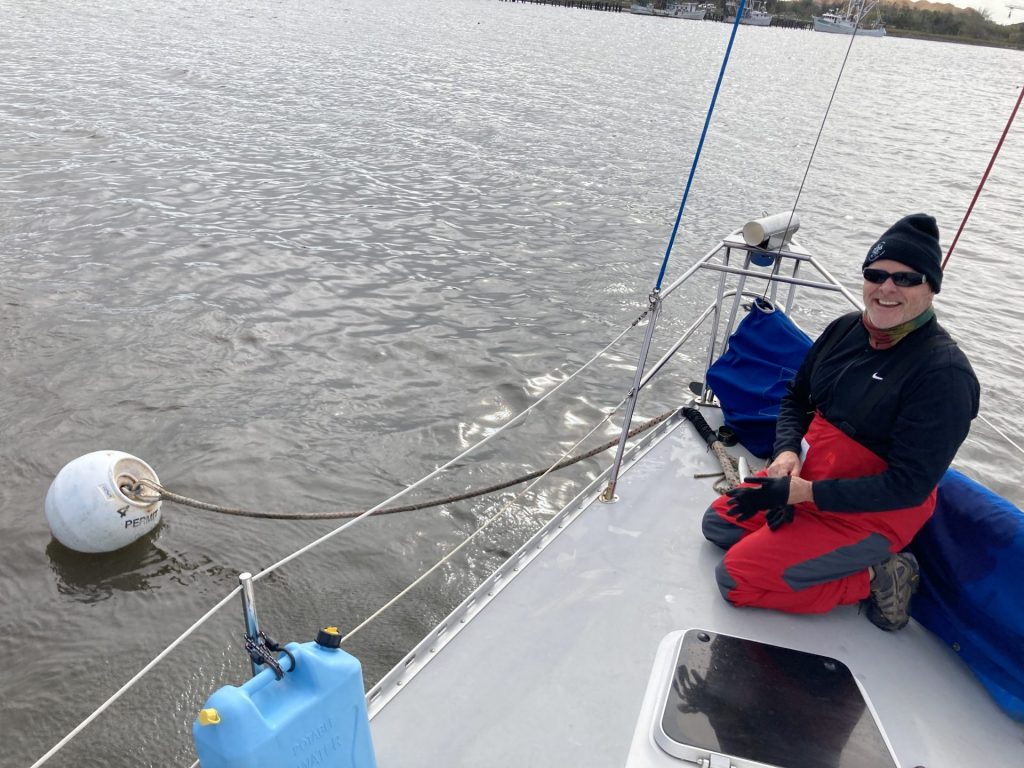 We have not been on a mooring ball since the Long Island Sound and the gale force wind storm we were in.. but we think we are a bit more experienced in general at this point (I hope). The dinghy motor has not been used since we put Pete in the water back in May (2020) in Erie!! We have just not had the need to go to shore during any of our anchoring. The pandemic has really stifled out need to explore. Thankfully the motor eventually started! Of course we are down an oar (lost it in the Alligator River back in NC). So if the motor fails we are at the mercy of the current and it is a strong one as we crossed the Amelia River to get from the mooring field to the marina.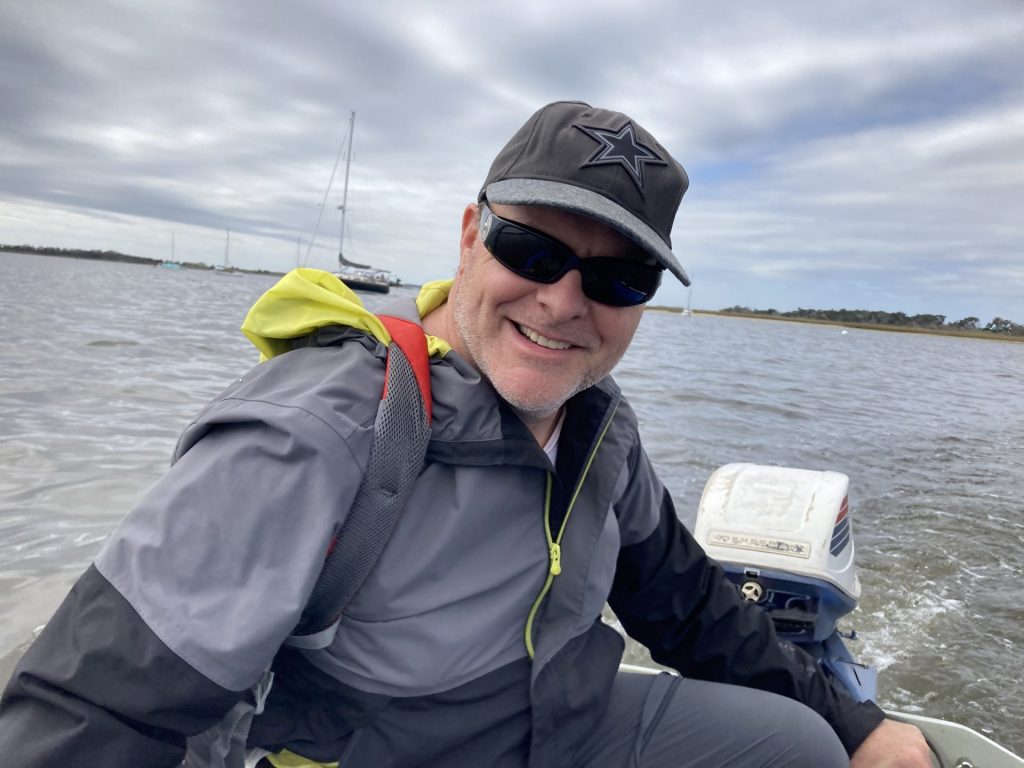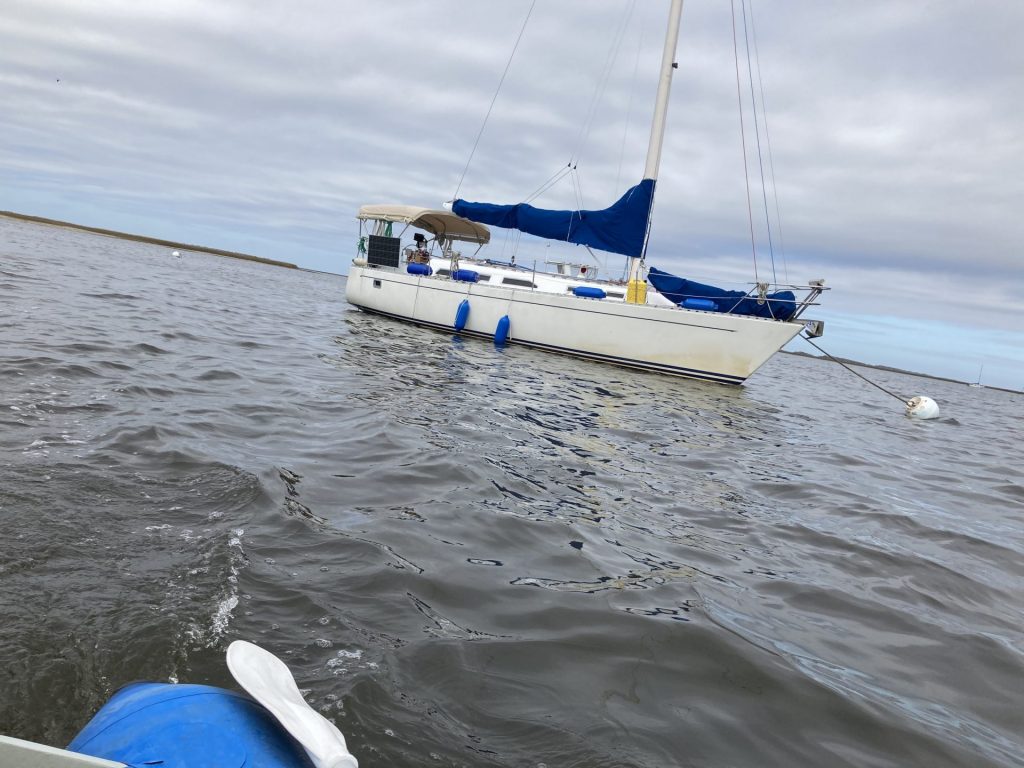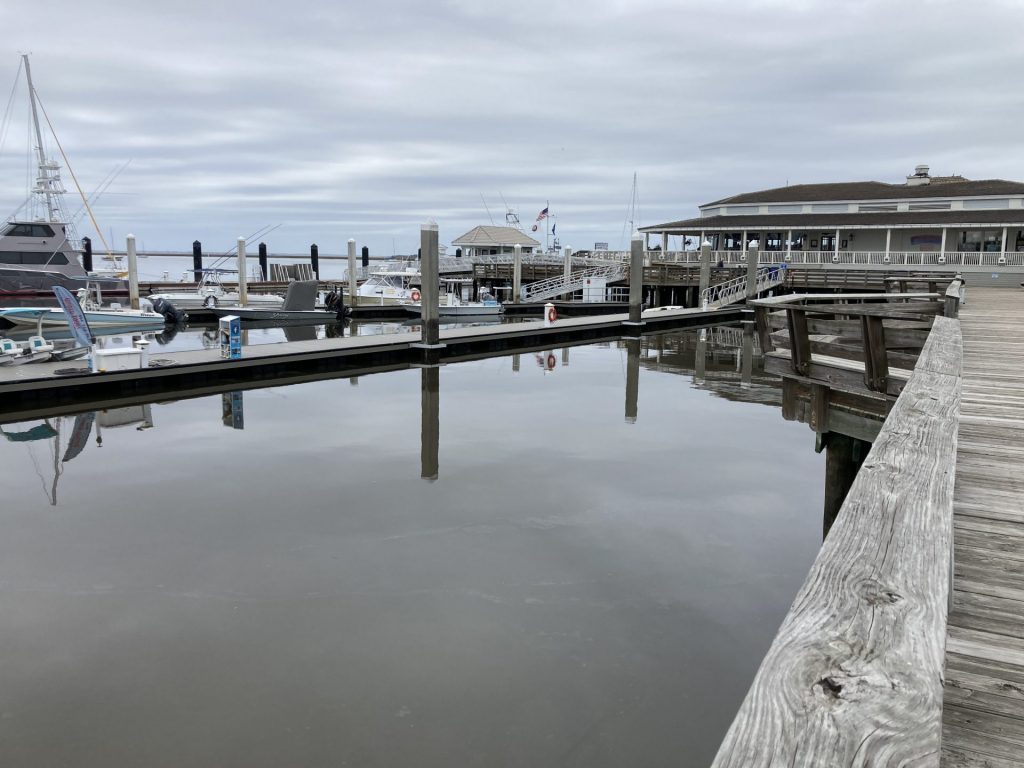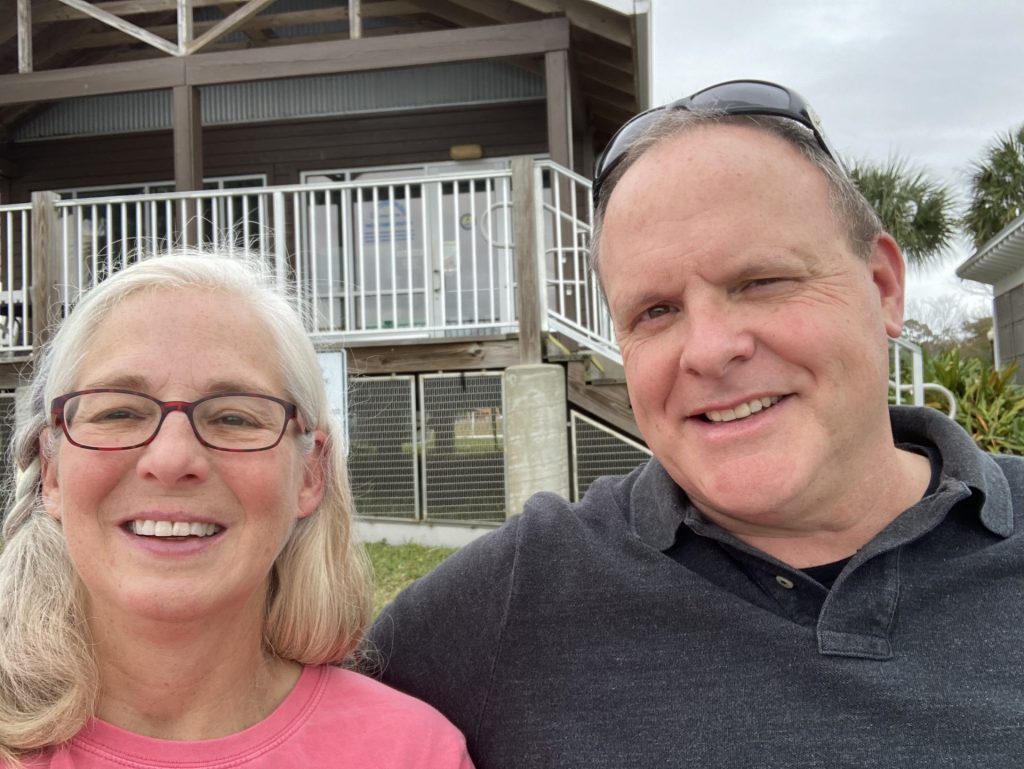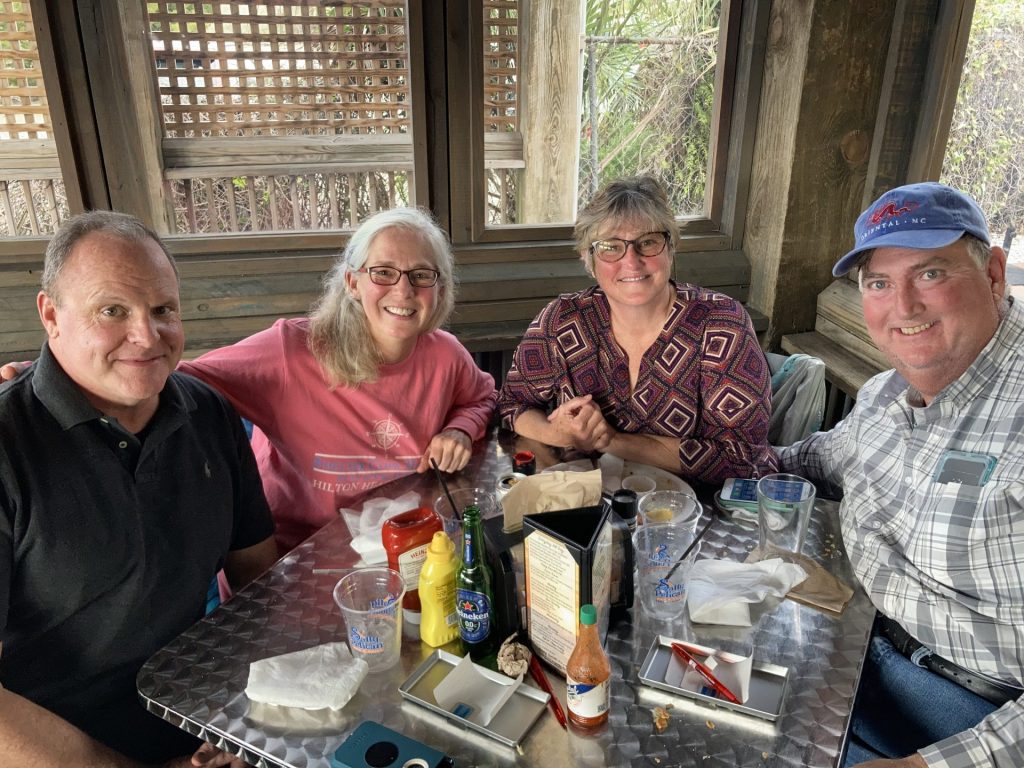 Dave and Diane let us dock the dinghy at their boat in the marina and we spent time snacking and catching up in their cock pit. Then they gave us a wonderful tour of historic Fernandina. What a beautiful little town. We had a great early dinner at the Salty Pelican and then back to S/V Freedom before it got too dark.
We ended the night talking to Cole who is at College of Charleston. He was hanging with his girlfriend and enjoying a quiet Sunday evening.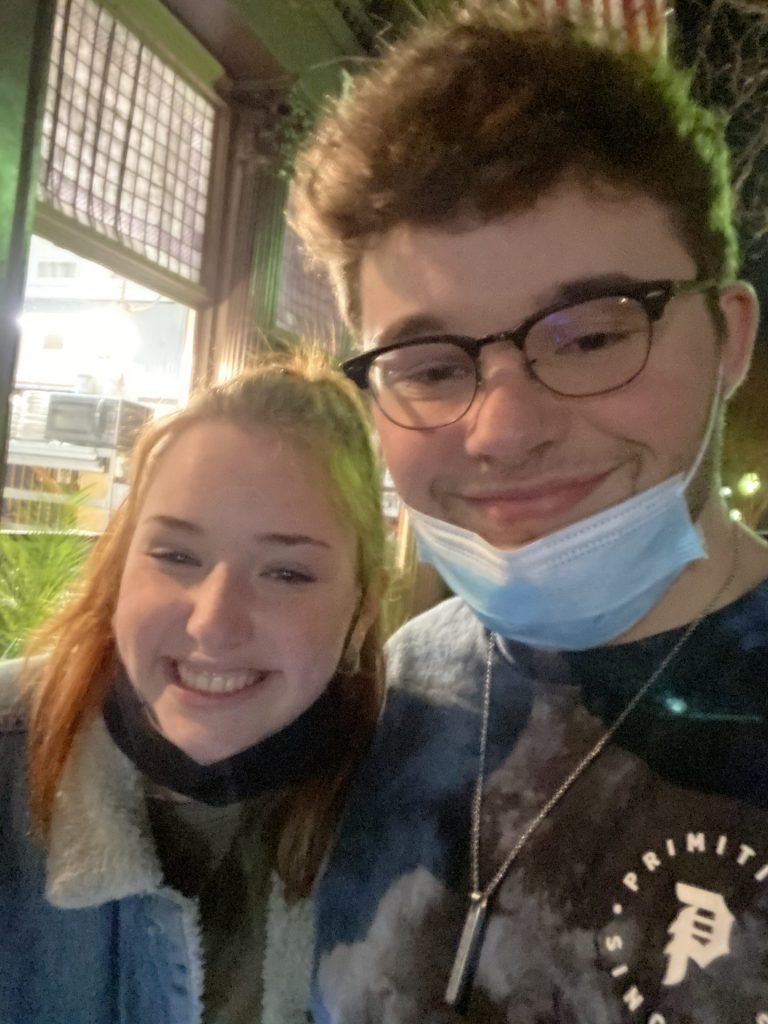 On Monday we waved goodbye to Dave and Diane as they left Fernandina. They took a nice picture of S/V Freedom when they passed.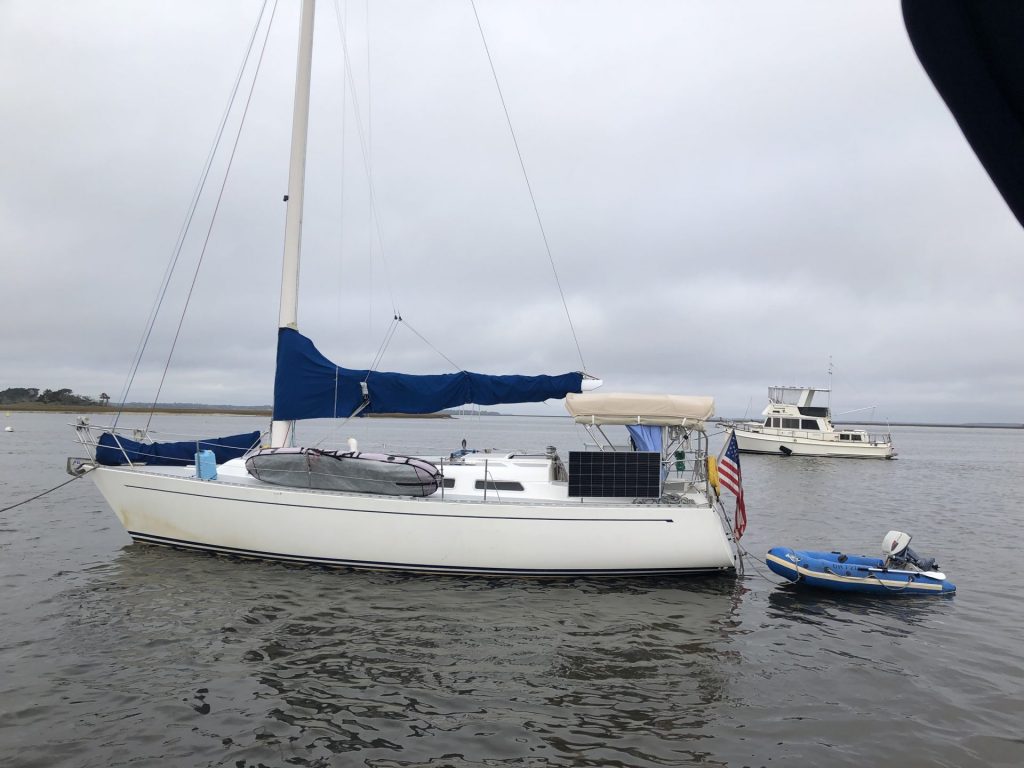 We spent the morning relaxing then headed over to Fernandina to take the trolley to Publix for a little provisioning. So happy to be wearing shorts and t-shirts!!!
The local trolley gave us a nice tour of the area, driving by the beaches etc. After Publix we walked to my cousin's house (about a mile or so) in one of the residential areas. It was nice to see Donna and Gary and their new home. They have been busy fixing it up since moving in back in December. Keeping them both busy during this pandemic!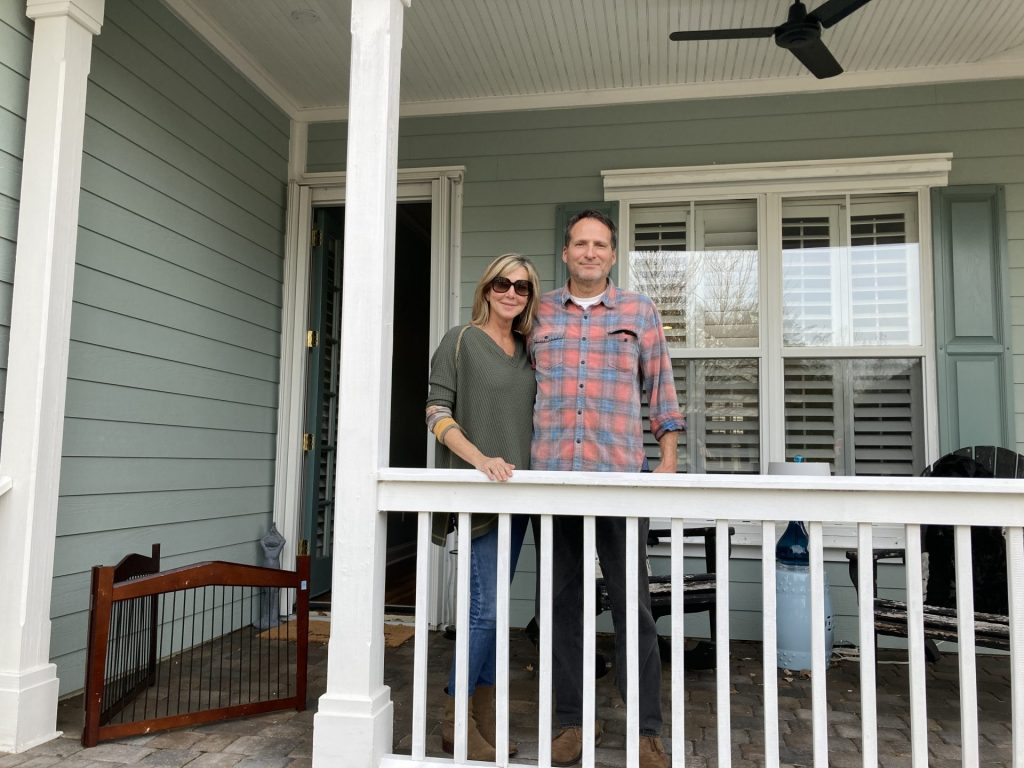 Donna drove us and our groceries back to the marina. We wanted to get back to the boat before dark and the wind was picking up a bit. Crossing Amelia River was a bit challenging even without the extra wind.
Beautiful sunsets to conclude our stay in Fernandina. Happy to be in Florida!!