Return to Galesville
Categories
Blog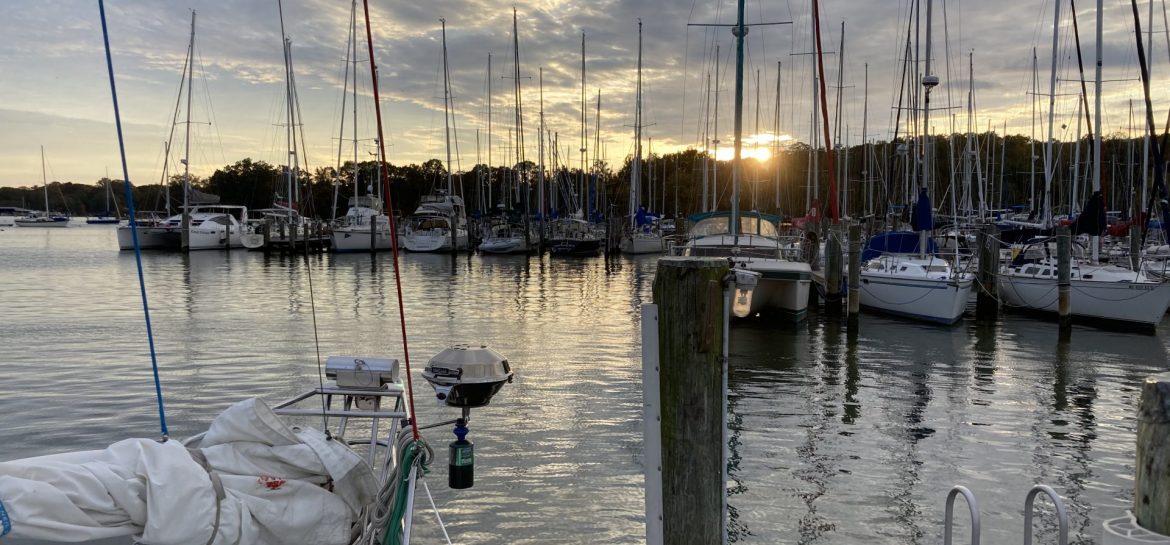 This morning there was little to no fog for the first time in almost a week! This meant we could get going right away. We decided we would head to the west side of the Chesapeake River and find an anchorage somewhere south of Annapolis. We might have thought about stopping in Annapolis, but with Covid having increased in MD it did not seem a wise move. In addition, everything is always closed. We are actually OK with not stopping- we want to keep moving south so we can get to Charleston by Thanksgiving.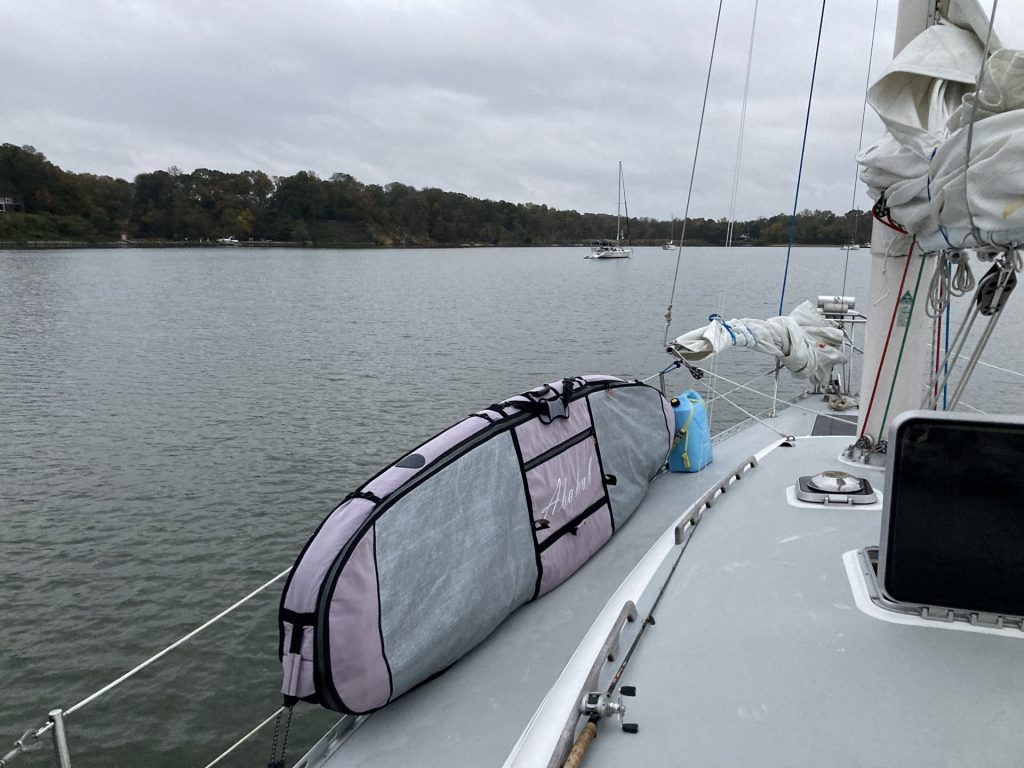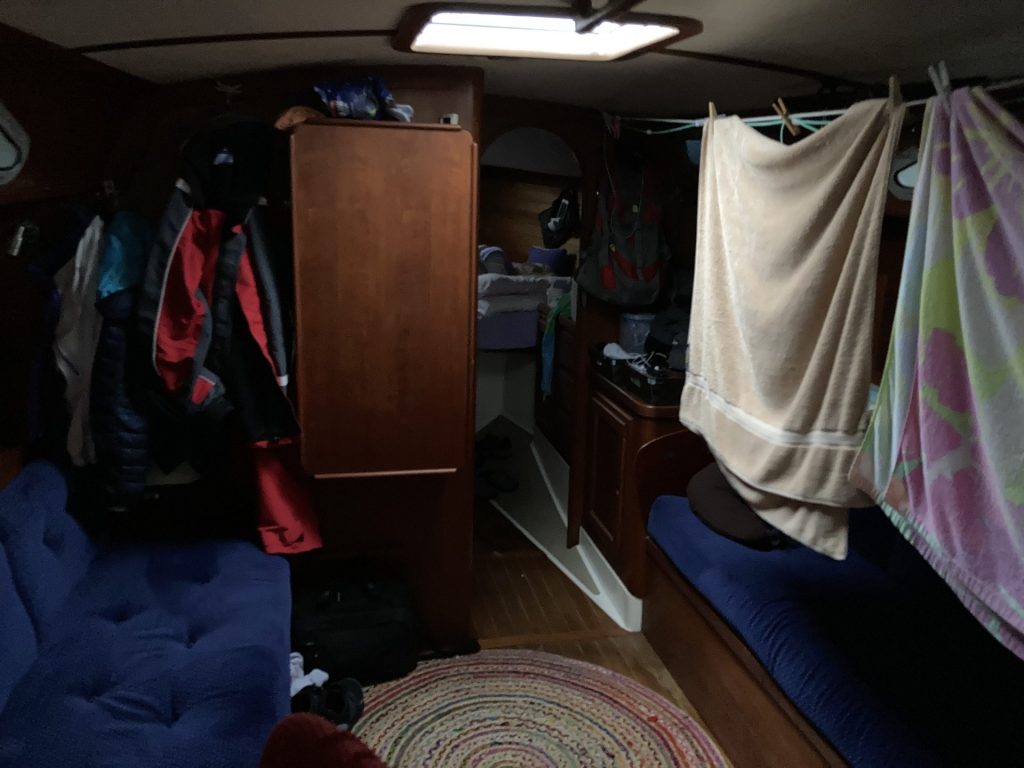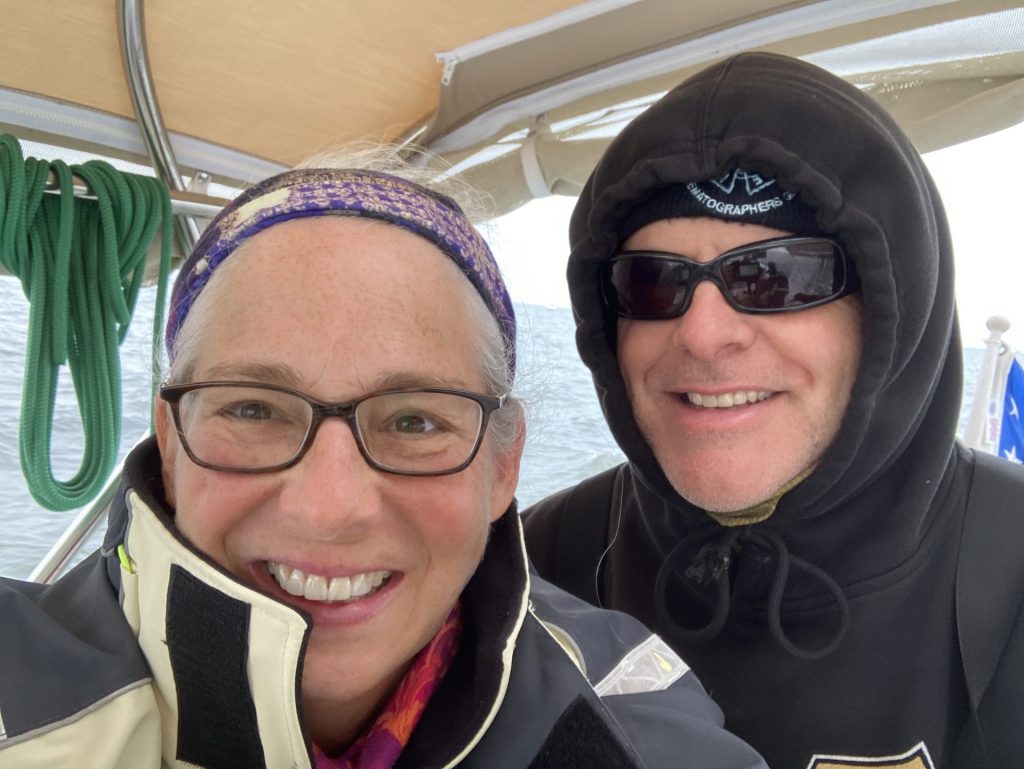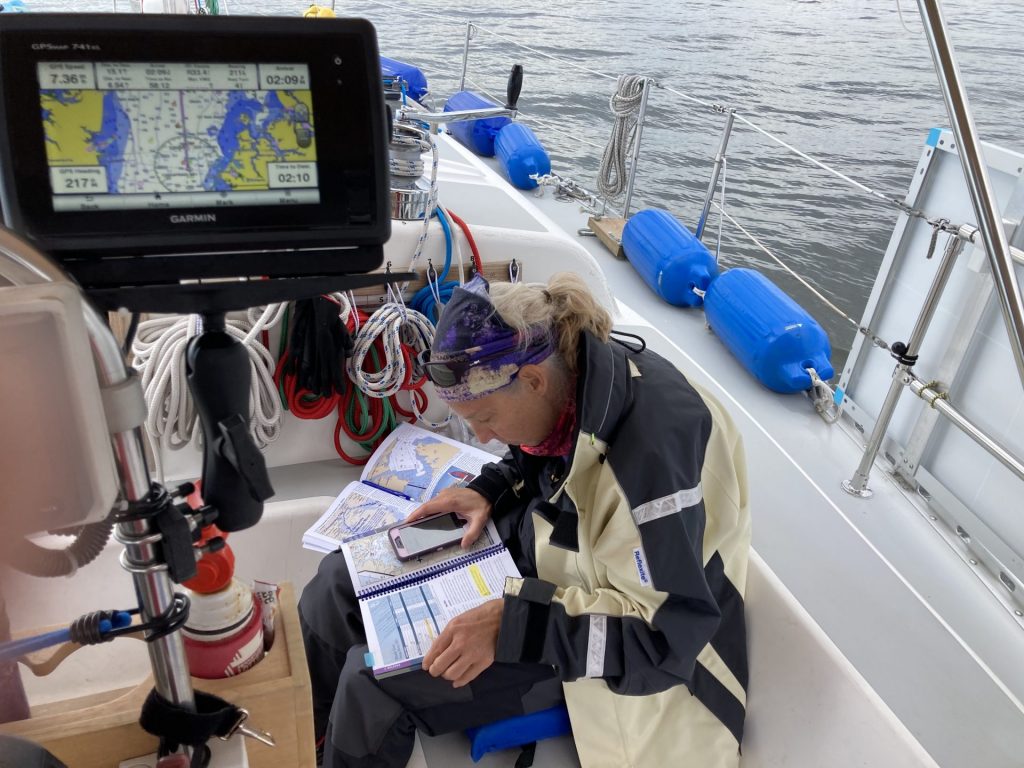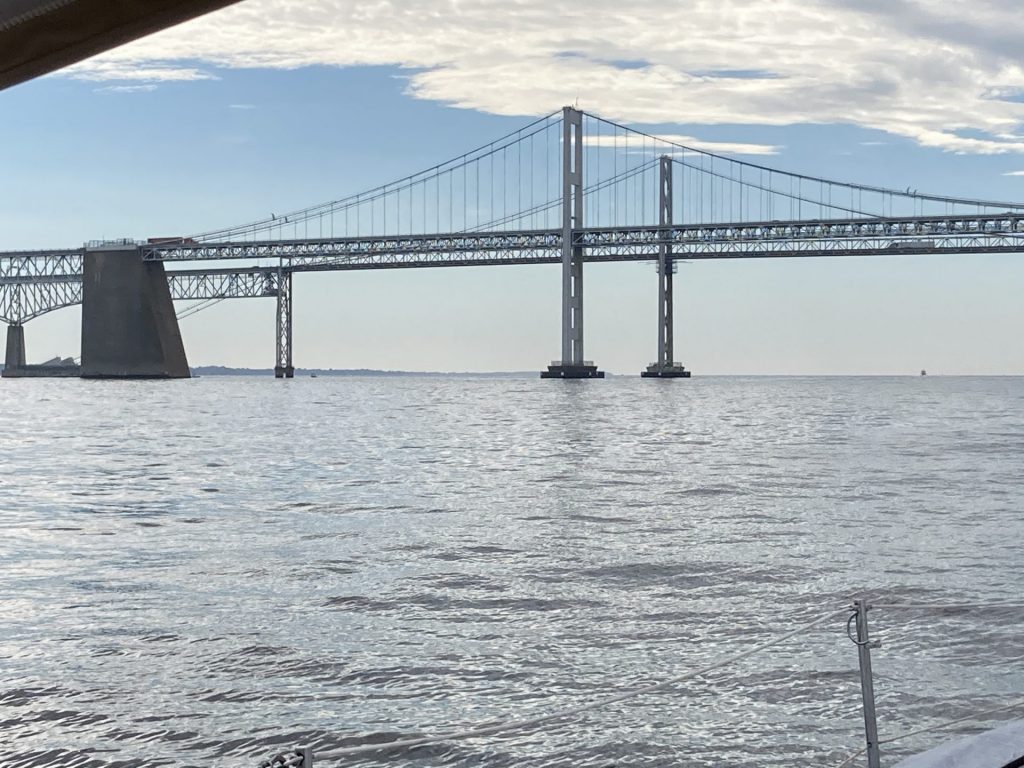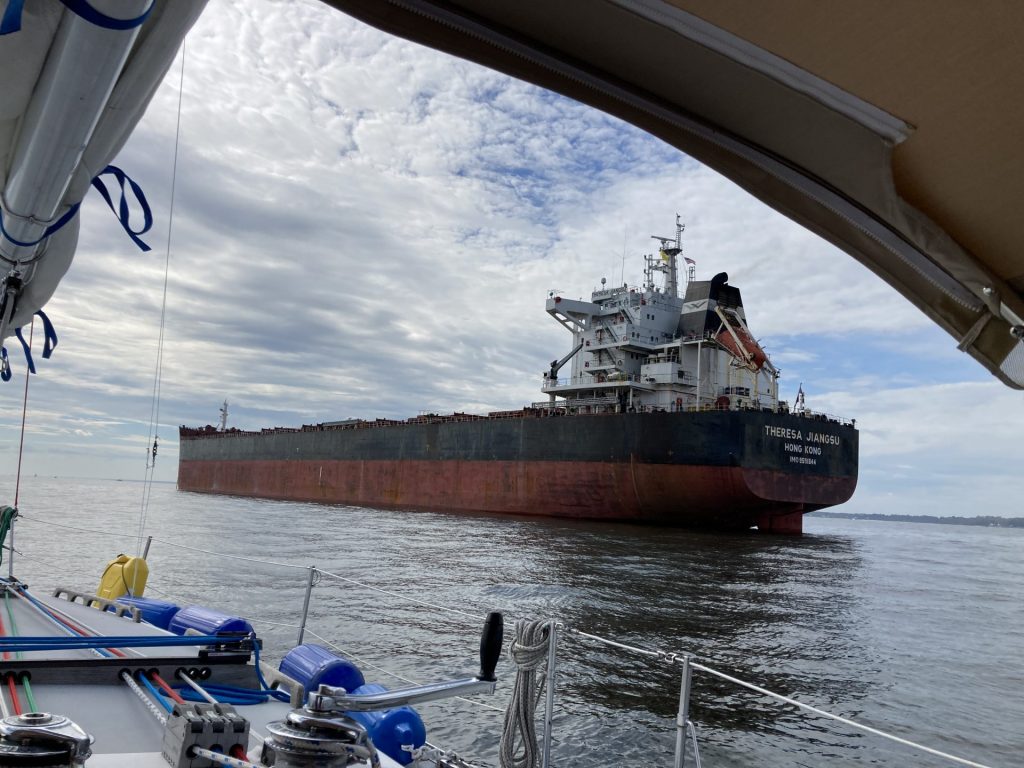 A bit choppy start to the morning but it calmed down. We did a little more trolling – again, no fish. Our plan was to anchor at Rhode River, a place we had anchored back in 2016 when we rented a 30′ Lippincott for a few days. Our story began with the idea of living on a sailboat – but I had never been on anything but a small day sailor… and certainly never spent the night on the water. So, before buying a boat we decided to rent one on the Chesapeake and see how I liked it. We rented "Shady Lady" a 30′ Lippincott through what is now Boatsetter.com. This is before AirBnB really took off and you can probably now do this on that site as well. The boat was docked in Galesville, MD and when I think about how little I knew back then it is a little scary that they rented us the boat! Of course Stew was a sailor so he knew all the stuff I had yet to learn.
The funny story from the start of that trip… it was brutally hot the week we rented the boat – over 100 degrees everyday. When we moved aboard we were so hot we motored out into the West River (just beyond the the marinas) and decided to test the anchor and figure out how to do that exactly. We also wanted to take a quick dip.
So we dropped anchor – it seemed to be holding very well. We were literally soaked with sweat and jumped right into the water. As I was getting ready to get in Stew said he must have hit a patch of terrible sea weed with his leg and maybe I didnt want to go so deep. As I swam off the ladder I too mentioned I must of hit some seaweed – it felt like long hair actually… well, then Stew said his leg was burning and I noticed my arm was burning… so quickly we dashed up the ladder… looked down and…. most of you can probably guess what we say…. 100's of jelly fish everywhere!!! We had no idea! The rest of the voyage we would do a quick scan and jump in and get out. with 100 degree weather we had to cool off occasionally. Even with this little wrinkle I absolutely loved it! We anchored every night in a different little cove on the Chesapeake.
It was fun scouting out where we were as we sailed down the west coast today. And as it turned out we ended up getting dockage at the Hartge Yacht Habor which is right next to the Galesville Marina where we rented the Lippincott!! Good memories of that trip.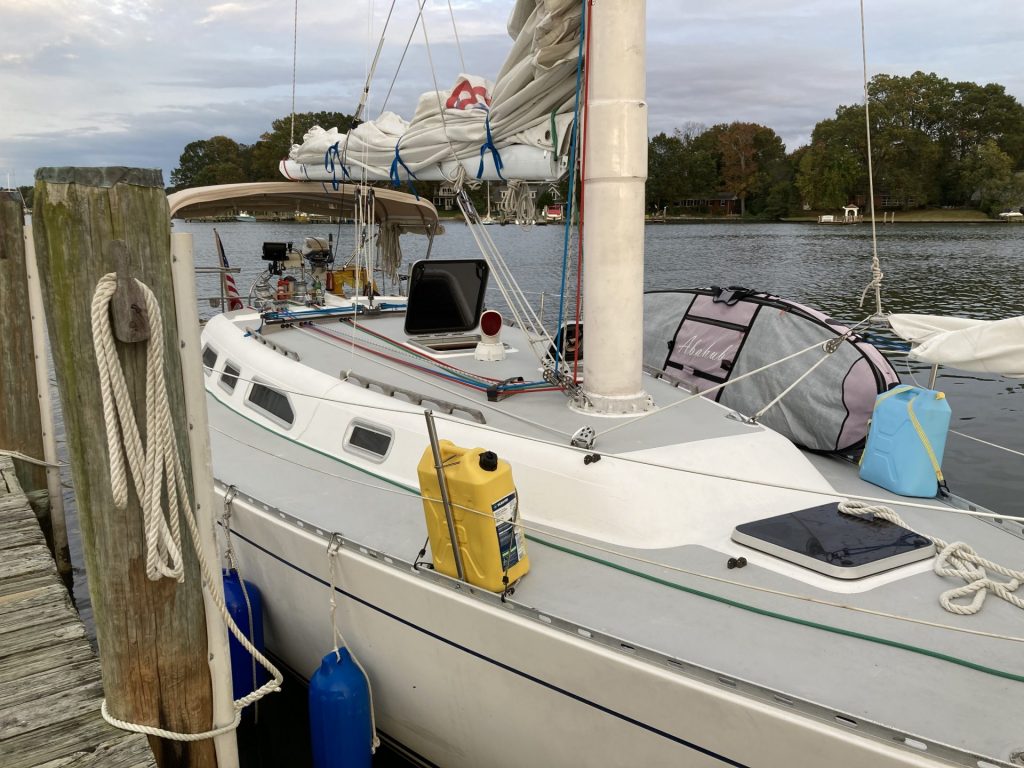 The Hartge Yacht Harbor Marina was really cool – it is a historic marina and has been in the family since 1865! It is just down the West River off the Chesapeake. It is close enough to Galesville that we could walk in to get a few items. The walk was just beautiful – the town is just now changing to fall colors.
Today the weather was very hot – close to 80. Hard to believe that tomorrow will be 40s-50s! It seemed to get hotter as the evening progressed.
Stew got out the little grill and was able to grill up some chicken we bought back in Cape May. We had some nice salads and relaxed to enjoy the beautiful sunset.