Gale Force Winds
Categories
Blog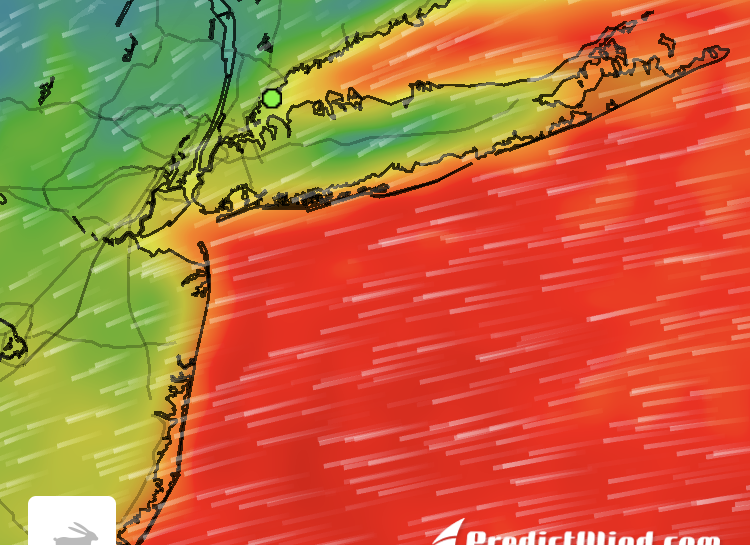 The night we spent in Echo Bay, just outside New Rochelle was glorious. We had a goods night sleep and felt renewed in the morning. We putzed around a bit and headed out to do some sailing on Long Island Sound.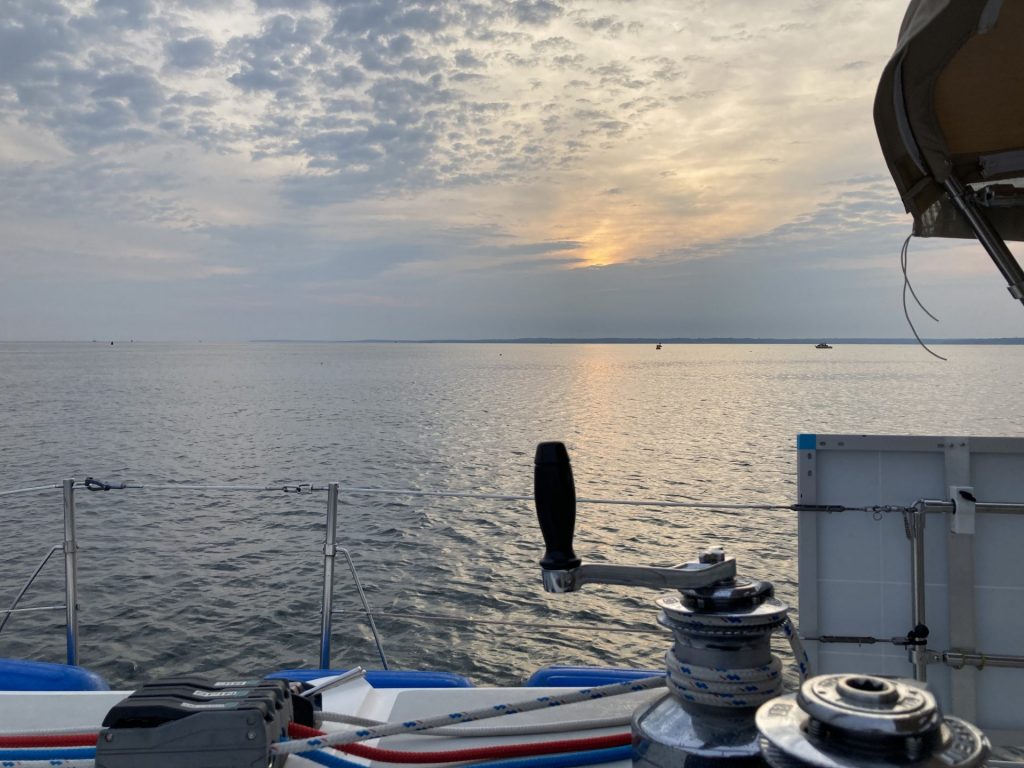 It was pretty cool because there were so many sailboats already out there. In fact a race seemed to be going on just beyond Larchmont bay. Larchmont, as I found out later, is a diehard sailing club. I guess they are renown for it.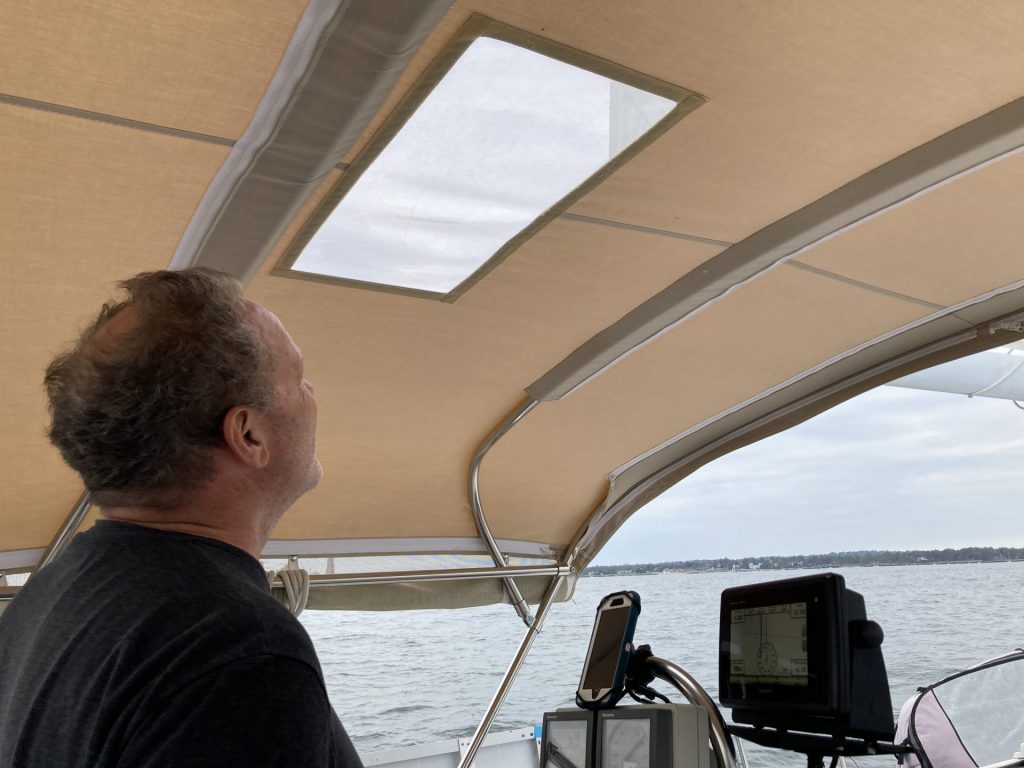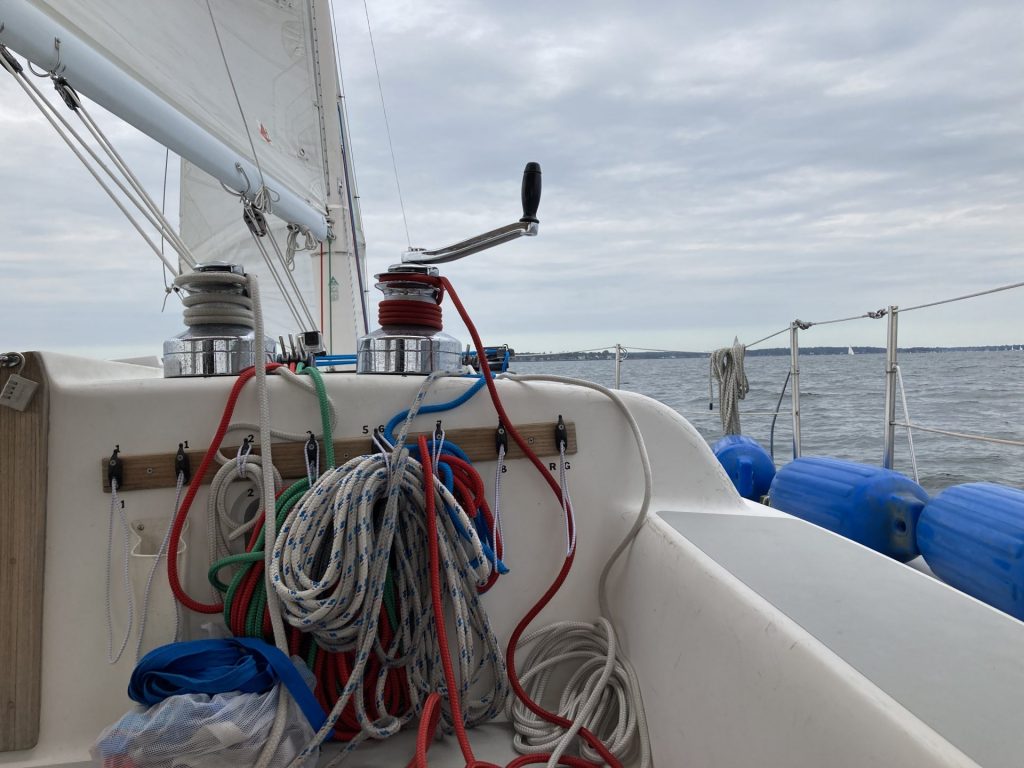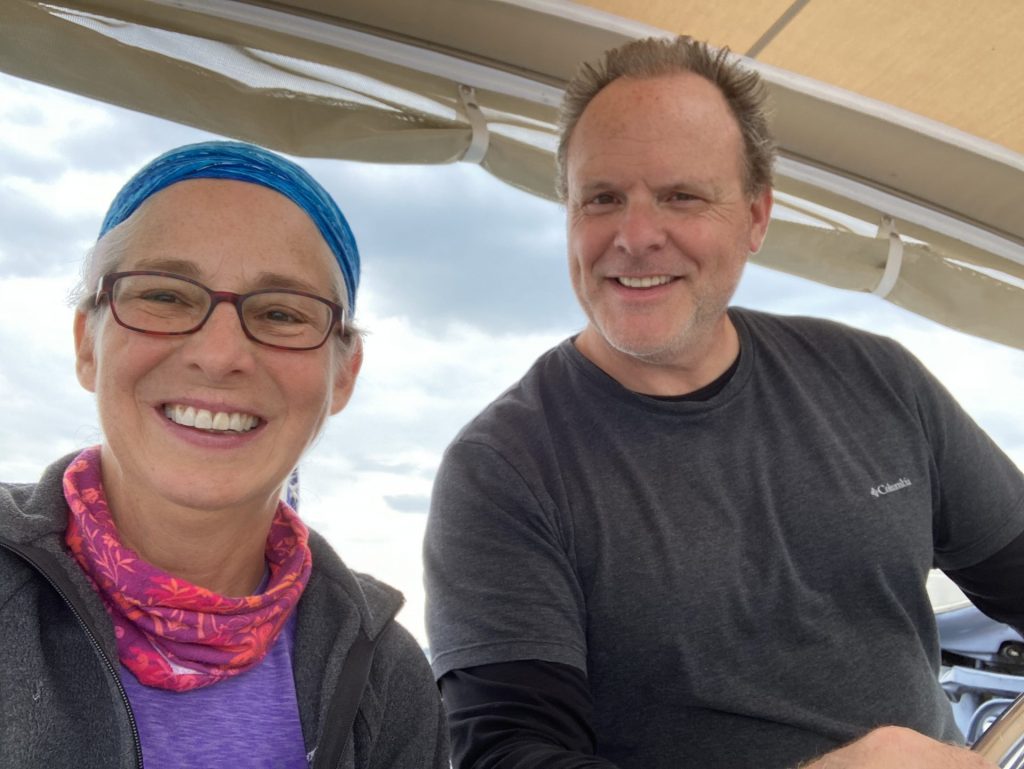 Today we were meeting up with my cousin Becky and her family. So we headed in to Larchmont around 1:00 to pick up a mooring ball.
We had absolutely no idea what we were doing with the line from the mooring ball – it was not what we expected. Stew did a quick "youtube" video and looked at some pictures and after much kibitzing he figured out something that would work.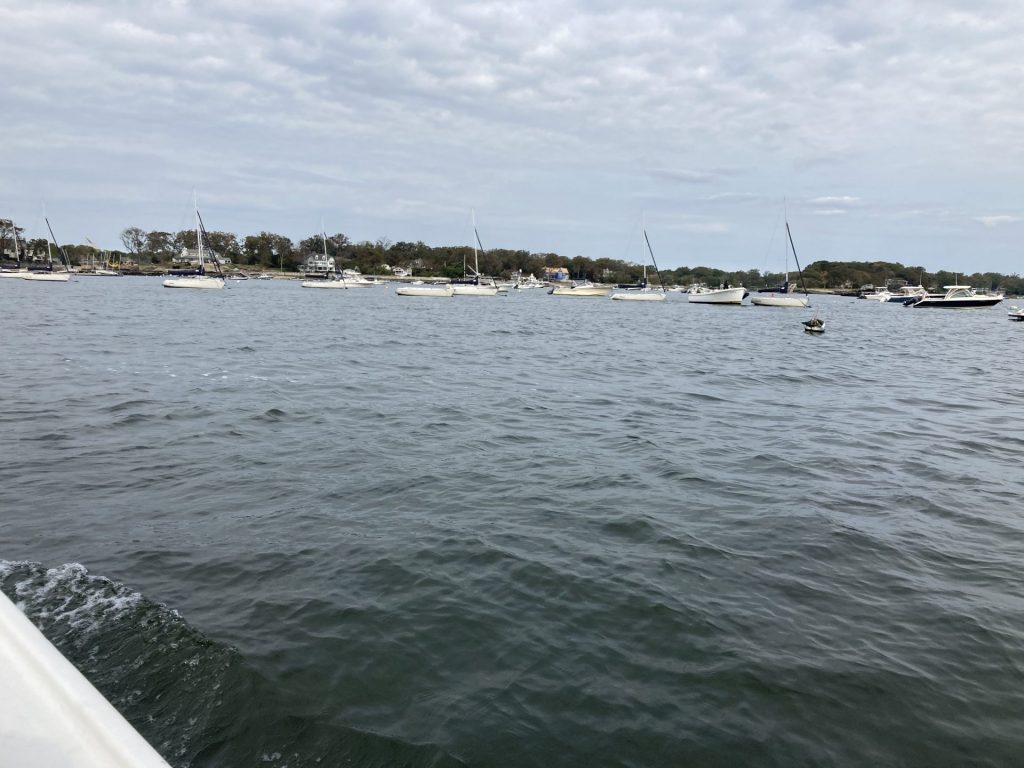 We had to take the launch from our boat to shore as they did not want us using our dinghy (no idea why). Becky and her son Cameron picked us up at 2:00 and we headed to her rental house – her house suffered an extensive water leak in July so they were renting a house just around the corner.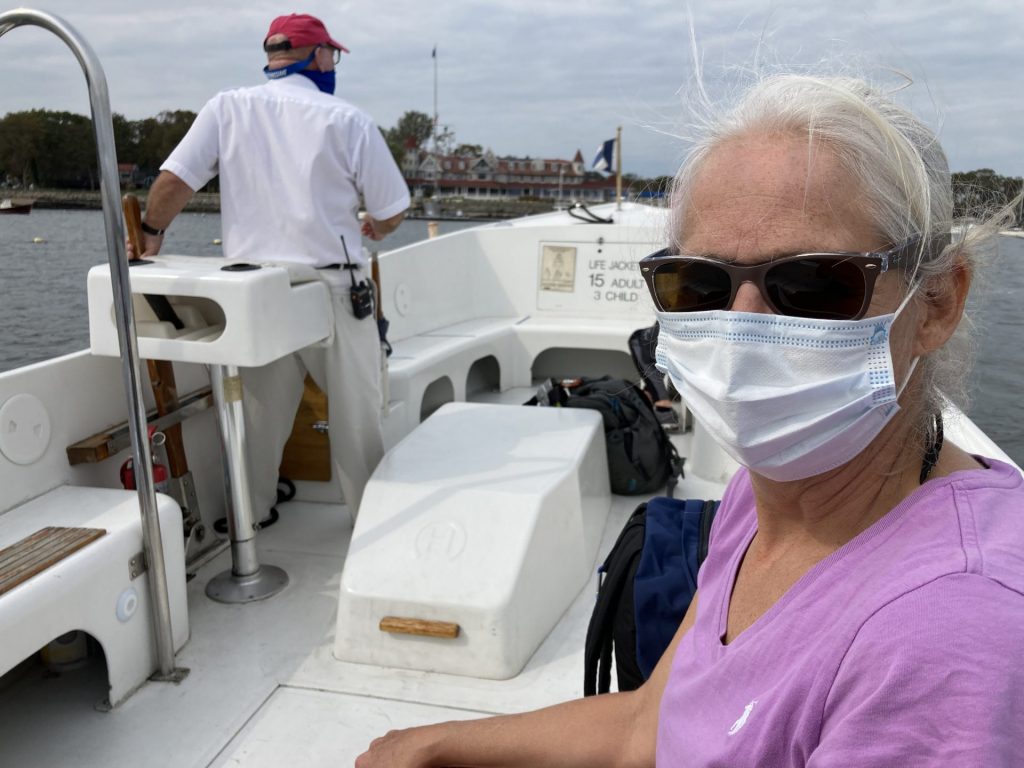 My Aunt Lynne and Becky's son Evan and her husband Brian were at the house to greet us. We sat outside so that we could visit without being masked, and Becky really doesn't allow visitors in the house due to covid.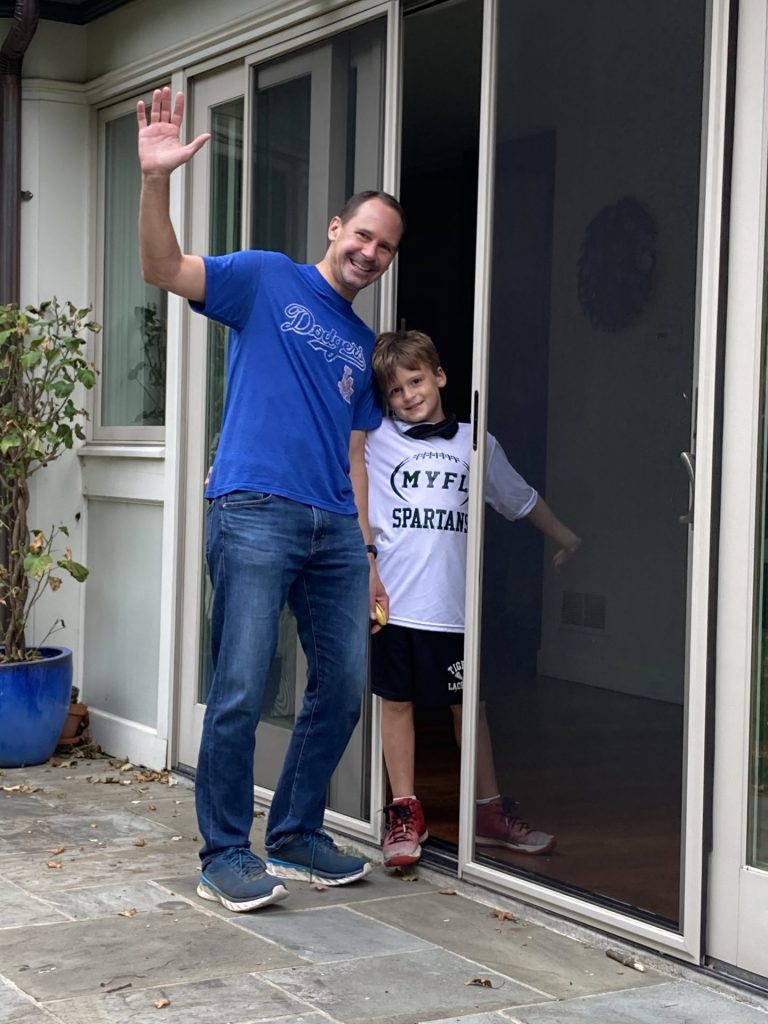 Luckily it was a nice afternoon and evening and we had a great time catching up on everything. Dinner were street tacos from a local vendor, Stew's favorite and Olivia, Becky's daughter, joined us and went to the ice cream place to get us dessert.
By 7:00 we needed to head back so as not to miss the launch which closed at 8PM. Becky and Olivia came out to the boat which was really fun. Olivia is taking sailing lessons and she was really excited to see the boat. The wind was already picking up so the visit was short and we said our goodbyes.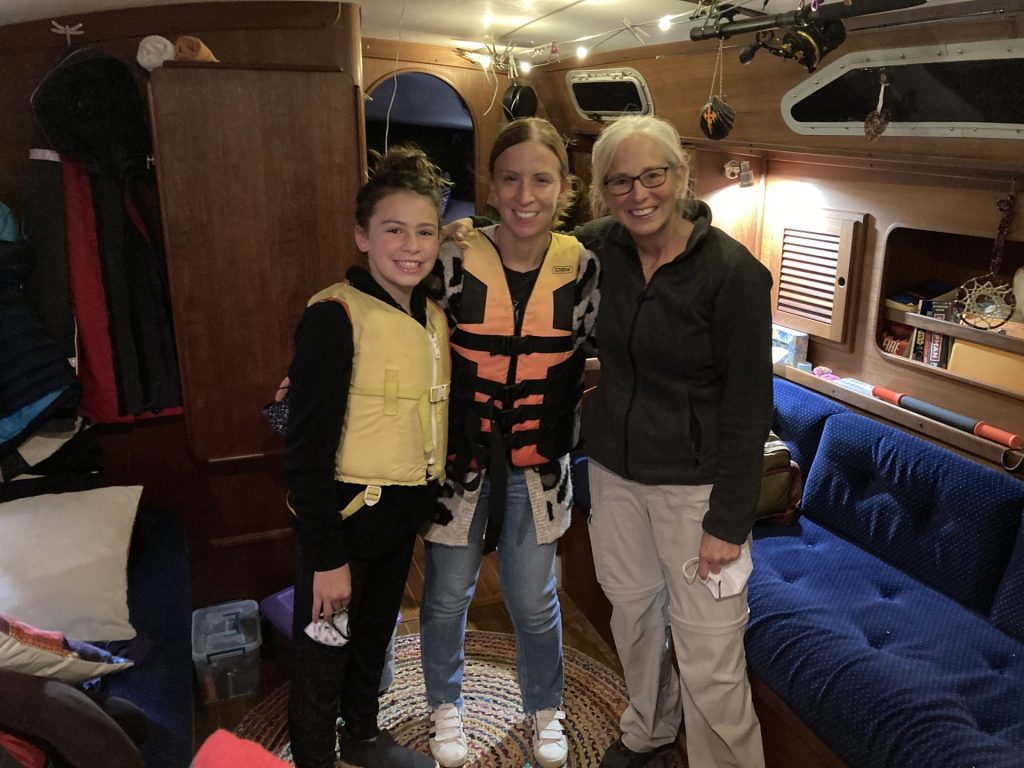 We had really hoped on Monday to visit with my other cousin Kim, Becky's sister, but we could not get off the boat due to 10′ waves (really only 6′) and 100 MPH winds (really only 30-40K winds)… IT WAS BRUTAL!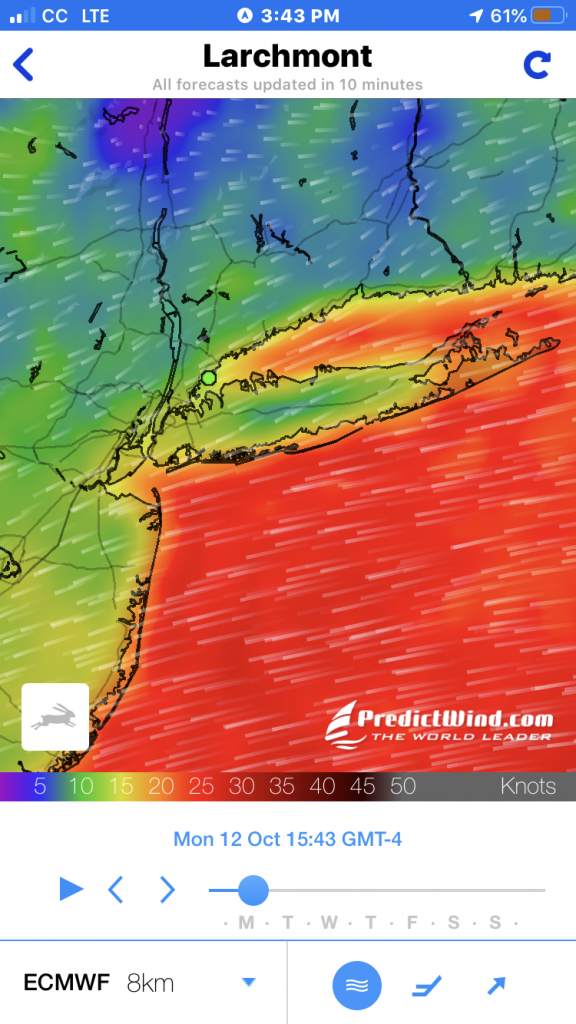 The gale force winds, rain and storm started Sunday night just after we returned on the launch and did not let up until Tuesday mid-morning. We basically did nothing for about 40 hours but count the minutes until it would be over.
We both felt queezy but the worst was the lack of sleep from the first night. We were really worried the boat would become disconnected from the mooring ball and crash into the submerged jetty (or shore or another boat or swept out into the sound). All night we questioned each noise or jerk of the boat trying to see if we were still OK. We did have the Aqua Maps anchor alarm (an app that has a GPS that alarms you when you leave an established circle. ) You set this up typically when you anchor but it would work the same with the mooring situation.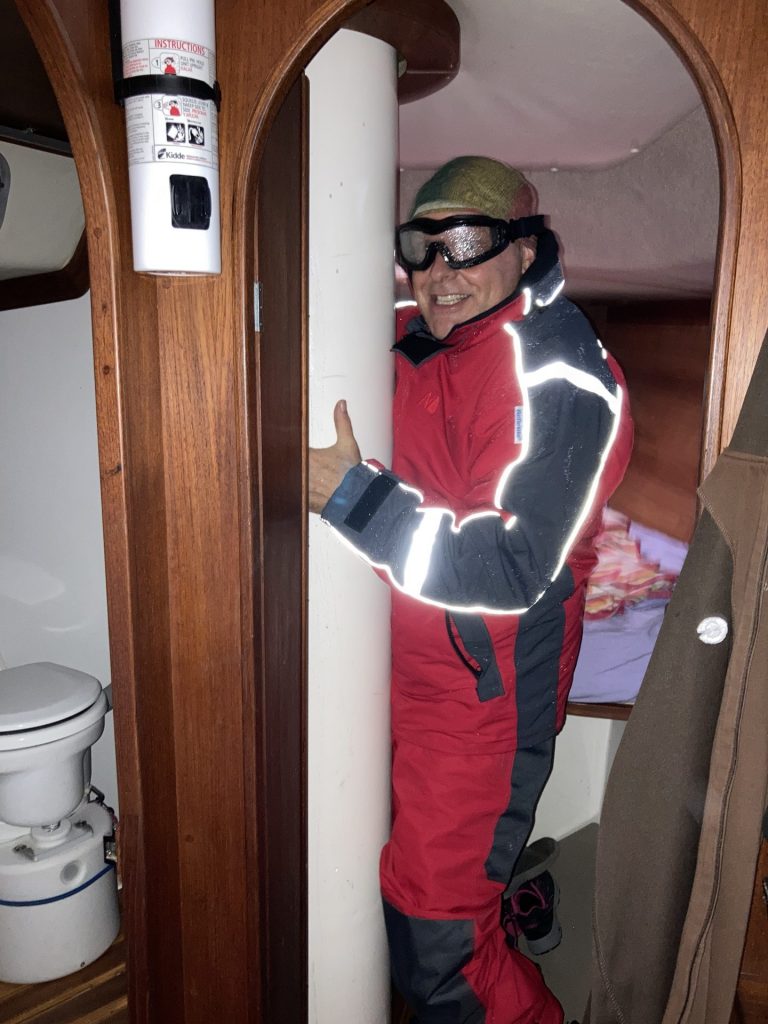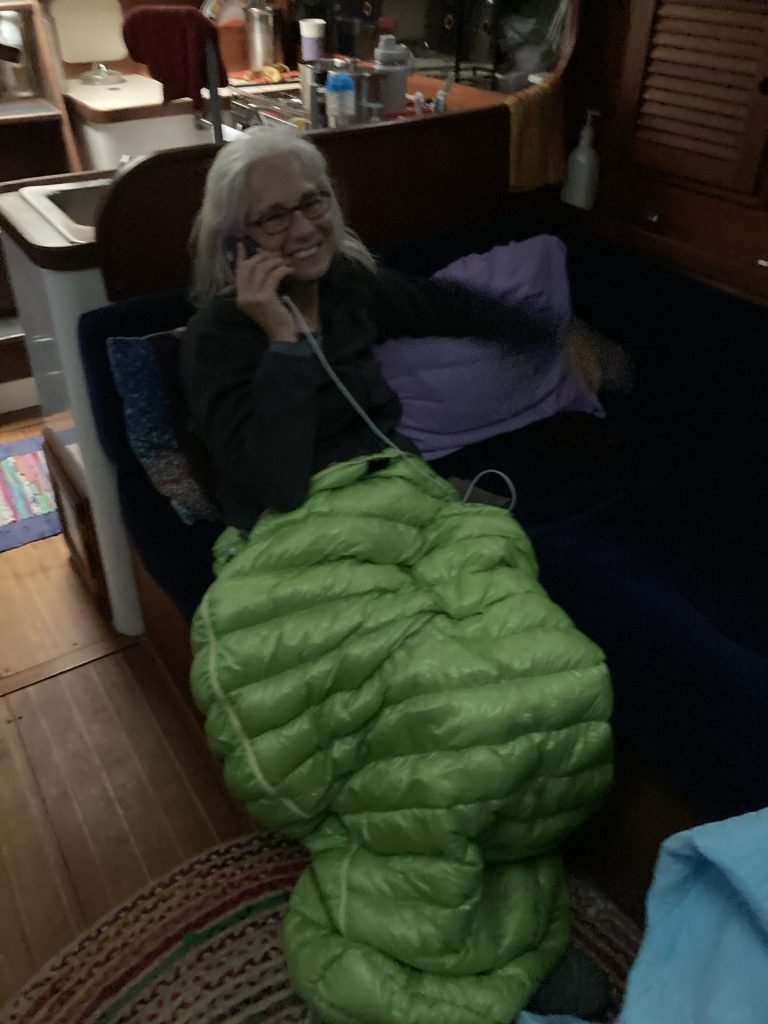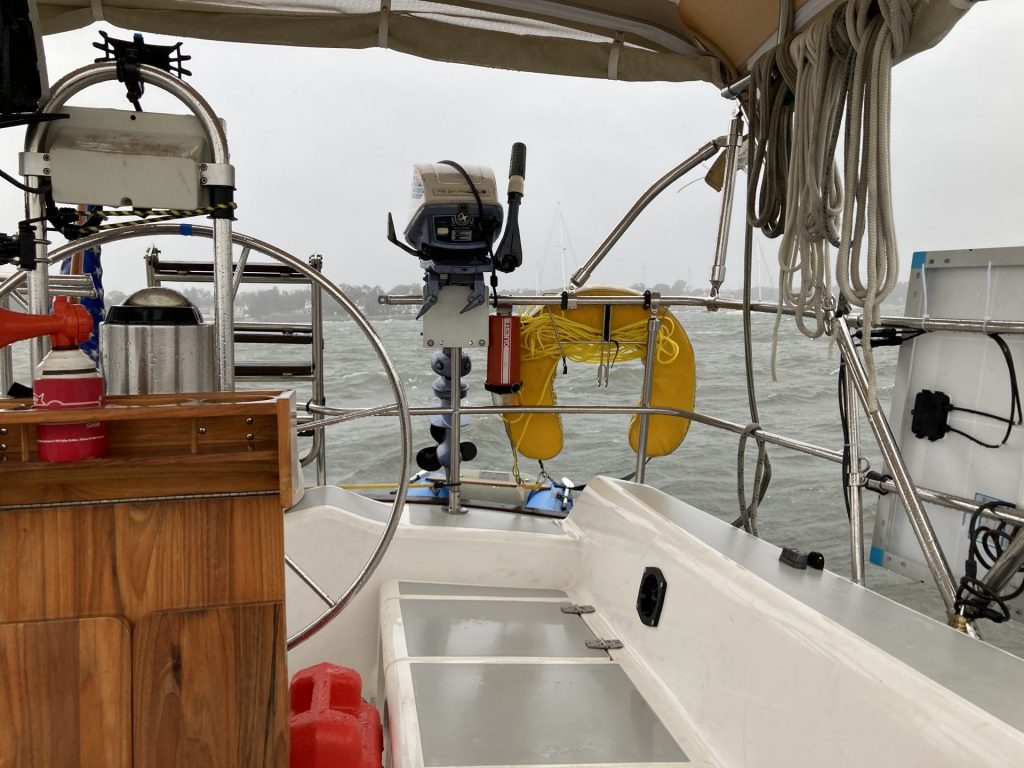 Some sailors would probably say were are soft for our reaction to this situation. Maybe we are. When storms of this nature have presented themselves in the past we have always tied to a dock or wall of some kind. It has only be an accident or change of conditions that we have purposely anchored with strong winds and waves.
We actually did have this happen in Long Point, Ontario – just west of Dover. We anchored for the first time with our new anchor off Long Point and the winds were to become westerly by 10PM and we would have protection from the land. But the winds did not shift but increased coming from the East. I sat the entire night at the wheel ready to take over should the anchor give way. Soaked from the water spray, sick from the motion, and scared out of my mind.
We survived and the new anchor held!! Stew thought I was done with this sailing plan the next morning. I was not done, my only comment was "Let's not do that again!"
Our experience in Larchmont felt similar. Although truth be told I think we were much safer on a mooring ball that using our personal anchor. I think the problem was the mooring balls for yacht club guests are so far our in the sound there is not much protection. I don't think there were other live-aboards at the club, and who in their right mind would endure 40 hours of rolling etc when you have a house to go to.
Tuesday mid-day it did reduce and we were able to take the launch in to shore to take showers (we had lived in the Sunday night clothes the entire time!). We also made a quick trip to the post office. Our plan was to return to the boat for lunch and spend the afternoon on shore using the wifi. But once we got back on the boat it was now pretty calm and we both were just so tired. So we ended up eating and both took a long nap right through supper.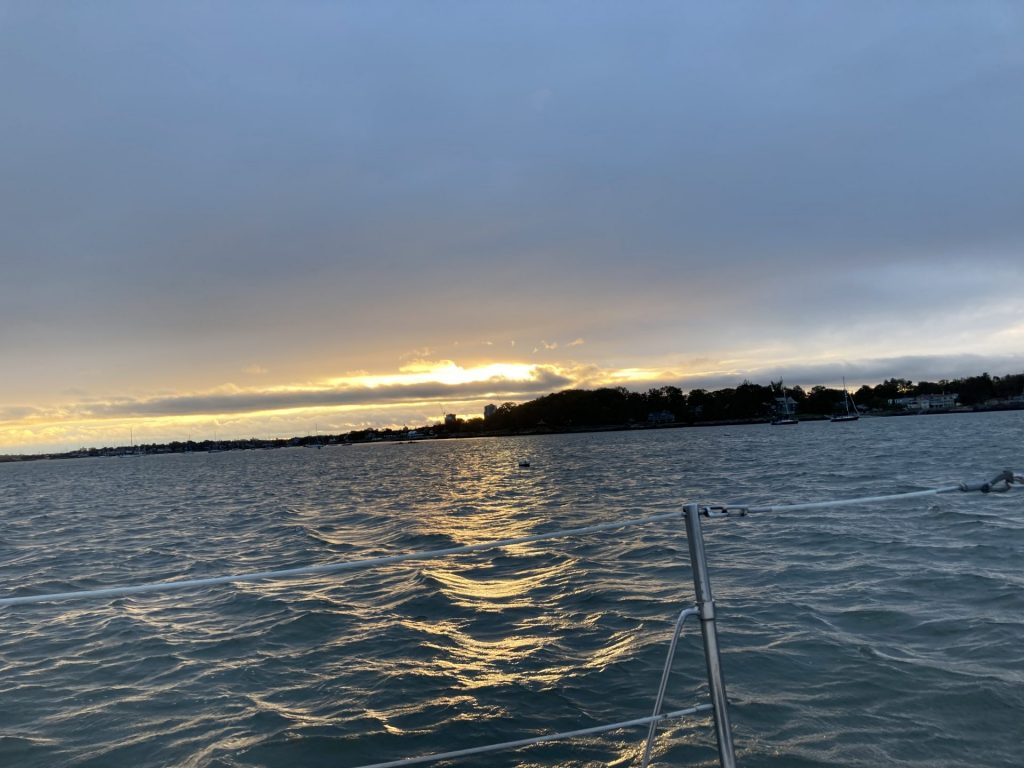 The rest of the evening we just relaxed and looked at the weather for the coming days. Our plan is to leave tomorrow from Larchmont, hit the "ebb" tide down the East River and anchor at Sandy Hook, NJ. Then we will wait there for a window to head south around the NJ coast.