On the way to Zion, a spectacular campsite
Categories
Blog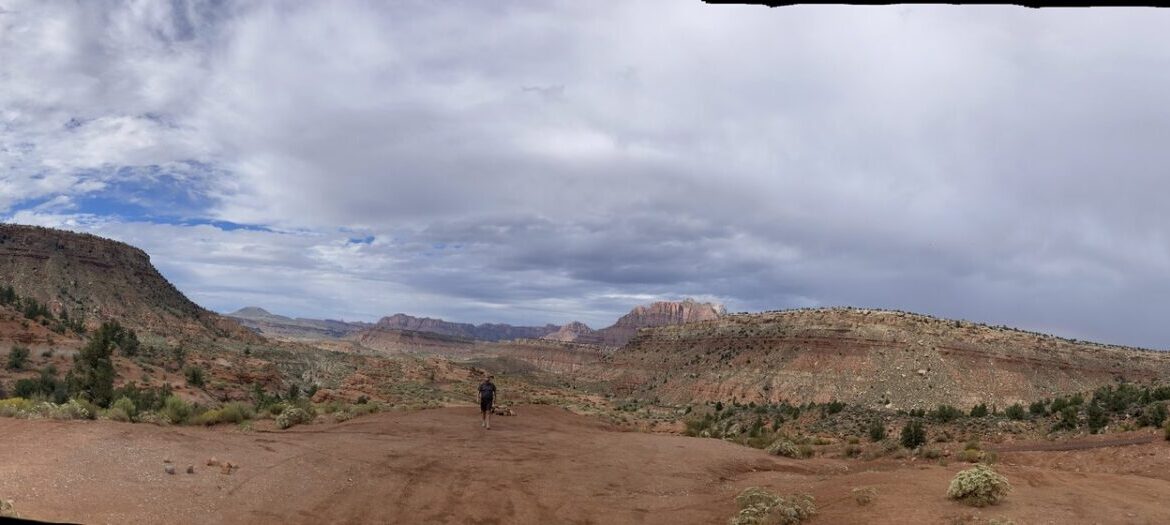 After breakfast we headed to Zion National Park. It was just a few hours by the backroads. We took Rte 12 and 89 which are very scenic routes in Utah. We drove right past the Red Rock Canyon area.
We stopped in Mt Carmel at "Terry's Food and Drug" which was a grocery store and hardware store in one. Looking at it from the outside it looked like a hole in the wall. But it really had quite a lot of inventory. We finally found a fly swatter – something that had been eluding us for weeks.
We entered Zion National Park at the East Entrance and thought it very strange that there was no big town at the entrance. It was very low-key, backroads feeling coming into the park. We also didn't realize that there was a tunnel that had restrictions. RVs needed to pay for and have an escort. This stopped traffic both ways each time an RV had to go through the tunnel. Even some of the taller vans. So this held us up trying to get to the visitors center.
We were very confused about how the park worked. Very different from Bryce National Park. We found it very confusing. Once we made it to the visitors center it was really crazy. Zion roads seemed much narrower than Bryce and the pull-offs were really small and almost not even off the skinny road.
The visitors center was packed. People were driving up and down, up and down looking for parking. I dropped Stew off because we couldn't find parking either. I mean it was crazy with traffic, people, buses, UGH. Very very different from Bryce (and all the other parks we had visited).
We found out later that you cannot drive into Zion. You have to take the shuttle. So that was why the parking was so packed. My feeling was that you needed to get there really early to get a parking spot. There was. large queue to wait for the bus which made the visitor center pedestrian area very busy. We decided to deal with all this tomorrow and decided to leave the park by the West entrance and find our campsite for the night.
We were fortunate and found a great spot with a spectacular view off a dirt road (rather bad dirt road) – Smithsonian Butte Rd. After we chose our spot – in our area there was room for several more campers, Stew immediately started droning. It was very dusty so we decided not to put up the tent and to just cook using the tarp to set stuff on etc.
While we were fixing dinner a. other van rolled in. He told us all about how Zion worked. He was better than the rangers at the visitors center. Two more campers rolled in before the night was done. But we had the front and center spot.
The night sky was really clear so we could see forever!! Even Woody enjoyed himself!