Our next adventure…
Categories
Blog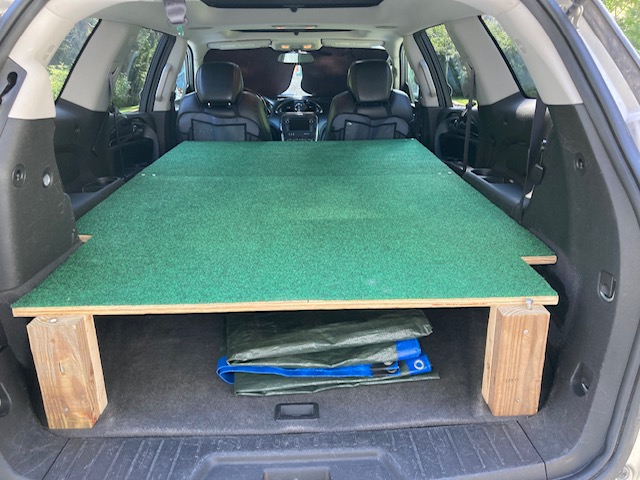 Our friends the sailing Jasons (aka Jason C. & Jason G.) are getting married Labor Day weekend in Bay City MI… We did not think we could make their wedding with all the family issues this summer. But here we are, at Pine Creek, just chilling. So we decided to hatch a plan that started with going to the wedding.
We decided to try to outfit the SUV (Buick Enclave) with a bed and room to carry our gear. This would give us the ability to sleep anywhere we travel. The idea was to "car-camp" to the wedding and, well, a whole mess of other places.
Our first job was to figure out if we could build a platform that would be easily transformed from a bed to the ability to use the back seats. We started looking on YouTube and found a great build idea.
Using the back half of the SUV, we built a platform with 2x4s as legs, about 9″ high. Each leg had 2 attached 2X4s – one for the platform and then one to be used to hold the other platform using removable pins. We also fashioned an additional board that would be our table. It would extend out the back of the SUV – attach to the end of the bed using removable pins and a tripod for support. We added some indoor/outdoor carpet to protect us from any splinters and make it easier to slide the front board back on top of the other board when we wanted to put up the back seats.
I ended up purchasing 3″ semi-firm upholstery foam. We put that on top of our yoga mats and added a slim foam topper and a mattress pad – it was comfortable!
Under the platform was plenty of storage space for our gear. I had rolling under-the-bed bins that worked perfectly under the back platform.
We purchased some other gear for the trip: screen "socks" for the 4 windows (to keep bugs out), a Coleman stove, some containers for water, a privacy dressing pop-up tent, a screened-in back hatch tent, a Coleman 12V cooler, a Rockpal 600W solar generator, and a 100W solar panel.
We were so excited to see how it all worked that we spent a week at the cabin sleeping in the car!! It was pretty nice – waking up with the deer in the yard and birds chirping all around us. Immediately above our head is a skylight so we had a wonderful view of the stars! Let's hope when we cut the cabin cord we will love it this much!